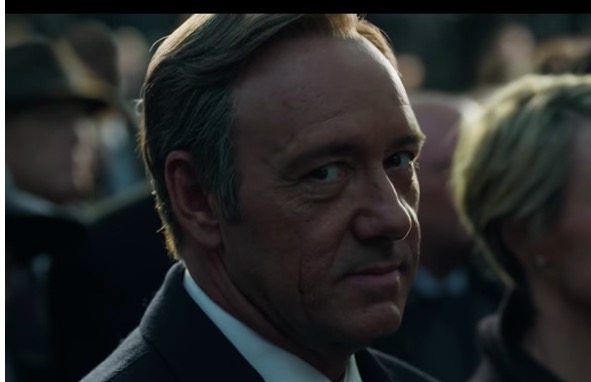 It's tough to argue with Frank Underwood (or with Oscar Wilde, who he famously quoted early on in House of Cards), saying, "Everything is about sex, except sex.  Sex is about power." And if sex is about power, then sexual misconduct is about misuse of that power.
As the endless falling of celebrity-dominoes dominates daily headlines, a truth emerges: exactly none of this was unpredictable.  America is (slowly) learning to stop blaming victims and to start blaming predators, which is good progress; its follow-up lesson, though, must be that there is culpability in being purely reactive in the face of foreseeable violence.  Even the most finessed press release can do little to hide employers' parts in subjecting their (often, but not always young and female) employees to environments charged with rage and violence.  Whether that complicity rises to the level of legal liability is hardly clear today, but give it time.  The lawsuits are coming.
Shocked faces of TV anchors aside, it's not remotely surprising that Charlie Rose or Bill O'Reilly or Kevin Spacey or Harvey Weinstein are accused sexual predators. These men were known to have those euphemistic "anger-management issues."  In other words, everyone around them knew they wielded intense anger in professional environments, and no one did anything to stop it.  At some point, the bystander is as blameworthy as the perpetrator, and Hollywood seems to be getting really close.
Many sexual abusers are virtuosi in the art of secret attacks and clandestine assaults; but when those abusers live in a world of unlimited adulation, power, and resources, the need for them to hide their dreadful propensities is significantly diminished.  And many, especially in Hollywood, wear their malignant tyranny on their custom-made sleeves. These men walk through the corridors of their lives brimming with the kind of anger that only great power could sanction; that anger, all too often, manifests as abuse. When networks and agents are shining up their zero-tolerance policies, they should be forcing their power players through a TSA-style anger checkpoint regularly.
Today, when CBS announced its firing of Charlie Rose, its president, David Rhodes, issued a statement that said, "there is absolutely nothing more important, in this or any organization, than ensuring a safe, professional workplace." Apparently, safe workplaces only just recently made it to the top of CBS' priority list; while the public allegations against Rose are new, he was apparently well-known within the industry to have displayed open hostility. In fact, peers (speaking anonymously for fear of retribution) have spoken to press about what was, in their words, "Rose's combustible anger." You'll have to excuse me, then, when Mr. Rhodes' demands for safe workspaces don't convince me. Rose may not have been publicly forcing sex on women in the studio, but you can be damn sure his attitude was on display for all to see. CBS' failure to reign in Rose's behavior makes it culpable for contributing to the very environment about which it now professes to be shocked.
NEW: CBS News terminates Charlie Rose following allegations of sexual misconduct. "There is absolutely nothing more important, in this or any organization, than ensuring a safe, professional workplace," says CBS News President David Rhodes. pic.twitter.com/CPgVRjsvXJ

— CBS News (@CBSNews) November 21, 2017
Same goes for Bill O'Reilly. I've walked the halls at Fox News. I've picked up on the generally jovial, high-energy atmosphere; I've also felt the icy presence of Bill O'Reilly loom in and suck the happy out of the room as if he were one of J.K. Rowling's dementors. While everyone from cameramen to makeup artists would remark on O'Reilly's curmudgeonly manner, it was accepted as a minor personal peccadillo, and not a serious red flag.   One anchor might need more face powder, another might need phonetic spellings on the teleprompter, and one might require that everyone simply tolerate outbursts. Had Fox been at all interested in protecting its employees, it would hardly have needed to engage in complex detective work to find the source of abuse.
The Old Vic Theatre, a London venue for which Kevin Spacey served as artistic director from 2004 to 2015, has recently launched an "investigation" into Spacey's behavior during his time there. Guess what it found? Lots of "inappropriate behavior," including three police reports. Similarly, the House of Cards set was well-known to be a toxic work environment. 
In a 2011 article by CBS News entitled Anger Management: 4 Tricks for a Peaceful Workplace, one helpful suggestion for dealing with workplace anger was to simply tolerate it. The author noted, "A Temple University study found that when managers gave additional support to angered subordinates, workplace tension dissipated. But when angry employees were punished or even fired, the researchers at Fox School of Business found no positive effect on office morale."  I'm wondering whether that same study checked out the effect of workplace sexual assault on morale.  Fox Business has also put out its take on workplace anger, writing that the cause for this pesky problem can range from the need for a higher salary or more vacation time, to oncoming illness or difficulties at home. Solutions included everything from meditation to doctor visits, but at no point was there even the suggestion that an employer has a responsibility to protect its employees from angry peers.
Are all people who seem angry sexual predators? Certainly not. But there's a pattern here, and where there are patterns, there is rightful blame.  Those who regularly subject coworkers to an environment rife with hostility create fertile ground for many kinds of abuse. Often in the law, the "chain of liability" is severed by an intentional act of an individual acting illegally; that's why you usually don't sue McDonald's when a pickpocket steals from you while you're ordering a burger. That rule changes, though, when the individual's behavior becomes highly-predictable. On the subject of predictability, we all know how it works: people who do not control themselves are people who will not control themselves. When employers start finding themselves named as defendants in lawsuits, I expect we'll see some real effort in purging our workplaces of predators before they start racking up scores of victims.
[screencapture House of Cards/Netflix]
This is an opinion piece. The views expressed in this article are those of just the author.
Elura Nanos - CEO, Lawyer Up; Columnist & Host, Law & Crime