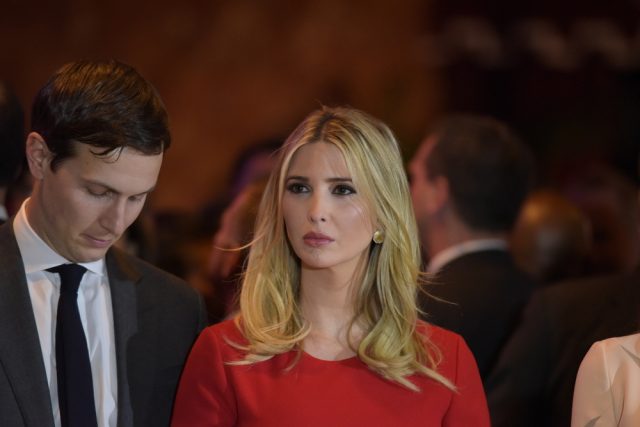 Jared Kushner and Ivanka Trump think that one or both of them will become president one day.
The jet-setting power couple is largely known for their expansive roles and responsibilities as part of the much-promised; little-delivered-upon Trump White House.
That is, when they're not being feted by the liberal media for looking a little glamorous on the golf course.
But, according to an excerpt from Michael Wolff's soon-to-be-released tell-all about the tea being served at 1600 Pennsylvania Avenue under Donald Trump's administration, Jared Kushner and Ivanka Trump also have serious political ambitions of their own.
And they're seriously far-reaching.
The relevant excerpt appears on page 69 of Wolff's Fire and Fury: Inside the Trump White House. It reads:
Jared and Ivanka had made an earnest deal between themselves: if sometime in the future the time came, she'd be the one to run for president (or the first one of them to take the shot). The first woman president, Ivanka entertained, would not be Hillary Clinton, it would be Ivanka Trump.
There's a lot to unpack in those two sentences.
To essay just a bit of it:
(1) Both members of Team Javanka (a none-too-cutesy pejorative for the Jewish couple coined by Steve Bannon–who is said to be none-too-fond of Jews in general) want to run for president;
(2) Both Jared Kushner and Ivanka Trump believe there's some possible future in which either or both of them would actually have a decent chance of becoming president;
(3) Ladies first–by way of a gentleman's agreement, natch;
(4) An opportunity to take a dig at Hillary Clinton is apparently something no Millennial can pass up.
On top of the facial dimensions of the Wolff book excerpt, it's also worth noting that the president of the United States is the nation's chief executive–the person in charge of enforcing the nation's laws. And this basic fact has some import on the case of the two Trump family scions' higher hopes and dreams
Jared Kushner is currently under scrutiny in at least two federal investigations–one by special counsel Robert Mueller for his role in possible campaign-related hi-jinx with the Kremlin; and one putatively unrelated to Russia by federal prosecutors based out of Brooklyn who have subpoenaed Kushner's foreign bank records.
There are also long-standing allegations that Kushner is something of a slumlord.
Without necessarily needing to put any sort of too-fine point on things: Ivanka's dad has some legal issues of his own. So does at least one of her brothers. And so does her husband. Thus, as a matter of course, so does she. (There are also allegations that Ivanka isn't as personally clean as her Instagram feed might suggest.)
Now, thanks to Trump's lack of decorum and tendency to tweet with all the subtlety of a middle-school bully, the imperial presidency just isn't what it used to be. But the unitary executive theory is still the order of the day–and were the entire artifice to crumble like a bad Trump Organization land deal, the office of the presidency still holds a certain (and certainly vast) amount of legal, quasi-legal, and legalistic perks for the person who holds it.
None of that knowledge is likely to escape the Trump family (older, younger, or married-in) vis-à-vis their high-flung, dynastic, electoral ambitions.
[image via katz/shutterstock.com]
Follow Colin Kalmbacher on Twitter: @colinkalmbacher
This is an opinion piece. The views expressed in this article are those of just the author.