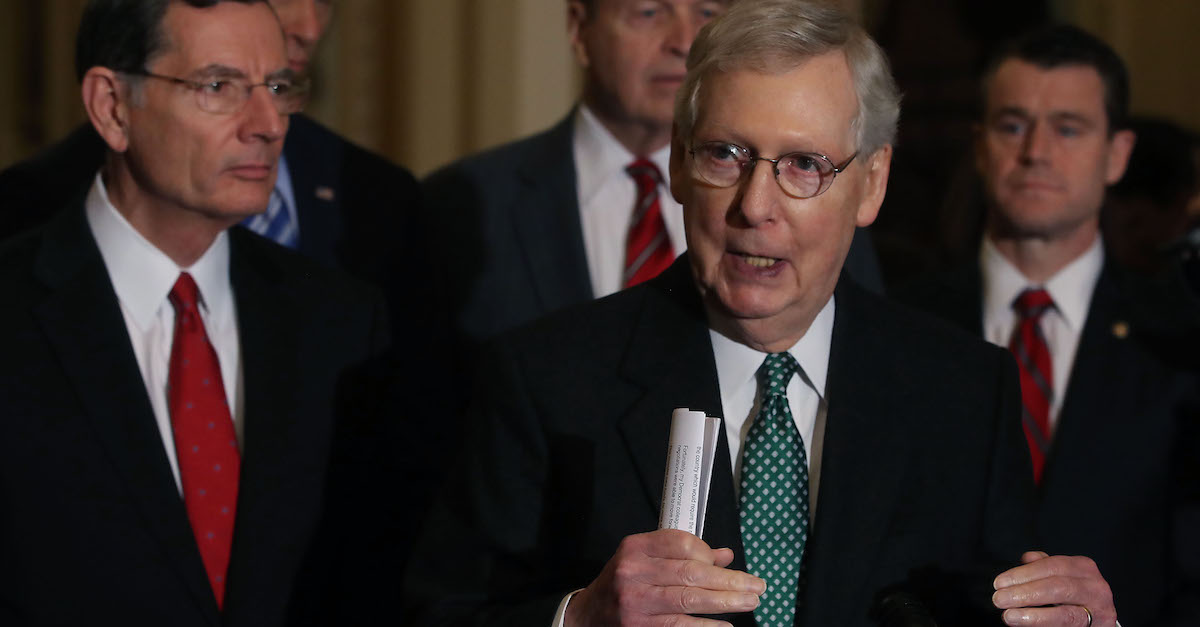 The U.S. House of Representatives is expected to pass a resolution against President Donald Trump's national emergency declaration. This would force a vote in the Senate to see if the resolution will make its way to the president.
Republican senators who vote to go all-in on Trump's border wall and national emergency declaration should never again be taken seriously, particularly when they express concerns about the size of government and the power of the executive branch encroaching on the legislative branch.
It should be a career-defining — nay, career-ending — moment, but probably won't be.
House Democrats did what they had to do (and what they were expected to do) on Friday, filing a resolution that will eventually force a vote in the Senate. As Law&Crime reported before, 50 U.S. Code § 1622 explains how to terminate a national emergency.
"[T]here is enacted into law a joint resolution terminating the emergency," the statute says. "Any national emergency declared by the President shall be terminated on the date specified in any joint resolution referred to in clause […] and any powers or authorities exercised by reason of said emergency shall cease to be exercised after such specified date."
Speaker of the House Nancy Pelosi (D-California) began the joint resolution process on Friday, which means that if a resolution passes (highly probable, since the House is controlled by Democrats), the resolution will go to the Senate for a vote.
Senate Majority Leader Mitch McConnell (R-Kentucky) and his fellow Republicans should be doing some soul-searching. It's been suggested that Republican lawmakers might elect to push forward on the wall, so as to not cause a rift with the president while gambling on the idea that the courts will take care of the dirty work for them anyway, and strike the emergency down.
Even if that's exactly what happens, this shouldn't be the standard.
Make no mistake: House Democrats are forcing Senate Republicans to pick sides in the national emergency debate, and if Republicans do this they will have no leg to stand on when a progressive president attempts to declare a national emergency over gun violence or climate change.
It's as simple as that.
[Image via Mark Wilson/Getty Images]
This is an opinion piece. The views expressed in this article are those of just the author.