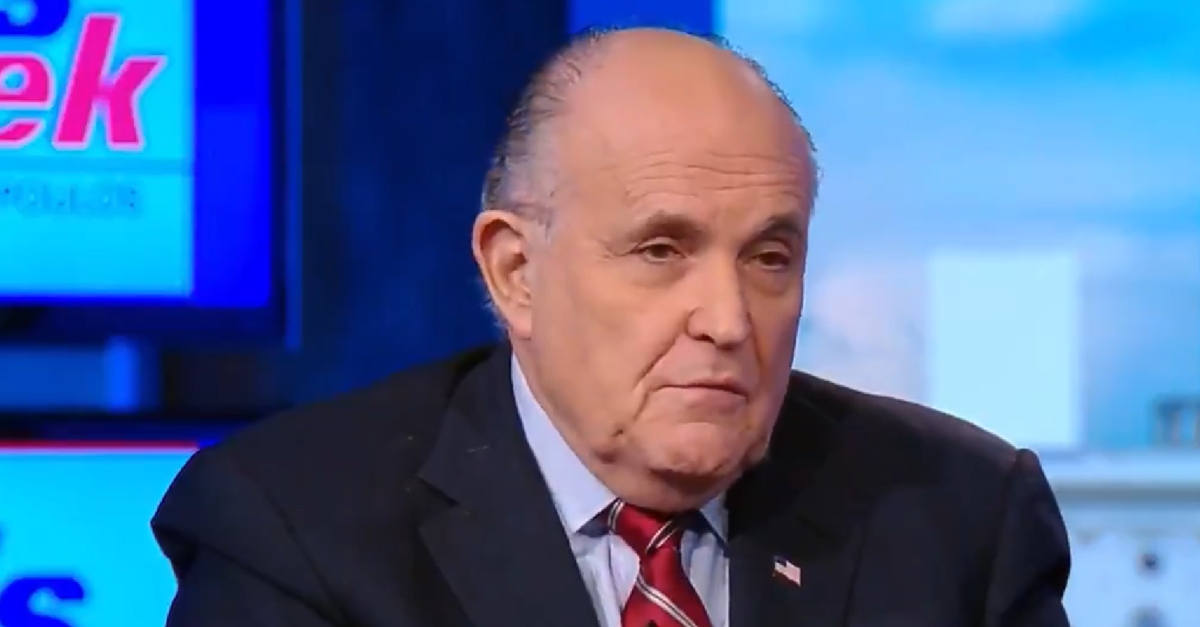 "Come with me and you'll be in a world of pure imagination." You may remember that as the opening line of the song Gene Wilder sings in the classic movie, Willy Wonka and the Chocolate Factory. The same words also would have served as a fitting preface to a tweet posted Wednesday afternoon by President Donald Trump's lawyer Rudy Giuliani.
Giuliani was once again pushing a narrative that suits his client, but is not based on actual facts. This time, Giuliani went off about missing text messages sent between former FBI special agent Peter Strzok and former FBI attorney Lisa Page. These texts have been the basis for claims of internal bias among those working on the Russia investigation.
Mueller erasing 19,000 texts of Stroyk and Page is excused as DOJ policy. But the texts released raise the issue that this investigation was initiated to carry out Stroyk's insurance policy to remove DJT? The texts are possible evidence. Where is the obstruction investigation?

— Rudy Giuliani (@RudyGiuliani) December 19, 2018
The texts were back in the news again recently due to a Justice Department Inspector General report on the issue that Rudy apparently didn't read, based on what he had to say. Let's break this one down, focusing on Giuliani's three most head-scratching errors.
1. Mueller erased??
Giuliani kicks off this winner by referring to "Mueller erasing 19,000 texts" between Strzok and Page. Let's be clear that there is absolutely zero evidence that Robert Mueller—or anyone else, for that matter—did any such thing. The report does not say that Mueller, Strzok, or Page erased any of the messages that had gone missing. The IG report said that there is no evidence that Page or Strzok tried to get around the FBI's text message collection tool, and at no point is Mueller himself mentioned at all.
What the report does say is that in order for someone to have intentionally circumvented the FBI's text message collection tool, they would have needed administrator access, "which is unlikely for an employee not tasked with mobile device administration, compliance, monitoring or security."
What actually happened, the report said, is that the FBI's tool itself is faulty, and that even after years of working on the issue, the current system still fails to get every text from 10 percent of agency-issued devices. That's a big problem, but it's not the type of problem Giuliani claims it is.
2. What DOJ Policy?
The deleted messages were not "excused as DOJ policy," they were explained as the result of a faulty system. What the IG report says regarding DOJ policy, is that there was none when it came to mandatory retention of text messages by the FBI's Enterprise Security Operations Center. Again, that's arguably a problem, but in no way is this the same as DOJ policy excusing the deletion of messages by a Special Counsel or anyone else.
3. Come on, at least spell the guy's name right.
It's "Strzok." S-T-R-Z-O-K. I know it's weird, but that's how it is. The guy's name has been in the news a ton. I understand this isn't important, but it drives me crazy.
Again, these are just the most glaring errors. I could spend more time on how Giuliani's claim that there were 19,000 missing texts is likely based on a misreading of the report.
Okay, fine, I will.
Bonus round: 19,000? Not even close.
According to the IG report, there were 9,311 missing texts from Strzok's phone that were recovered, and 8,358 of those were between him and Page. There were 10,760 missing from Page's phone that were recovered, with 9,717 of those messages being between her and Strzok. As the report notes, "many of the text messages recovered from Strzok's [phone] were also recovered from Page's," so the real number is likely about half of what Rudy claims.
Missing texts are a problem, regardless of the reason, but let's not invent crap and hope that people believe it. This drives me crazy. I'm gonna go have a Wonka bar and calm down now.
[Image via ABC screengrab]
This is an opinion piece. The views expressed in this article are those of just the author.