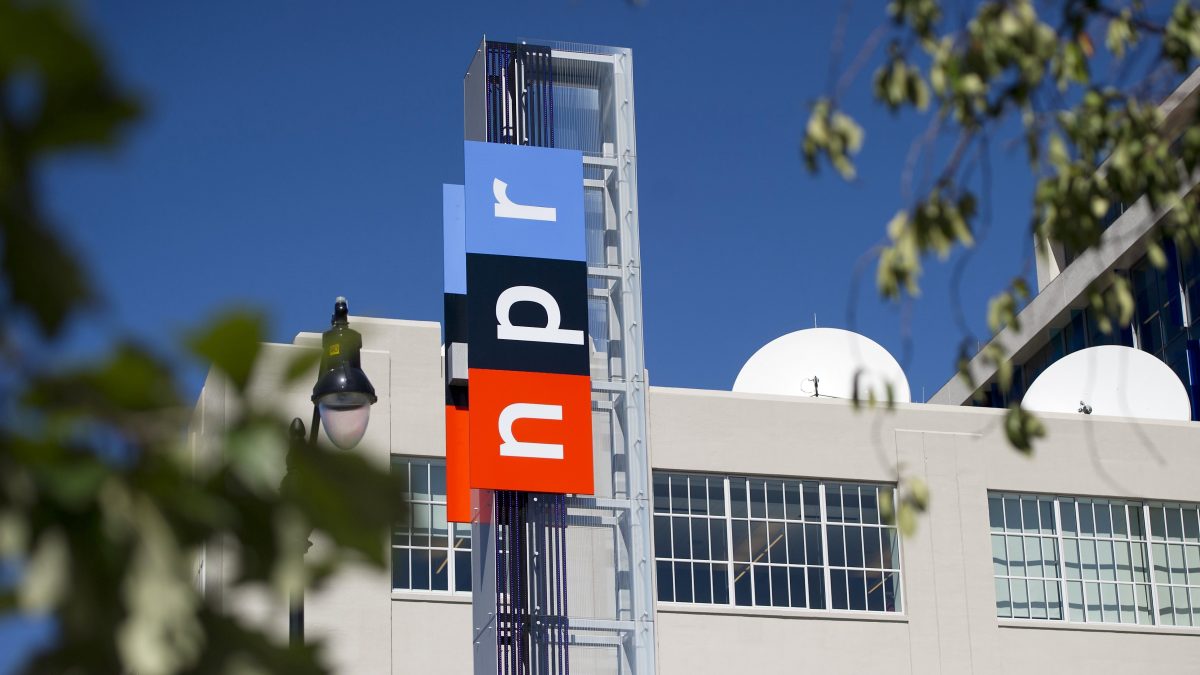 A headline Tuesday on NPR suggests that the radio network can't determine the difference between accusations and facts.
The headline says:  "New Charges Confirm That 'Infiltration' Was An Aspect Of Russian 2016 Attack." (It's visible in this Facebook post. In case it gets changed, we've saved it for you below.)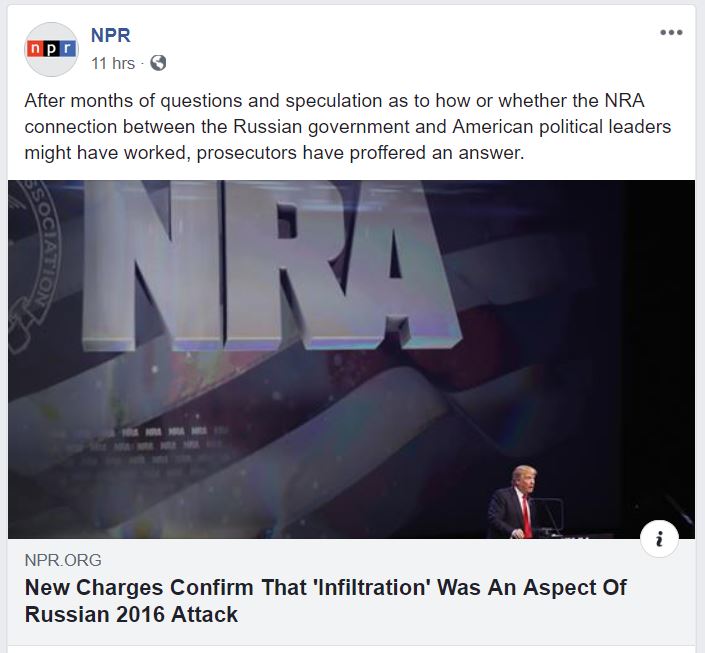 The sins don't stop with the Facebook headline, which may have been the original headline to the underlying report. (The headline as of Tuesday evening was different.) The underlying report contains this troublesome final sentence:  "Although the charges on Monday confirm much of what has been understood so far about this thread, it isn't clear how much more there may be to learn" (emphasis added). Plus, a Twitter feed of the report said this:  "The Justice Department has charged a Russian woman who sought to cultivate influence with American political figures via the NRA, affirming a separate plank of the Kremlin's influence campaign" (emphasis added).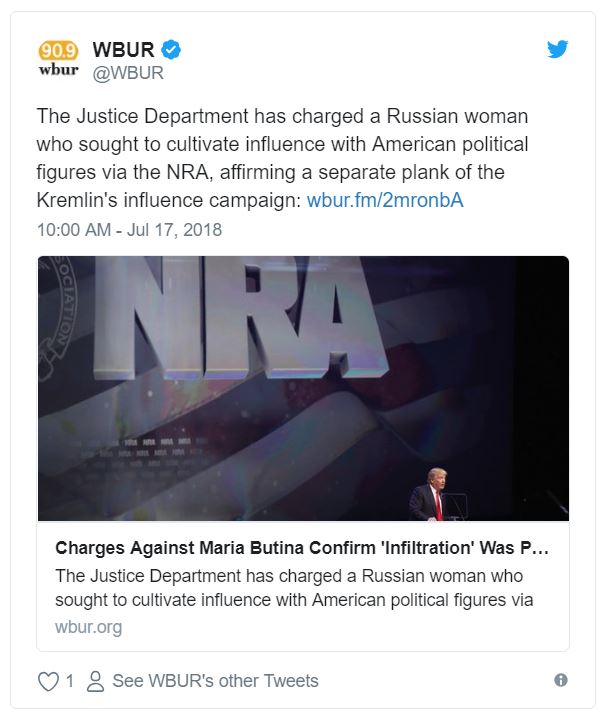 The underlying report itself does hedge much of its language with the oft-use phrases of "accusing," "allegedly," "prosecutors proffered an answer," but they do not cure the ills festering in the above-quoted headlines and teasers. Those ills — at the risk of sounding like a quarrelsome nit-picker — are born from one simple logical commandment:  accusation does not a fact create.
Anyone can accuse anyone of anything. That doesn't make the accusation true.
Indeed, the Department of Justice press release announcing Butina's arrest contains the sort of boilerplate warning one may find in pretty much each and every press release the DOJ issues involving a complaint or indictment:  "The charges in criminal complaints are merely allegations and every defendant is presumed innocent unless and until proven guilty beyond a reasonable doubt."  (The language varies slightly because, hey, whomever writes these things at the DOJ probably likes to have a little fun splitting up the independent clauses separately.) (Oh, wait, the writer forgot a comma before a coordinating conjunction in the Butina press release.) (Oops.)
Anyway — the bottom line here is that the only two things complaints or indictments "confirm" or "affirm" (to use NPR's choice language) are (1) jack and (2) squat. In other words:  complaints and indictments don't confirm or affirm anything.  To repeat, complaints and indictments don't confirm or affirm anything.
In every trial we cover on the Law&Crime Network, a judge reads an instruction warning jurors of several things. First, jurors must not make up their minds before hearing all of the evidence. Second, jurors must not deliberate before they are instructed to deliberate. Third, the state must prove its case beyond a reasonable doubt.
The model jury instructions employed in many state and federal courts are similarly instructive. The federal 7th Circuit Court of Appeals instructs judges to tell jurors the following:
The indictment [information] in this case is the formal method of accusing the defendant of an offense and placing the defendant on trial. It is not evidence against the defendant and does not create any inference of guilt.
The 7th Circuit has noted that "[i]n almost any criminal case . . . the fact of the indictment has some emphasis . . . there is a real possibility that a charge leveled by a grand jury . . . will weigh in the petit jury's balance on the side of guilt."
The power of accusation is real, and people who love freedom must challenge themselves not to accept accusation as proof. Who is making the accusation? What evidence does the person have? Are documents provided? Eyewitness testimony? Do witnesses have reasons to lie? Are they believable on the witness stand? Has the accusation been met with a response? Is the accusation believable beyond a reasonable doubt when weighed against a defense?  The blurring of the line allows the government to become more powerful and controlling. Any smoke signal from a prosecutor could be interpreted as not merely a whiff of possible trouble, but as an inferno set by a suspect who by illogical deduction must be guilty. Juries struggling to understand whether a defendant is innocent or guilty see the prosecutor's position of power as an intellectually lazy way out:  "she must know more than we do, and she says he's guilty; so, let's convict."
Whatever becomes of Maria Butima, we owe it to ourselves to not jump to conclusions about this or any other matter.
Maybe NPR would prefer the schooling of famous radio man Edward R. Murrow (rather than the schooling of judges) on this topic:
"We must remember always that accusation is not proof and that conviction depends upon evidence and due process of law. We will not walk in fear, one of another. We will not be driven by fear into an age of unreason, if we dig deep in our history and our doctrine, and remember that we are not descended from fearful men — not from men who feared to write, to speak, to associate and to defend causes that were, for the moment, unpopular."
As to the rest of us, Murrow said:
"There is no way for a citizen of a republic to abdicate his responsibilities."
That means holding the government harshly and unyielding to its burden of proof every single time.
[Image via SAUL LOEB/AFP/Getty Images.]
This is an opinion piece. The views expressed in this article are those of just the author.
Aaron Keller - Deputy Editor-in-Chief