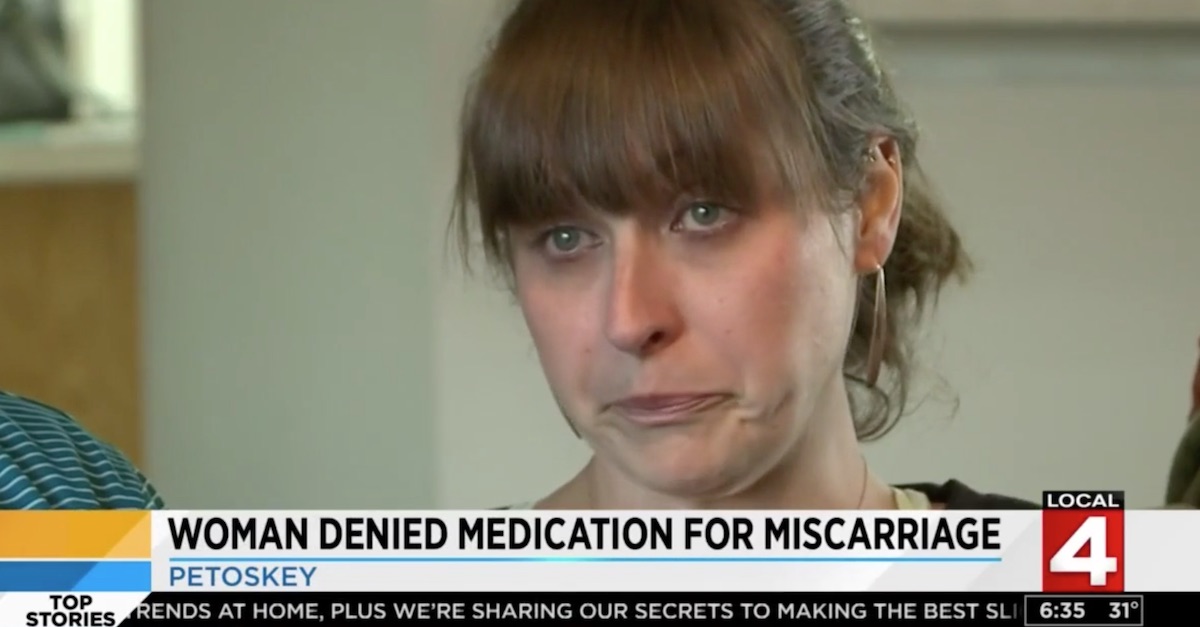 Are you seriously kidding me? It sounds like some bizarre stuff just went down on the corner of Misogyny and Ignorance out in Petoskey, Michigan. On Tuesday, the ACLU filed an official complaint with Meijer Pharmacy's CEO for an incident that's straight out of Gilead.
35-year-old Rachel Peterson had, sadly, suffered a miscarriage. Her OB/GYN called in a prescription to the Petoskey Meijer pharmacy for Misoprostol, which is an FDA-approved medication used to treat a number of conditions, including ulcers, and miscarriages, in addition to inducing labor.
According to reports, the Commander pharmacist, Richard Kalkman, refused to fill the prescription on the grounds that he was "a good Catholic male." Apparently, Kalkman's training didn't include learning about all that female-trouble, because he simply assumed that Peterson was planning to use the medication to terminate a pregnancy.
The story doesn't end there, either. When Kalkman proclaimed his religious objection to doing his job, Peterson actually shared her medical history with him. She explained that she'd had an early pregnancy loss and that the medication had been prescribed to mitigate the medical effects of and subsequent procedures required after the miscarriage. That still didn't help. Kalkman flat out refused, accused Peterson of lying, and told her that there was no way for her to fill her prescription that day.
Still not the end of this debacle.
Peterson then left from what had been a family vacation, drove three hours to another Meijer pharmacy, and attempted to fill her prescription there; but the Petoskey branch wouldn't readily transfer the prescription. Hours later, after Peterson had finally obtained her medication, her mother called the Petoskey pharmacy to obtain the name of the man who'd so mistreated her daughter. That same pharmacist took the opportunity to tattle on Peterson for lying about a miscarriage and attempting to fill a prescription for an abortifacient.
There is so much legally wrong here that it's hard to know where to begin.
First, there's the obvious breach of medical privacy laws; under Michigan State law, pharmacists are prohibited from indiscriminately yapping about people's personal medical details — even when they're Catholic.
"(2) A prescription or equivalent record on file in a pharmacy is not a public record. A person having custody of or access to prescriptions shall not disclose their contents or provide copies without the patient's authorization…"
Then there's the discrimination problem. The pharmacist treated Ms. Peterson differently than he would have had she been a man. Clearly, a man couldn't have been suffering a miscarriage or been attempting to terminate a pregnancy – but a man could have been prescribed this same medication for ulcers.
Michigan has a public accommodation law. It prohibits any business open to the public from denying a person "the full and equal enjoyment of the goods, services, facilities, privileges, advantages, or accommodations of a place of public accommodation or public service because of religion, race, color, national origin, age, sex, or marital status." A man would have been handed the medication without incident. This woman was denied the same medication because of assumptions made based on her gender. That's sex-based discrimination, plain and simple.
Now let's talk about the claim that Peterson can really bring to the bank – intentional infliction of emotional distress ("IIED"). IIED cases are usually really tough to win. Most of the time, the law just doesn't compensate people for having their feelings hurt. But every once in a while, a person is victimized by behavior so egregious, and so damaging, that tort law entitles her to cash to soothe her frayed nerves.
The tort requires that a defendant (here, the Meijer Pharmacy and Kalkman as an individual) purposely engaged in extreme and outrageous conduct. The usual standard for "extreme and outrageous conduct" is behavior that "exceeds all possible bounds which could be tolerated by society." The distress suffered must be the kind that "no reasonable person should be expected to endure it."
And guess what? Antiquated though it may be, one of the most well-established rules in tort law is that pregnant women aren't expected to endure much at all. So if this pharmacist was bound to treat every patron with respect – he'd have been obligated to a pregnant woman (or one recovering from miscarriage) with an even higher standard of care. Throw in the fact that the matter at hand was medical in nature, and that the pharmacist's malfeasance caused someone to delay necessary medication, and you've got a case with a ton of zeroes.
Meijer Pharmacy is about to learn the real cost of having allowing its employees to exercise "religious objections" to doing their jobs. As Meijer tries to spin this disaster as a rogue employee who didn't follow its policy of simply "transferring" the prescription to a non-objecting pharmacist, we see the true danger of Masterpiece Cakeshop. Too many people are ignorant to the subtle differences between religious objection to participating in an activity and religious objection to the activity itself. 2018 Americans are emboldened to take matters into their own ill-advised hands and refuse to do their jobs — laws and ethics rules be damned.
Since Richard Kalkman appears very interested in the concept of gestation, he should probably stay tuned. I have a feeling that what was conceived as a simple complaint is going to grow into a giant, unmanageable lawsuit. And he's going to have to see it all the way to its very expensive end.
[Image via ClickonDetroit/screengrab]
This is an opinion piece. The views expressed in this article are those of just the author.
Elura Nanos - Columnist & Trial Analyst, Law & Crime; CEO Lawyer Up