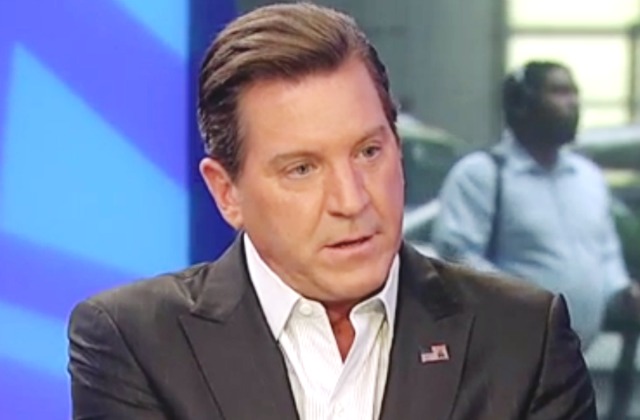 ICYMI, last Friday, HuffPost writer Yashar Ali broke a story that Fox anchor Eric Bolling allegedly sent an unsolicited photo of male genitalia via text to at least two female colleagues. For the story, Ali spoke to 14 sources in and out of Fox News and Fox Business. The network promptly suspended Bolling and launched an immediate investigation. Now, Bolling made a gesture even more gratuitous than uninvited sexts—he initiated a $50 million defamation lawsuit against the HuffPost writer.
The lawsuit itself, claiming that Ali defamed Bolling by accusing him of sending the lewd texts, is destined for failure for several reasons—most obviously that all indicators point to Ali's story being true. And I'm not talking about Bolling's wannanbe-playboy image in the Fox News room. I'm talking about indicators coming from Bolling himself and his own legal team.
Even Bolling's lawyers appear to know that this lawsuit is nothing more than a PR stunt on his part. The lawsuit filed today in Supreme Court, New York County was initiated via "summons with notice." That means there's no formal complaint just yet (New York State allows civil actions to be commenced this way, with the specific allegations filed supplementally later).  In many cases, lawyers choose to commence via summons with notice to get a lawsuit filed quickly, before a statute of limitations runs out. But that wasn't the case with Bolling's suit; he had all the time in the world to wait and file a normal complaint. Wednesday's filing, signed by Michael J. Bowe of Kasowitz Benson Torres LLP (yes, the very same Kasowitz that represents Bolling's friend Donald Trump) likely chose this method of filing in order to be intentionally vague.
The only allegations listed in the filing read as follows:
"The nature of this action is for damages and injunctive relief based on defamation arising from the defendant's efforts to injure the plaintiff's reputation through the intentional and/or highly reckless publication of actionable false and misleading statements about the plaintiff's conduct and character. As a result of the defendant's actions, the plaintiff has been substantially harmed."
In New York State, all initial court filings must be signed by the attorney or party who commenced the lawsuit. That signing certifies that "to the best of that person's knowledge, information and belief, formed after an inquiry reasonable under the circumstances, (1) the presentation of the paper or the contentions therein are not frivolous as defined in section 130-1.1"  In other words, lawyers are not permitted to merely take their clients' word for things; they're required to do some independent investigation to make sure the lawsuit wouldn't be a frivolous one. How much investigation is an attorney required to do? Ah. There's the catch. The amount of investigation need only be "reasonable under the circumstances." That means that a detailed complaint, would likely require some solid investigation. But a summons with notice filing could be faster, and thus, require less verification. Mr. Bowe could point to his client's insistence and argue that his firm did what little investigation was possible in the very short time before filing this quick summons.
Such a use of procedure would get Kasowitz Benson Torres off the hook, ethically speaking, while simultaneously allow Eric Bolling to masquerade as an outraged champion of his pristine reputation. If/when the case settles (confidentially, of course), Bolling will be able to save face with his family and perhaps even with Fox News. How's that for a lawyer trick?
If Kasowitz Benson Torres' apparent strategy isn't convincing enough, there's also the fact that Bolling's denial statement is ridiculous on its face. Bolling's official statement, via his lawyer, was that he, "recalls no such inappropriate communications, does not believe he sent any such communications, and will vigorously pursue his legal remedies for any false and defamatory accusations that are made." Let's put the legal analysis on hold for a sec while we employ basic common sense. If you've never sent a picture of genitalia to someone, and you were subsequently asked about your genitalia picture-sending habits, you would not say that you "don't' recall," or that you "do not believe" you sent the pictures. You would simply say, "I never did that." Sending dick pics, while irretrievably stupid and mind-numbingly tasteless, isn't necessarily an unforgivable offense; but expecting us to believe that the whole matter might have just slipped his mind is too idiotic, even for Eric Bolling. Either he did, or he didn't, and either way, he remembers. It's really that simple.
We'll have to wait and see how this loser of a lawsuit proceeds (if it proceeds at all), and how Eric Bolling will spin his position for the cameras. For now, though, statements by HuffPost and writer Yashar Ali appear to indicate that Bolling's lawsuit didn't have nearly the effect the Fox anchor might have hoped.
Yashar Ali is a paid freelancer under contract with HuffPost. We have no hesitation about standing by him financially in this case.

— Lydia Polgreen (@lpolgreen) August 9, 2017
Not going to stop reporting on Eric Bolling or anyone else. I've had family members killed/jailed in Iran, a lawsuit isn't going to scare me https://t.co/nvludsIV87

— Yashar Ali (@yashar) August 9, 2017
This is an opinion piece. The views expressed in this article are those of just the author.
Elura Nanos - Columnist & Trial Analyst, Law & Crime; CEO Lawyer Up