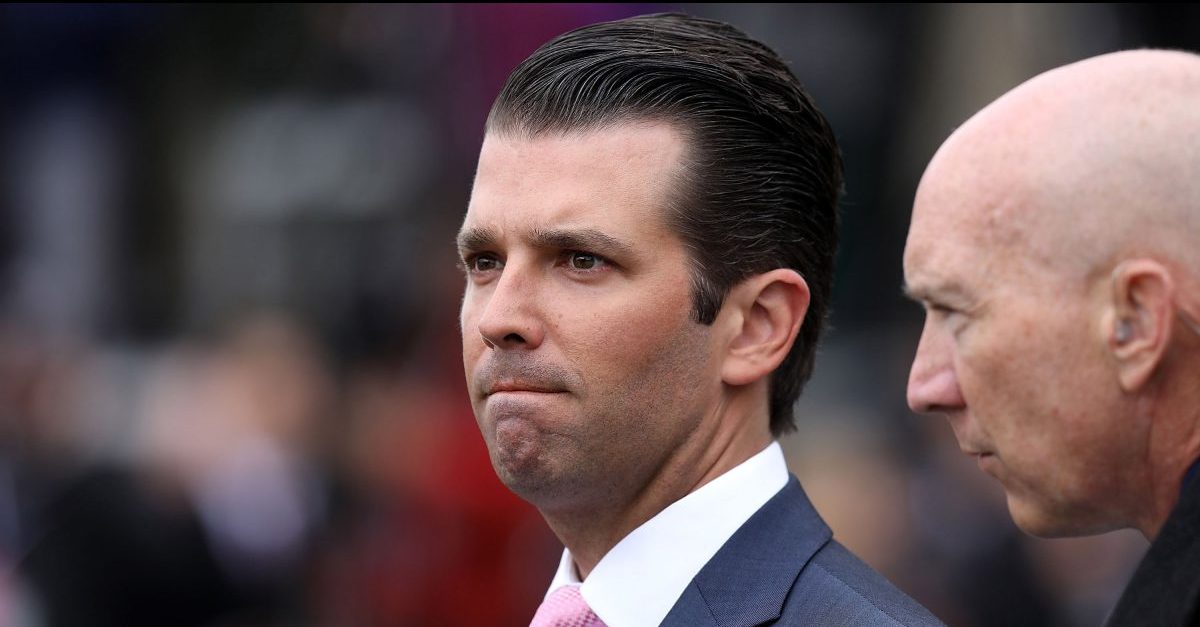 It has happened: Jeff Sessions has resigned as Attorney General of the United States at the request of President Donald Trump. Sessions will be replaced by Matthew Whitaker, a former U.S. Attorney for the Southern District of Iowa who has openly pondered whether Robert Mueller's Russia Investigation has gone too far.
We already knew that there was no love lost between Trump and Sessions and that the latter's departure was somewhat of a foregone conclusion — but first, the midterm elections needed to pass. Now the elections are over and the Democrats control the House of Representatives, they also control subpoena power, and so there are a number of things on the menu. Rep. Adam Schiff (D-Calif.) and other Democrats have not been shy about the fact that priority number one is protecting the Mueller investigation.
Donald Trump might have other priorities, and one of those could be protecting the son who bears his name, Donald Trump Jr. Before you say "Oh, that's some crazy bullshit," know that in recent days the suggestion that Trump Jr. could soon be indicted by the special counsel has been put out there by multiple sources.
As Law&Crime reported earlier Wednesday, reporting months back about how Trump Jr. may or may not have lied under oath about the infamous 2016 Trump Tower meeting has suddenly become relevant again.
Vanity Fair cited unnamed sources on Monday saying, "Trump advisers are girding themselves for Mueller to deliver the results of his investigation to the Justice Department as early as Wednesday, " adding that a "former West Wing Official who testified before the Senate Intelligence Committee" is "very worried about Don. Jr."
Trump Jr.'s lawyer Alan Futerfas notably declined to comment. Since then, Politico published a story claiming that Trump Jr. has told friends in recent weeks that he could be indicted, and soon. The relevant paragraph:
Mueller might submit a final report on his investigation to the Justice Department at any point in the coming months, and he could also bring dramatic new indictments that would thrust the Russia probe back into national headlines. Trump's son, Donald Trump Jr., who served as a key campaign surrogate for Republican candidates, has told friends in recent weeks that he believes he could be indicted, according to one of those people.
If that's the case, what would help more than canning your recused attorney general just to replace him with a person who, by his own admission, believes this:
Last month, when President Donald Trump was asked by The New York Times if special counsel Robert Mueller would be crossing a line if he started investigating the finances of Trump and his family, the President said, "I think that's a violation. Look, this is about Russia."

The President is absolutely correct. Mueller has come up to a red line in the Russia 2016 election-meddling investigation that he is dangerously close to crossing.
Matthew Whitaker believes going after the Trump Family is out of bounds. Granted, these comments were made in the context of finance crimes and it is believed that Trump Jr. could be on the hook for false statements. Nonetheless, it seems obvious that his willingness to voice support for the Trump Family is the reason he's gotten this job. All of this also means that Deputy Attorney General Rod Rosenstein, who appointed Mueller as special counsel in the first place, is no longer running the Russia Investigation.
Why does this matter? First, with Whitaker taking over the investigation, it's as if he appointed Mueller. With that in mind, understand that Whitaker has suggested in a past appearance on CNN that Trump could pressure Rosenstein to "maybe even cut the budget of Bob Mueller."
"I think what ultimately the president is going to start doing is putting pressure on Rod Rosenstein, who is in charge of this investigation," he said. "[He may really try to get Rod to maybe even cut the budget of Bob Mueller and do something a little more stage crafty than the blunt instrument of firing the attorney general and trying to replace him."
Well, the blunt firing of the Attorney General has occurred. There are a couple of scenarios, then, that could unfold. The funding of the probe could still be cut. Depending how far along a hypothetical Trump Jr. indictment is, a significant cut in funding could jeopardize, or at least hamper that endeavor. Even if that's not the case, Mueller could hand Whitaker an indictment tomorrow that says Trump Jr. made false statements and should be prosecuted.
Whitaker could decline to prosecute.
Trump Jr. has been asked before if he's worried about legal trouble related to his answers about the aforementioned Trump Tower meeting with a Russian lawyer for "dirt" on Hillary Clinton. He said at the time that he wasn't worried about it because "I know what I did."
Trump Jr., just like former Trump campaign adviser Roger Stone, has hinted that Mueller might try to set him up.
"That doesn't mean they [Mueller Probe] won't try to do something," Trump Jr. said. "[I'll] deal with it as it comes."
We still don't know for certain if Trump Jr. is going to be indicted, but if Trump Jr. has been telling his "friends" that and he believes a setup is afoot, you can safely bet he's also told his father about it.
[Image via Chip Somodevilla/Getty Images]
This is an opinion piece. The views expressed in this article are those of just the author.