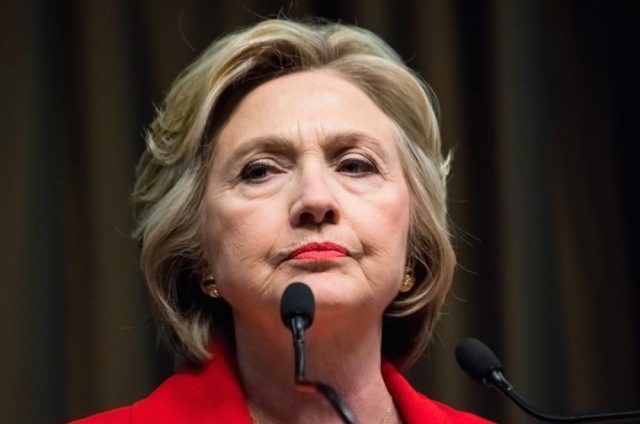 A Newsmax report about Hillary Clinton has been gaining momentum in conservative circles. The article, written by former New York Times Magazine editor-in-chief Ed Klein, states that the Justice Department has reopened their investigation into Clinton's private email system, "and is considering offering her a plea bargain if she will agree to plead guilty to charges of breaking the law." This, reportedly, comes straight from an attorney for Clinton, who is unnamed in the article. The story sure seems like a big deal, but it's drawn significant doubt and skepticism.
So far, major news outlets have yet to say a word about it, even though the story broke yesterday. Still, it's been spreading like wildfire thanks to blogs like YoungCons.com, which picked up the story, and former Alaska Governor Sarah Palin, who shared their article.
BREAKING: Hillary Investigation REOPENED, Plea Bargain Offered https://t.co/jVHQW8xg5S

— Sarah Palin (@SarahPalinUSA) August 9, 2017
Newsmax, whose CEO Christopher Ruddy is said to be a friend of President Donald Trump and a member of Mar-a-Lago, is known to be a conservative outlet, but not #FakeNews. Likewise, Klein has top-notch credentials. The Daily Wire reported on it as well, saying, "You won't see THIS on CNN."  While Daily Wire editor-in-chief Ben Shapiro is a staunch conservative, he's no Trump supporter.
So why the skepticism? One reason could be that the article itself is rife with inconsistencies. The first paragraph says the DOJ "is considering offering her a plea bargain." The second paragraph says the deal "was offered by a high-ranking Justice Department official," after talks took place last month. So which is it? Is the Justice Department considering making an offer, or did they already offer it?
Also questionable is the nature of what was supposedly offered. The article uses terms such as "plea bargain" and "plea offer," which connotes a deal regarding securing a conviction in a criminal case. The same article contradicts this notion by describing the offer this way:
Hillary would be required to sign a document admitting that she committed a prosecutable crime. In return, the DOJ would agree not to bring charges against Hillary in connection with the email probe.
Considering that the reported deal is based on the idea that there are currently no charges against Clinton and no charges would be brought in the future, that hardly sounds like a plea offer, and more like a get out of jail free card. The report does say that Clinton's lawyer noted how pleas are offered after a person is charged and not before. Theoretically, it's possible that the offer would involve Clinton being charged with an offense, just so she could admit to it and have the charges dropped and the matter closed for good.
Klein has so far not responded to LawNewz.com's request for comment. Likewise, LawNewz contacted a Clinton attorney and the Justice Department, and neither side has replied.
[Image via Evan El-Amin/Shutterstock]
This is an opinion piece. The views expressed in this article are those of just the author.