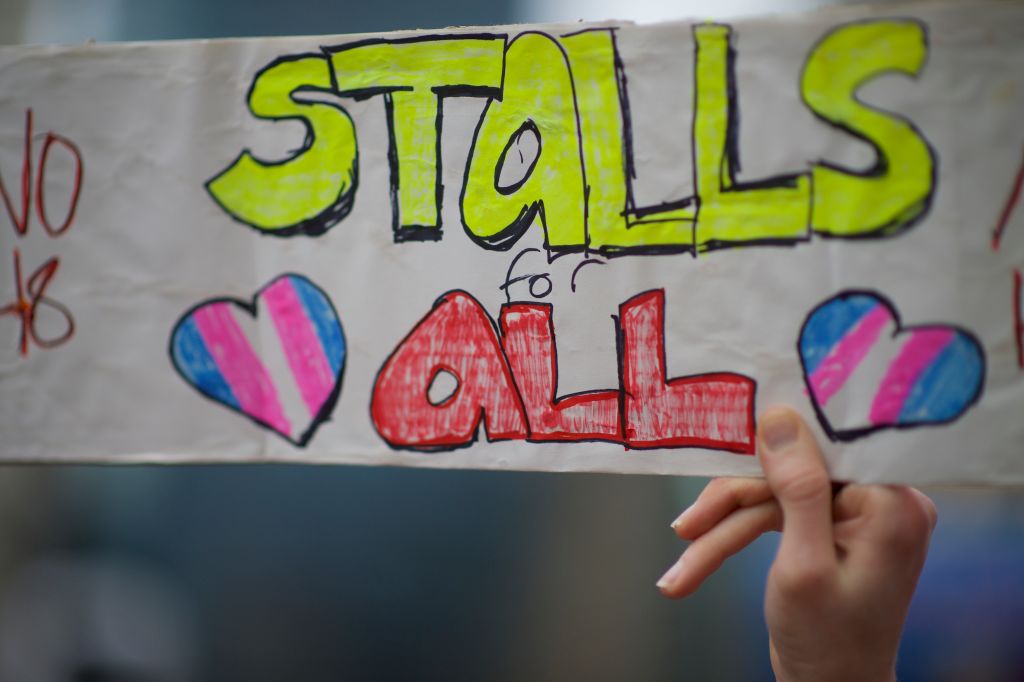 It's been a while since the brigade of Bathroom Bigots has taken public aim at transgender people, so we were definitely due. People around the world are hailing the artistry and resolve of openly-gay Olympians, so now is as likely time as any for the Trump Administration to reboot its assault on all things LGBT – which brings us back to bathrooms. BuzzFeed News reported this week that the Education Department has decided not to investigate or take any other action on any complaints filed by transgender students about bathroom usage. Yep. That's right. Not only does our federal government disagree that the law protects transgender people from this discrimination, but it's flatly refusing to even investigate complaints. BuzzFeed reported that the DOE hasn't made any formal announcement, but that it spoke with DOE spokesperson Liz Hill, who explained, "Title IX prohibits discrimination on the basis of sex, not gender identity." Hill added that certain other types of transgender complaints might be investigated — but not bathroom complaints:
"In the case of bathrooms, however, long-standing regulations provide that separating facilities on the basis of sex is not a form of discrimination prohibited by Title IX."
Catherine Lhamon, the former head of the DOE's Office for Civil Rights under President Obama, called out the current administration for its anti-transgender stance:
"This new categorical bar of civil rights protection for transgender children required to attend schools every day ignores the text of the law, courts' interpretation of the law, the stated position of the Department to date, and human decency."
This isn't the first anti-transgender step the Trump Administration has taken. Back in October of 2016, the Supreme Court had granted certiorari to review the case of Gloucester County School Board v. G.G.. A central issue in that litigation was whether Title IX (the federal law prohibiting gender discrimination) requires that transgender students be permitted to use bathrooms consistent with their gender identity.
After Trump won the 2016 election, though, the Supreme Court extended the timeline of the case – a seemingly simple change that had a harsh impact on the law affecting transgender people.   The White House rescinded the Obama-era guidelines on Title IX, and as a result, SCOTUS reversed its decision to hear Gavin Grimm's case last March.
SCOTUS' change of heart and calendar was certainly a loss for the transgender community, as it forfeited its chance to rule, once and for all, whether Title IX requires schools to permit transgender students to use bathrooms consistent with their gender identity. Remember – while the Department of Education's stance on Title IX's requirements is important, only the Supreme Court has final say over matters of interpretation of federal law. Still, without a current case pending before the high bench, the bathroom question will go unanswered for the time being, and federal circuit courts will remain split over what "sex" means. For now, bathroom rules are left to the discretion of individual states and local school districts. Today's statements from the Trump DOE mean that school districts are a little freer to disregard Title IX when making their bathroom-usage policies. Theoretically, all LGBT students should still have the same legal protection against discrimination, bullying, or harassment – but we'll see how that goes.
Honestly, using bathroom rules to justify discrimination is as ignorant as it gets—particularly set against the backdrop of Jim Crow laws and segregated bathrooms in the American South. It wasn't so long ago when The American Bigot bellowed about blacks as unqualified sexual deviants, and public bathrooms as the only refuge for innocent white women. Most of us now see laws separating races in bathrooms for what they always were – repulsive signs of backward thinking by an ignorant and repressed society. History will likely judge our current administration harshly for its new version of an old theme. Law & Crime spoke with Paul D. Castillo, Senior Attorney and Students' Rights Strategist for Lambda Legal, who stated the following:
"The U.S. Department of Education, under Secretary DeVos, continues to harm transgender students across the country. The agency's apparent refusal to investigate complaints by transgender students denied access to restrooms jeopardizes their safety and well-being. All students, including transgender students, are guaranteed equal educational opportunities and the right to be free from gender discrimination under Title IX in all education programs and activities."
Gross as the DOE's position on bathrooms is, let's do our best to keep perspective. Title IX isn't the only game in town. Title IX is a federal law that prohibits discrimination on the basis of gender. But there are many other laws, at the federal, state, and local levels that could also be used to justify an inclusive legal position for transgender students. Our school districts have no legal obligation to sink to the level of Betsy DeVos' departmental intolerance. Every school district in America has full legal authority to adopt appropriate bathroom policies, investigate complaints, and protect all students. Every parent in America has the right to demand that injustice have no place within the walls of their children's schools. The Trump administration may have abandoned American transgender children, but the rest of us are free to do what's right.
Follow Elura Nanos on Twitter @elurananos
[GETTY IMAGES]
This is an opinion piece. The views expressed in this article are those of just the author.
Elura Nanos - Columnist & Trial Analyst, Law & Crime; CEO Lawyer Up