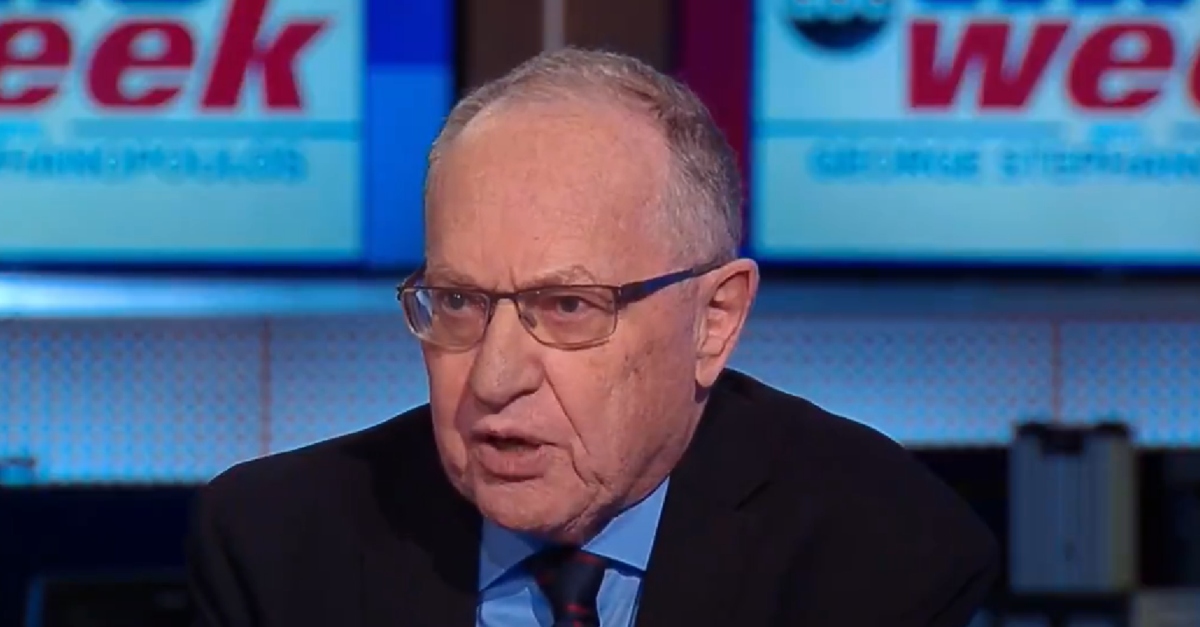 Famed defense attorney Alan Dershowitz penned an opinion piece in Monday's New York Daily News that sternly addressed Special Counsel Robert Mueller. Dershowitz warned that if Mueller mentioned people in his Russia report that were not indicted, it would be just as bad as when then-FBI Director James Comey spoke publicly about Hillary Clinton's investigation that didn't yield any charges.
The entire premise of this is incredibly flawed.
"It is difficult to imagine that a nearly 400-page report detailing his 22-month investigation will not include criticisms of persons who were not indicted, most especially President Trump," Dershowitz said.
He's trying to play the part of fair-minded scholar by saying that people on both sides of the aisle should "not rush to judgment" at the point "if and when" Mueller's report discusses people who didn't face charges. It's a sly way of vilifying Mueller, however, in advance of the report's release, because he knows that not all of it is complimentary to President Donald Trump, whom he's been defending in the media throughout the investigation.
A main aspect of the investigation was whether or not Trump obstructed justice, so naturally Mueller's report was going to discuss it; and we know so far that it discussed obstruction without reaching a conclusion.
There's just one really important detail that Dershowitz is leaving out: Mueller's report is a confidential document. While all of us are itching to see it, the special counsel regulations say that it is meant for one person only: the Attorney General of the United States.
It's up to AG William Barr to decide whether to release details, but he is not required to do so. All Barr had to do was notify Congress that he received the report, and address conclusions and any instances where the special counsel's wishes were shot down by the acting Attorney General for being unwarranted or inappropriate.
That means that any reference to unindicted individuals in Mueller's report would be confidential, and not at all equivalent to Comey's public statements about the Hillary Clinton investigation.
Yes, Mueller's report is set to be released, but it will be redacted to keep sensitive material away from the public. That means that redactions in a public version of the report may be fairly extensive so as not to unfairly harm Trump; or at the very least, information that wasn't already known to the public could be redacted, with the rest made public. It seemed from Barr's letter to Congress that much of the evidence was already publicly known.
Additionally, it's important to remember that while Barr has said that Mueller will be involved in this process, Barr is now the one calling the shots at this point, so it wouldn't even fall on Mueller if information about unindicted people did get out.
As far as unindicted people other than Trump, it's far less likely that any harmful information would get out.
Quite the contrary, the Special Counsel's Office has been notoriously tight-lipped, to the point where reporters like me have been downright giddy over getting anything but a "no comment" from them, even on fairly inconsequential subjects.
Yup, I got an actual comment from Mueller spokesperson Peter Carr. Feeling pretty special right about now. pic.twitter.com/aqBFulLeSI

— Ronn Blitzer (@RonnBlitzer) March 14, 2019
Mueller has only given the public details in his court filings, and even then he's been very focused. At no point in any of his cases has he outed anyone not facing charges. Recall, it was Jerome Corsi who confirmed that he was one of the unnamed individuals in the Roger Stone indictment–Mueller didn't reveal that.
Deputy Attorney General Rod Rosenstein, who oversaw most of  Mueller's investigation, has spoken out against releasing information that would be harmful to people who haven't been prosecuted.
"We also have a duty to prevent the disclosure of information that would unfairly tarnish people who are not charged with crimes," Rosenstein said in a letter to then-chairman of the Senate Judiciary Committee Charles Grassley that discussed Mueller's investigation.
Expect the Justice Department to continue to take this issue just as seriously.
Ronn Blitzer is the Senior Editor of Law&Crime and a former New York City prosecutor. Follow him on Twitter @RonnBlitzer.
[Image via ABC screengrab]
This is an opinion piece. The views expressed in this article are those of just the author.