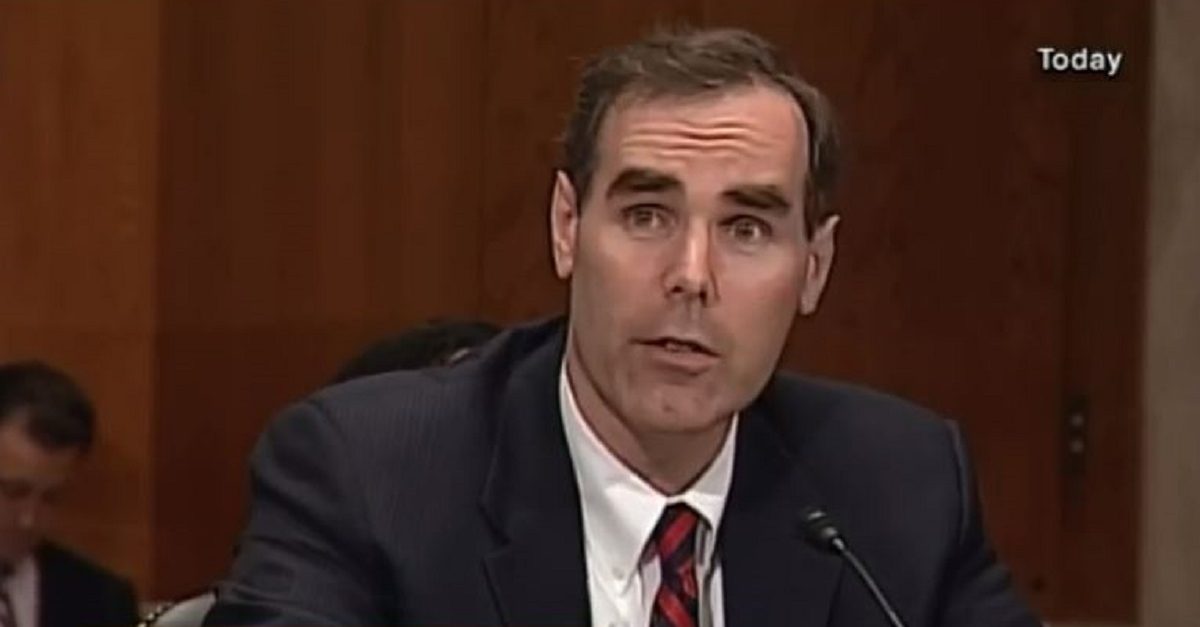 Look, we all know that lawyers often make arguments that conflict with their own personal beliefs. It's just part of the job. But for the love of all that is holy, if you were putting someone in charge of a civil rights department, wouldn't you want it be someone who is an advocate for civil rights?
President Donald Trump has, once again, appointed someone to a department who seems diametrically opposed to the functioning of the department itself. Former Jones Day partner Eric Dreiband was confirmed by the Senate 50-47 to lead the Justice Department Civil Rights Division. Here's a little background on Dreiband:
He represented Abercrombie & Fitch in that case about the hijab, and

SCOTUS smacked him down badly

.
Back in 2009, a 17-year-old girl applied to work in an Abercrombie Kids store in Tulsa, Oklahoma. In accordance with her religious beliefs, she wore a hijab – which the store manager said violated Abercrombie's "Look Policy." The girl sued, and took the case all the way up to the U.S. Supreme Court, where she won, 8-1. Clarence Thomas was the lone dissenter – and even he only dissented as to a portion of the decision. It wasn't a close call, and it wasn't a liberal decision; it was, in fact, the late Justice Scalia who penned the majority opinion in this case. The argument made by Dreiband's team? That Abercrombie couldn't have had any idea that the girl's hijab was somehow related to her religion.
He helped Big Tobacco shrink protections against age discrimination.
Dreiband represented tobacco giant R.J. Reynolds in litigation over age discrimination in Villarreal v. R.J. Reynolds. A whistleblower had revealed Reynolds' practice of summarily discarding applicants over age 40. One such applicant sued, and the Eleventh Circuit agreed with Dreibrand's team – that federal law may protect existing employees, but does not protect new applicants. The holding represents a constricting view of age discrimination protections that protect employers at the expense of older Americans.
He sided with the "bathroom bigots" in North Carolina.
In 2016, North Carolina and its then-governor Pat McCrory were at the forefront of "the transgender bathroom issue." North Carolina passed a law that required schools and government facilities to restrict transgender people to bathrooms corresponding to their birth gender. The Obama DOJ sued NC for adopting a law that violated Titles VII and IX of U.S. Civil Rights Act. The State of North Carolina, joined by a number of state institutions, filed suit against the DOJ, arguing that its law wasn't discriminatory and that the DOJ had exceeded its authority. Eric Dreiband was there, alongside the bathroom brigade, representing the University of North Carolina in its efforts to [*sigh* once again] shrink the legal definition of "discrimination."
He worked with Kenn Starr to go after the Clintons' inner circle.
Webster Hubbell had been Hillary Clinton's law partner at the Rose Law Firm, Governor Bill Clinton's appointee for Chief Justice of the Arkansas Supreme Court, and President Clinton's Associate Attorney General. Hubbell was also the subject of multiple investigations and prosecutions for tax evasion, conspiracy, and fraud. Eric Dreiband was part of Kenn Starr's investigative team – which culminated in Hubbell's guilty plea to one decade-old charge of failing to disclose a potential conflict of interest; that plea happened on the same day that Starr was required to step down as Independent Counsel.
He represented religious groups opposed to contraception.
In 2012, several religious religious legal groups challenged the Affordable Care Act's mandate that employers' insurance plans provide free contraception for free. Dreiband joined with the Jones Day team to represent the Roman Catholic Diocese of Pittsburgh, siding with religion over reproductive freedom. While conservatives could argue that Dreiband was representing the civil rights of religious groups, female employees might not see it that way.
[Image via C-SPAN2 screengrab]
This is an opinion piece. The views expressed in this article are those of just the author.
Elura Nanos - Columnist & Trial Analyst, Law & Crime; CEO Lawyer Up