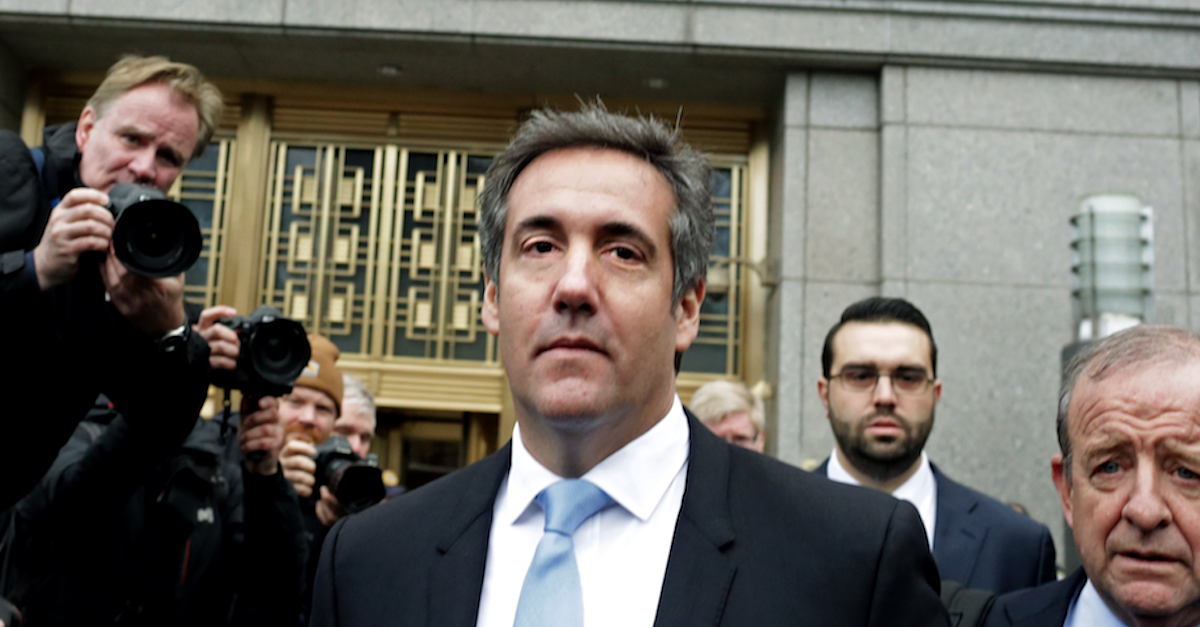 Michael Cohen's legal battles continue to develop, both on the civil end with Stormy Daniels, and on the criminal end with federal prosecutors having the FBI seize his files. The pressure is likely mounting for President Donald Trump's lawyer and "fixer," and Trump's longtime adviser Jay Goldberg reportedly said that if Cohen gets charged, it's more than likely that he'll flip on Trump and cut a deal. On a scale of 1 to 100, with 100 meaning Cohen would not cut a deal, Goldberg told Trump that Cohen "isn't even a 1," according to the Wall Street Journal.
While Cohen would be limited in what he can reveal about Trump due to attorney-client privilege, there are certainly exceptions to that privilege that could come in handy if he's willing to cooperate with Special Counsel Robert Mueller's Russia probe. Here are some signs that this may happen.
1. He just dropped two defamation cases regarding the Steele Dossier
Late Wednesday, Cohen dropped his lawsuits against Fusion GPS and BuzzFeed over the notorious dossier that placed him in Prague, meeting with Russians. Cohen has long denied that he was in Prague at the time, and sued the companies for libel. Recently, however, it was reported that Mueller's team found evidence that Cohen was indeed in Prague on a secret trip. Cohen's lawyer David Schwartz said that the claims in the lawsuits still have merit, but that they were dropping the litigation to give greater attention to his other legal matters.
If it's true that Mueller was able to place Cohen in Prague during the campaign, not only would that explain the decision to drop the libel cases, it could mean he's willing to admit to Mueller that he was in Prague after all. Such an admission could go along with all sorts of information regarding his activities during the campaign.
2. Trouble on Two Fronts
Speaking of Mueller, being drawn into the Russia investigation is pretty much the last thing Cohen needs right now. If he does end up a target of Mueller's probe, that would make two criminal investigations that Cohen is facing. The federal investigation in the Southern District of New York is reportedly based on suspicion of bank fraud and campaign finance violations. Throw in possible Russia-related charges, and Cohen could end up facing a serious prison sentence.
That kind of pressure could lead to him cutting a deal. As Alan Dershowitz told Politico, "They're going to threaten him with a long prison term and try to turn him into a canary that sings."
3. Cohen's CNN conversation after the FBI raids
Right after the FBI raided his home, office, and hotel, Cohen had a phone conversation with CNN's Don Lemon, where he expressed dismay over his situation. According to Lemon, Cohen was concerned for his family and said that the raids were "upsetting, to say the least." When Lemon asked Cohen if he was worried about his situation, Cohen reportedly said, "I would be lying to you if I told you that I am not. Do I need this in my life? No. Do I want to be involved in this? No."
One way that Cohen could potentially make the situation a lot better for himself is to flip. If he's truly worried for himself and his family, it could very well happen. Plus, the fact that he even talked to CNN (especially Don Lemon) is a definite message to Trump.
4. Cohen's silence since then
One word that is not often used to describe Michael Cohen is "quiet." Cohen has quite a history of giving brash, entertaining interviews on television, but lately that hasn't been happening. Even the aforementioned chat with Don Lemon didn't take place on the air, rather Lemon discussed it on CNN after the fact. Even Cohen's lawyers, who were popping up on the airwaves frequently to discuss the Stormy Daniels case are harder to find, now that there's a known criminal investigation going on. This seems pretty out of character for Cohen, which has some people close to Trump concerned, according to a Politico report.
"When anybody is faced with spending a long time in jail, they start to re-evaluate their priorities, and cooperation can't be ruled out," one source told the publication.
Cohen's muted behavior could possibly be a sign that he may end up cutting a deal instead of fighting the criminal case.
Cohen has stated in the past that he'll always protect Trump, but he may not have anticipated these latest developments. Despite Cohen's past loyalty, Goldberg toldTrump that he needs to be wary.
"I don't care what Michael says," Goldberg warned.
[Image via Yana Paskova/Getty Images]
This is an opinion piece. The views expressed in this article are those of just the author.