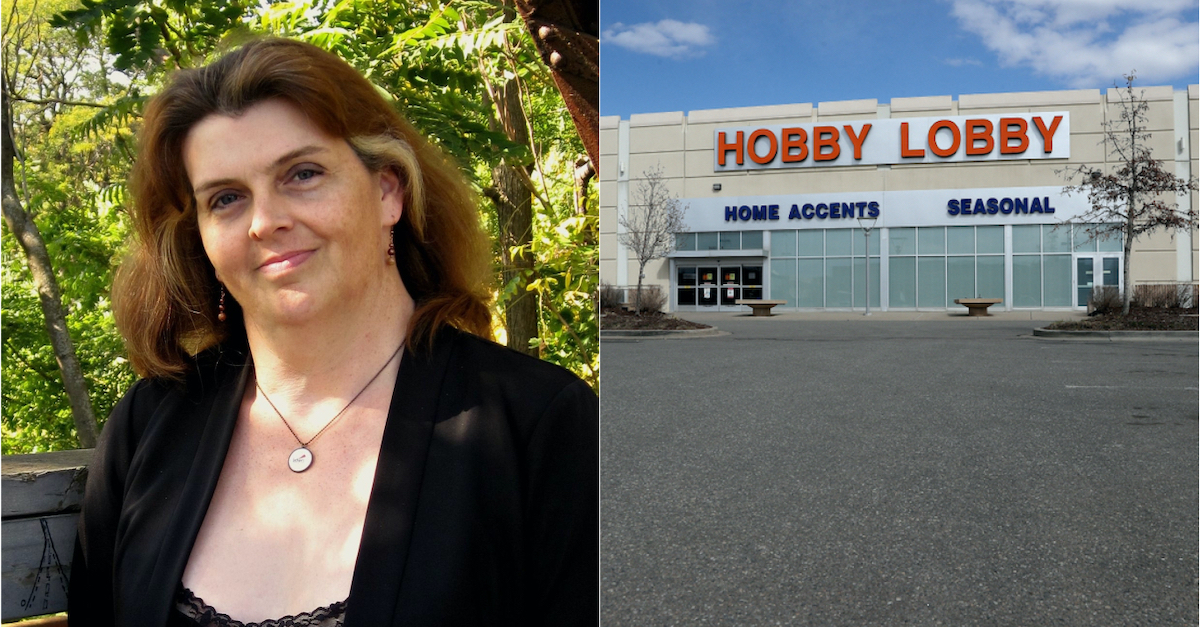 Listen to the full episode on Apple, Spotify or wherever else you get your podcasts, and subscribe!
A little more than a week after her landmark $220,000 victory against Hobby Lobby, a transgender manager and her lawyer have confirmed that the conservative Christian-owned crafts company now allows her to use the women's restroom.
Hobby Lobby denied frame department manager Meggan Sommerville that right for more than a decade, a policy that an Illinois appellate court recently found caused her "emotional devastation" deserving of the toughest penalty the state's Human Rights Commission has ever awarded.
"Fortunately, about a week and a half ago, they told Meggan that, for the first time, they will abide by the court's decision, and she can use the women's room at work," her attorney Jacob Meister revealed on the latest episode of Law&Crime's podcast "Objections: with Adam Klasfeld."
"An Air of Being an 'Other'"
Fresh from her victory from a unanimous three-judge panel, Sommerville opens up about the turmoil she says Hobby Lobby's former policy caused her.
"It is an air of being an 'other,'" she describes on the episode. "Every time you have to go to the washroom, you're not considered equal. You're an 'other.'"
In a 26-page ruling, the court detailed the physical distress and "emotional devastation" that Sommerville suffered since the enactment of the policy more than a decade ago.
"I still will have dreams, nightmares of being in environments where I'm not accepted, where I am just in this constant battle to prove to the world around me who I am," Sommerville says on the episode. "It's tough. I don't wish this on anybody. Hopefully one day I will be able to get past it, but it's been emotionally devastating."
The Illinois Second District Appellate Court cited Sommerville's nightmares in finding Hobby Lobby's violation of the state's human rights law were grave enough to merit "the highest amount ever awarded by the Commission for emotional distress," in that the daily "humiliation" occurred multiple times a day and lasted for many years.
In 2007, Sommerville began her transition, and she informed Hobby Lobby of her female identity and name change some three years later. The company adjusted her employment records accordingly and raised no objections throughout the process—except when it came to the restrooms.
"It was the one thing that they can control," Sommerville reflected, referring to Hobby Lobby. "Legally, what could they say? […] The state of Illinois says I'm female. Okay. 'Well, guess what? We're going to control this one area. We're going to control you this way."
"Or, at least they tried," she added.
A more than decade-long legal battle followed, first with the Illinois Human Rights Commission and then in the courts, where Sommerville prevailed at every turn.
"A Great Departure"
The Illinois appellate court that handed Sommerville her latest victory leans conservative. Two of the justices on the panel were elected Republicans, including Appellate Court Justice Mary Seminara-Schostok, the lead author. The third member of the panel is a non-partisan, atypical in a state that holds elections with political affiliations.
For Sommerville's lawyer, the split is only one of the reasons for the ruling's significance.
"What this court found is that the gender identity is a separately protected class and that an individual's gender identity is determinative of the individual sex," Meister said. "So the court not only found that Megan has rights as a transgender individual. It also found that her gender identity determined her sex as female, and that is the great departure."
In this respect, Meister noted, the Illinois court went farther than the U.S. Supreme Court in Bostock v. Clayton County, the watershed ruling establishing that sexual orientation and gender identity are protected by the Civil Rights Act.
The Supreme Court, however, has not squarely addressed the "bathroom issue," and the reasoning in cases involving transgender rights typically comes down to gender stereotypes, Meister noted.
"Where this case is beautiful in its departure is, your gender identity—your firmly and full-time, gender identity—regardless of your sex assigned at birth, is deemed to be your sex," the lawyer added, calling the distinction "subtle" but "major."
Hobby Lobby argued in court that sex is an "immutable condition," but the court rejected that argument.
"Hobby Lobby's argument that female status is somehow immutable is belied not only by the [state's Human Rights] Act but also by its own conduct," the justices wrote in a footnote, referring to the fact that the company accepted Sommerville's name change and transition in other respects.
"It Always Comes Down to Bathrooms"
Despite coming from an intermediate state appellate court, the ruling has made waves across the country. Both Sommerville and her lawyer have heard from other transgender people and advocates across the country.
For Meister, the case demonstrates a legal principle in law and gender: "It always comes down to bathrooms."
"That's a principle of law because that's the place at which sex segregation is permitted by law: to have men's rooms and women's rooms. […] At some point, everybody goes to a bathroom, and people want to have these bright lines. And what the justices said is, 'No, there don't have to be bright lines.'"
Asked why she believed Hobby Lobby put up such a fight over bathrooms—after otherwise accepting her gender identity—Sommerville brought up the company's corporate culture.
"I don't want to say this is the reason, but Hobby Lobby is a conservative Christian-run organization," Sommerville noted. "Many of the managers and district managers and people of authority hold very distinct religious beliefs."
"That was never brought up in the trial or any other proceedings," she added.
Speaking about her experiences inside the company's corporate offices, Sommerville described attending meetings starting with prayer and a general climate of "religious liberty."
When she first transitioned, Sommerville said, she worried mostly about the reaction from her customers. It turned out, she said, that they were the ones who supported her.
Sharing an anecdote about one, Sommerville recounted doing framing for her wedding and baby pictures when she had a child.
"She happened to come into the store, the Saturday after the announcement, and she had already heard about it want to come in and congratulate me," Sommerville said, apologizing as she started to get emotional.
"I said, 'I want to say thank you for being with me and supporting me through this. You knew me before everything, and that was my biggest fear,'" Sommerville continued, holding back tears. "And she said, 'No, I have you to thank.' Because she works in education, and because she's learned from me, she's now working and helping other kids that are struggling with their own gender identity."
Neither Hobby Lobby nor its attorney have responded to Law&Crime's press inquiries. They have not yet publicly announced whether they plan to appeal.
Listen to the episode below:
(Photo of Sommerville courtesy of her attorney; image of Hobby Lobby by Matthew Stockman/Getty Images)
Have a tip we should know? [email protected]
Adam Klasfeld - Managing Editor