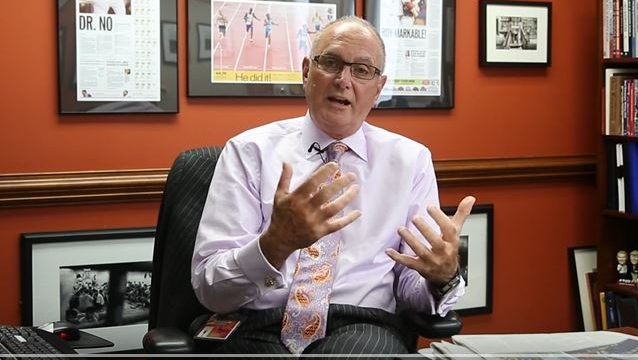 The Burlington Free Press fired its editor Monday night over comments he made about a state plan to add a third gender option to Vermont state driver's licenses. That's according to a statement on the paper's website.
Editor Denis Finley got canned after a Twitter firestorm blew back in the paper's face. Finley responded this way to the state's move:  "Awesome! That makes us one step closer to the apocalypse."
Awesome! That makes us one step closer to the apocalypse. https://t.co/Fux34w61B8

— denisfinley (@denisjfinley) January 6, 2018
It was one of a series of Tweets that drew immediate blowback from liberals, including former Democratic National Committee chair and former Vermont governor Howard Dean:
The Freeps has a habit of putting right wingers in charge. They were crummy on civil unions in 2000 too. https://t.co/gkQqNMqmpE

— Howard Dean (@GovHowardDean) January 7, 2018
However, some of Finley's former colleagues at other papers came to his defense.
You know nothing about @denisfinley. He's an excellent editor. Led @virginianpilot during a very tough time. Nothing but admiration for him. A lone conservative in a sea of libs. Deal with it. https://t.co/JAXJLb08zv

— kerry dougherty (@kerrydougherty) January 8, 2018
Others were pleased by the move:
It's so rare to see someone lose their job for overt transphobia- this is so satisfying to read. It's the good kind of apocalypse Denis Finley where people who abuse power and position actually lose their jobs! https://t.co/oee7HSp6zg

— P. Carl (@pcarlphd) January 9, 2018
The official cause for Finley's termination was for failing "to adhere to the company's code of conduct and ethics policy," which require "overarching values of fairness, balance and objectivity."
Finley used to be the editor of a different newspaper in Norfolk, Virginia, according to that paper's coverage of his termination. The Virginian-Pilot reports he worked at that paper for 28 years, serving for ten years as editor. He left to work at a museum for a year before Gannett hired him to work as managing editor of its Burlington, Vermont newspaper.
[Image via screengrab]
Have a tip we should know? [email protected]
Aaron Keller - Deputy Editor-in-Chief