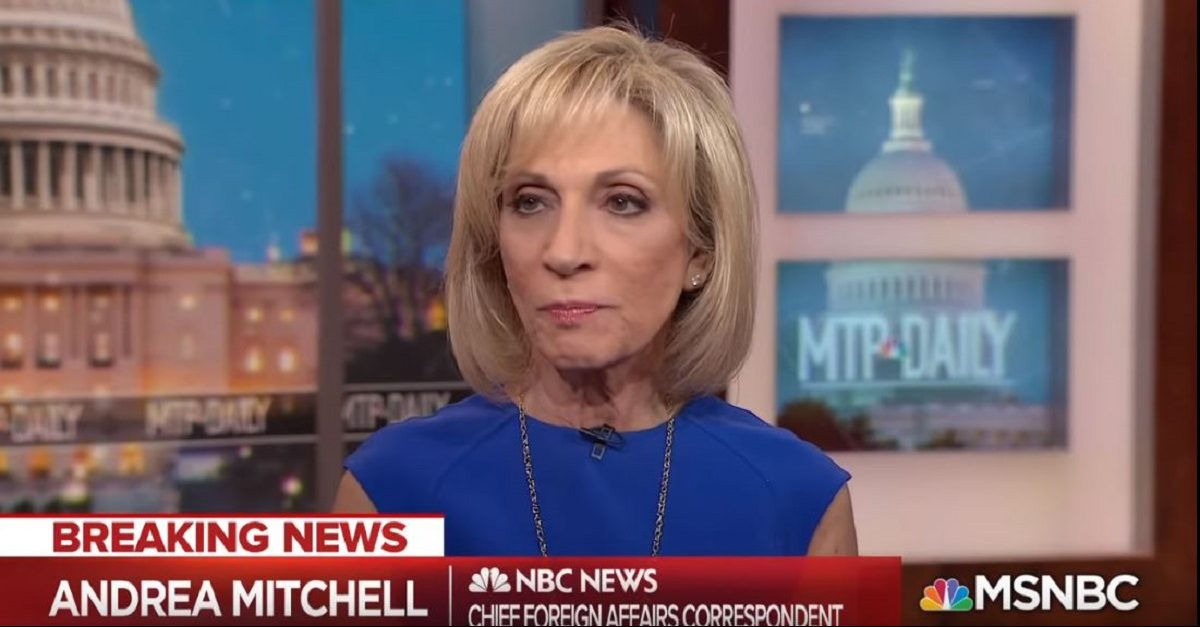 Monday's Twitter war between the White House and Democratic Senators Elizabeth Warren and Kamala Harris spun off into a side battle after MSNBC host Andrea Mitchell tried to get involved. The White House criticized the Dems for opposing U.S. Immigration and Customs Enforcement (ICE), and tweeted press releases from ICE's website that touted successful operations against gangs and trafficking operations. The White House's tweets accused the Senators of supporting such illegal activities.
Mitchell tried to cite federal law to show that the White House shouldn't be engaging in such behavior. In one tweet, she said it "raises questions of law and ethics." In the next, she cited a federal statute in order to show the potential illegality.
Re: White House tweets attacking Senators: Section 1352(a) of Title 31: No part of the money appropriated by any enactment of Congress shall..be used directly or indirectly to pay for any .. written matter… intended or designed to influence in any manner a Member of Congress

— Andrea Mitchell (@mitchellreports) July 2, 2018
The problem, however, was that the statute she named, 31 U.S.C. 1352(a), has nothing to do with this, and doesn't even include the language she quoted.
Conservative Twitter had a field day.
This is fake news spread by top NBC reporters, and the rest of the media looks the other way.

The law she cites has nothing to do with tweets.

Ask any lawyer.

It's a lobbying regulation.

This is fake news and not one mainstream reporter will call it out. pic.twitter.com/0pWqn7YTb6

— Mike Cernovich 🇺🇸 (@Cernovich) July 3, 2018
And you wonder why you are called fake new, this law only applies to funds for lobbying by private contractors & grant recipients. This law has no application whatsoever to White House public comments on Senators. But feel free to make up stuff to fit your narrative #FakeNews

— 🇺🇸Mark F Barnes 🇺🇸🎖⚒🚭™ (@mfbarnes52) July 3, 2018
Would it surprise anyone to know this isn't what 31 U.S.C. § 1352(a) is about? 3,000+ retweets for the lying reporter.

Sec. 1352(a) doesn't say "influence in any manner." It says influence in connection with a list of contracting and financial actions.
https://t.co/Kn2iE2ktOr https://t.co/kSXZwWRpCg

— Gabriel Malor (@gabrielmalor) July 2, 2018
The haters got support from a surprising source Tuesday morning. The commotion ended up getting the attention of Walter Shaub, former director of the Office of Government Ethics. Shaub, who is by no means a fan of the current administration, confirmed that Mitchell was totally off with her citation. Not only did Shaub point out that the language Mitchell quoted didn't match the law she cited, he added that even the correct law didn't apply didn't mean anything in this situation.
The text of that tweet comes from 18 USC 1913, not 31 USC 1352. And 1913 has been interpreted too narrowly to be useful here.

— Walter Shaub (@waltshaub) July 3, 2018
Have a tip we should know? [email protected]