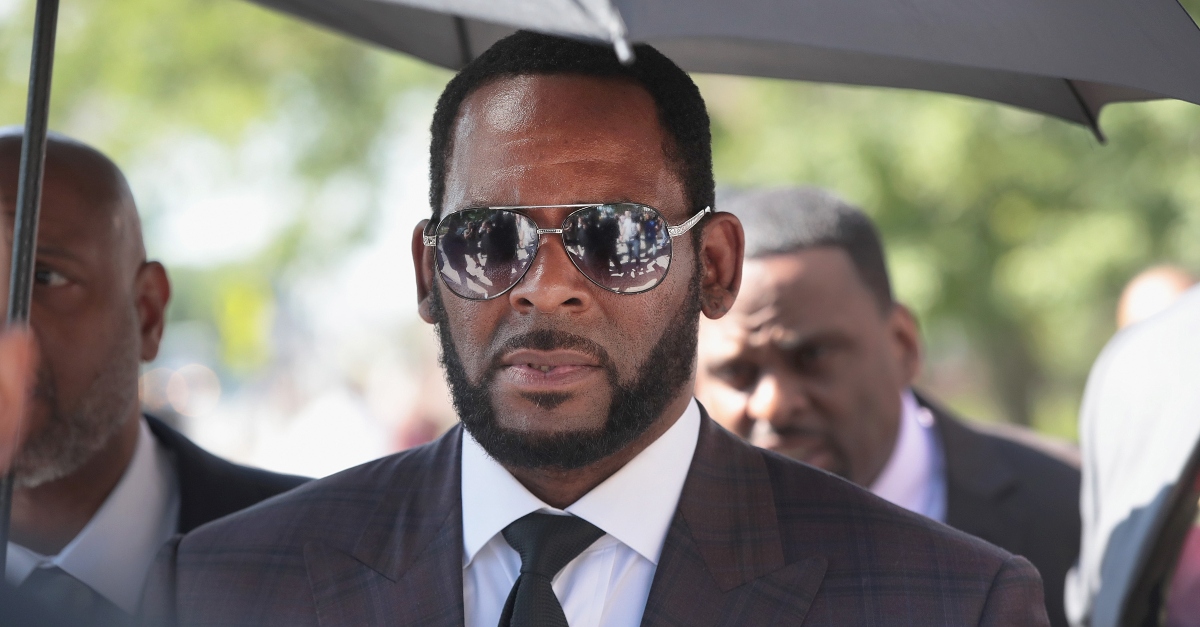 R&B singer R. Kelly systematically groomed women and girls into a pattern of abuse—some, like the late "Queen of Urban Pop" Aaliyah, when they were minors—with the help of an "inner circle" of employees who silenced his victims, a federal prosecutor told jurors at the dramatic start of the disgraced singer's long-anticipated trial.
"This case is about a predator," Assistant U.S. Attorney Maria Cruz Melendez told the jury, in the first sentence of her opening remarks.
Identifying the accused predator by his full and his stage name, the prosecutor added: "That man, that predator, is the defendant, Robert Sylvester Kelly, more commonly known as R. Kelly."
Charged with violating federal racketeering law and the Mann Act, Kelly has been depicted as the leader of an "enterprise" run for his own sexual gratification. The prosecutor claimed that the defendant's coterie of managers, assistants and runners helped recruit his victims, pressured them into signing non-disclosure agreements, and give them hundreds of thousands of dollars "hush money" settlement payments to keep the scheme going.
When Kelly's career took off the early 1990s, Cruz Melendez said, the singer's success and popularity brought him "access."
"The defendant quickly learned that he could take advantage of his access—and he did," the prosecutor said, whether it was access to a "girl, a boy, or a young woman."
"Who Is the Father of That Baby"
The alleged victims specified in the prosecution's opening statement were all female: Four of the alleged victims—Aaliyah, Stephanie, Jerhonda, Zel—were minors, and two others—Sonja and Faith—were young women, the prosecutor told jurors. Named in court documents only as "Jane Does," they were given permission to testify or be referred to by their first names or pseudonyms.
According to Cruz Melendez, Kelly knew he had a problem when he believed Aaliyah got pregnant, which the prosecutor noted would raise questions.
"At the top of that list is: Who is the father of that baby?" Cruz Melendez noted, adding that Kelly's "plan" was to marry Aaliyah.
But, according to prosecutor, there was a snag: Aaliyah was 15 years old, and a fake ID was needed to obtain the marriage license that would shield the then-27-year-old Kelly from embarrassing testimony and potential prosecution, Cruz Melendez said.
As the prosecutor rattled off the stories of the women and girls, patterns emerged. R. Kelly allegedly told multiple victims to call him "Daddy" and recorded himself having sexual relations with multiple minors, creating what prosecutors describe as child pornography. Some, the prosecutor said, alleged "cruel and demeaning" physical abuse, including "spankings and beatings" that Kelly referred to as "chastisement."
"This case is not about a celebrity who likes to party a lot," the prosecutor said, adding that is also not about his sexual orientation.
Cruz Melendez said the repeated videos were not only for Kelly's gratification, but used as an "insurance policy, of sorts" to keep the girls quiet.
Multiple victims claim that R. Kelly failed to disclose that he had herpes and infected them. The singer lost his motion to suppress evidence about his sexually transmitted infection and dismiss those related charges minutes before opening arguments began.
U.S. District Judge Ann M. Donnelly, who also allowed witnesses to testify under pseudonyms, said she would issue a written order explaining those pre-trial rulings shortly.
The singer's defense attorney Nicole Blank Becker depicted the government's charges as an overreach, alluding the history of federal racketeering law as an instrument against organized crime. Her client, Becker insisted, was no "John Gotti."
"The evidence will show you that this is uncharted territory," Becker said, referring to the charges.
Becker noted that the statute calls for prosecutors to prove a "continuous, ongoing enterprise," spanning roughly three decades from the early stages of Kelly's career. Kelly's defense team casts the encounters as more scattershot, a running theme of a press statement by Becker's co-counsel Thomas Farinella.
"After all, the RICO 'Enterprise' is based on a series of independent relationships and events that the government is trying to patch together like different types of fabrics and trying to pass it off as silk," Farinella wrote.
Previewing their response to the allegations, Becker told jurors there is no proof of the prosecution's account of Aaliyah's pregnancy and marriage. She died in an airplane accident in 2001, and Kelly's defense team insists he was not involved in obtaining her false identification.
Sonia was allegedly in her early 20s when Kelly invited her to his studio in Chicago, and when she got there, "it was not what she expected," the prosecutor said.
According to the government, Sonia was asked if she wanted a condom, and she replied that she was not there for that purpose. She was asked to sign a non-disclosure agreement and locked in a room for three days.
"Days went by, and one of defendant's employees brought her cold Chinese food and a Coke," Cruz Melendez said.
According to the prosecutor, Sonia woke up to feel a "wetness" and knew she had been assaulted. Becker urged jurors not to let the government to fill in the gap and "assume sex happened."
Prosecutors say that DNA evidence, gruesome recordings, testimony by the women and ex-employees, and more will prove their case. Witness testimony began with Jerhonda, who claimed that she was 16 when Kelly, then in his 40s, took her virginity.
"I Told Him I Was Uncomfortable"
A pregnant mother of four children—with "one one the way," she said, "any day"—Jerhonda told the jury about growing up in the Chicago suburb of Streamwood as a member of the R. Kelly fan club on MySpace, during the early days of social media. She told jurors that she went to a concert for R. Kelly's "Double Up" tour in December 2007. She says she followed the singer to a court appearance on April Fool's Day of 2008, when she was 14 years old, and told him she was a fan.
"He said, 'Thank you for your support," Jerhonda said.
Kelly was acquitted of child pornography charges in Chicago that year. She says that ex-manager Derrel McDavid, also charged in the case, approached her and offered to give her a T-shirt. She got an autograph instead, she testified.
In May 2009, Jerhonda claims, she received an invitation for, and attended, one of Kelly's parties. She testified that she told the singer that she was 19, but she was actually 16. Kelly told her that he remembered her, and the two of them exchanged numbers, she says. (Prosecutors signaled plans to introduce phone records into evidence.)
Days later, she says, she received another invitation from Kelly and was told to wear a bathing suit to go to his pool. She says that when he saw her there, he instructed her to walk back and forth while removing the two-piece outfit. After she did, she says: "That's when he started performing oral sex on me."
"I told him I was uncomfortable, and I told him my true age," she said, adding that she showed him her ID.
Kelly told her to keep telling everyone that she was 19 and took her virginity by the sofa, according to her testimony.
Sharing details about his house—from the gated entry to the "mirror room" and "African safari room"—Jerhonda testified that Kelly took steps to exert control over her. She told jurors that she took away her cell phone to limit her social circle.
"He told me he didn't want me in contact with anyone other than him," she said.
She says she asked to keep her SM card because it contained the only photographs she had of her late niece, and he returned it, before giving money for her to get a new phone.
In light of COVID-19 restrictions, the judge did not allow any reporters inside the courtroom, but the court transmitted the proceedings for the press and public to two overflow rooms within the Eastern District of New York. Some of R. Kelly's supporters, who arrived with reporters during pre-dawn hours, attended as well. Kelly appeared stoic throughout the prosecutorial recitation of the grisly allegations, and he did not show any emotion as the judge rejected his lawyers' motions to dismiss.
Outside the Brooklyn, N.Y.-based courthouse, some of the singer's supporters shouted out "Free R. Kelly" or "Free the king." One belted out the singer's Grammy-winning song "I Believe I Can Fly." Kelly has spent pre-trial incarceration inside the Metropolitan Detention Center, near where his trial is taking place.
(R. Kelly via Scott Olson at Getty Images)
Have a tip we should know? [email protected]
Adam Klasfeld - Managing Editor