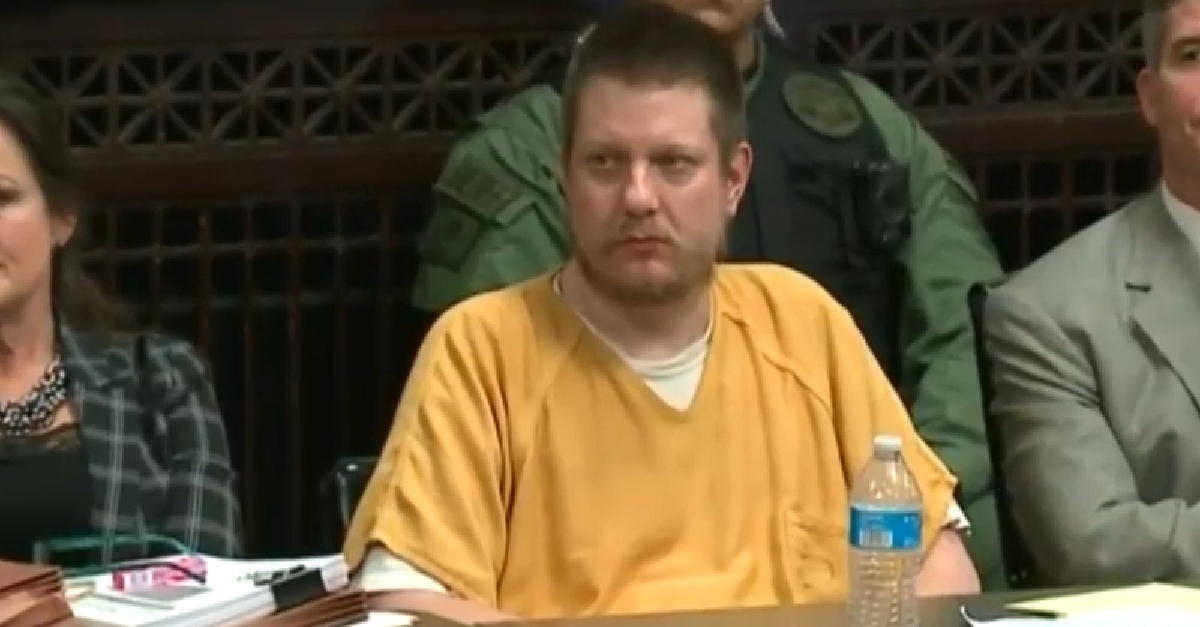 Former Chicago cop Jason Van Dyke was sentenced on Friday to six years, and nine months for the October 20, 2014 murder of Laquan McDonald.
In a statement to the court, he said he prayed every day for the victim's soul, and said that the last thing he wanted to do that night was open fire. He insisted that he was afraid during the incident, however, and that his actions were the actions of a police officer.
Jason Van Dyke has entered the courtroom for his sentencing. He has a beard and appears to have lost a significant amount of weight.

— Stacy St. Clair (@StacyStClair) January 18, 2019
Prosecutors said Van Dyke went over the line shooting the 17-year-old victim. The defense argued that McDonald was on PCP that night, wielded a knife, slashed the tire of a squad car, and struck a windshield. Van Dyke's attorney Dan Herbert said the teen was on a "wild rampage."
Special Prosecutor Kevin McMahon acknowledged that McDonald was high and armed, but said that shooting him was unnecessary. A taser unit had been notified about the confrontation between cops and the victim, and the teen wasn't an immediate danger to anyone at the time of the death.
Rev. Marvin Hunter, McDonald's great uncle, read a letter at the sentencing on Friday, written as if from the teen's voice.
"In my short life I worked to correct my mistakes," he said. "In a matter of seconds he ended it and that possibility forever."
McMahon on Friday said that history said that Van Dyke had a history of four traffic stops that started with minor equipment violations, and ended, except in one case, with a physical attack on young men.
McDonald's death didn't cause much of a stir in 2014. That changed with release of the shooting footage next year. It showed him moving away from cops as Van Dyke opened fire, not towards them. The officer shot him 16 times. This footage exacerbated an ongoing national debate over how law enforcement treats people of color. The defendant is white, the victim black.
Keith Thompson, who is married to Van Dyke's sister, testified on at the sentencing on Friday that the defendant isn't racist. Thompson, who is black, said he didn't refer to Van Dyke as his brother-in-law, but as his brother. They were close, and would go fishing together, he said.
The defendant's sister Heidi Kauffenger said that as a kid, her brother was always great about following the rules. She described him as calm and rational, and doting father to his two daughters. His behavior changed because of the case, she said. She claimed he became withdrawn since then, having to wear a bullet proof vest, and facing harassment. She also said the kids were bullied over this.
His wife Tiffany Van Dyke called him a kind, gentle man, and a great father. Without him, it has become a lot more difficult to make ends meet.
Jurors convicted the defendant of second-degree murder and aggravated battery. Jury instructions indicated that if they went with second-degree instead of first-degree murder, it meant that they believed Van Dyke thought he was in danger, but that this fear was unreasonable. Prosecutors have suggested that the defendant could get at least 96 years in prison, assuming he was sentenced to at least 6 for each of the battery counts, and sentenced consecutively, but they asked for at least 18 years. Judge Vincent Gaughan gave more weight on Friday to the second-degree murder charge, which actually brought down the potential sentence.
The defendant's decision to testify at trial blew up in his face. After the trial, jurors gave a group interview to the media, and several agreed that he seemed "rehearsed" on the stand.
"He messed up," said juror 245, a black woman. "I felt like he was trying to remember stuff that he said that maybe wasn't true, and he wanted to make sure didn't trip himself up. I didn't really feel his testimony was credible."
Another woman, juror 253, said that the turning point was when Van Dyke recalled saying, "Oh my god, We're going to have to shoot the guy." Juror 243, a white man, said that the defendant's 20-years on the job should've prepared him to find other ways to confront McDonald.
This sentencing comes the day after a judge acquitted three other officers, including Van Dyke's former partner, for allegedly trying to cover up the real nature of the shooting by falsifying police reports.
Note: This article was updated to clarify that prosecutors wanted at least 18 years in prison for Van Dyke
[Image via ABC7 screengrab]
Have a tip we should know? [email protected]