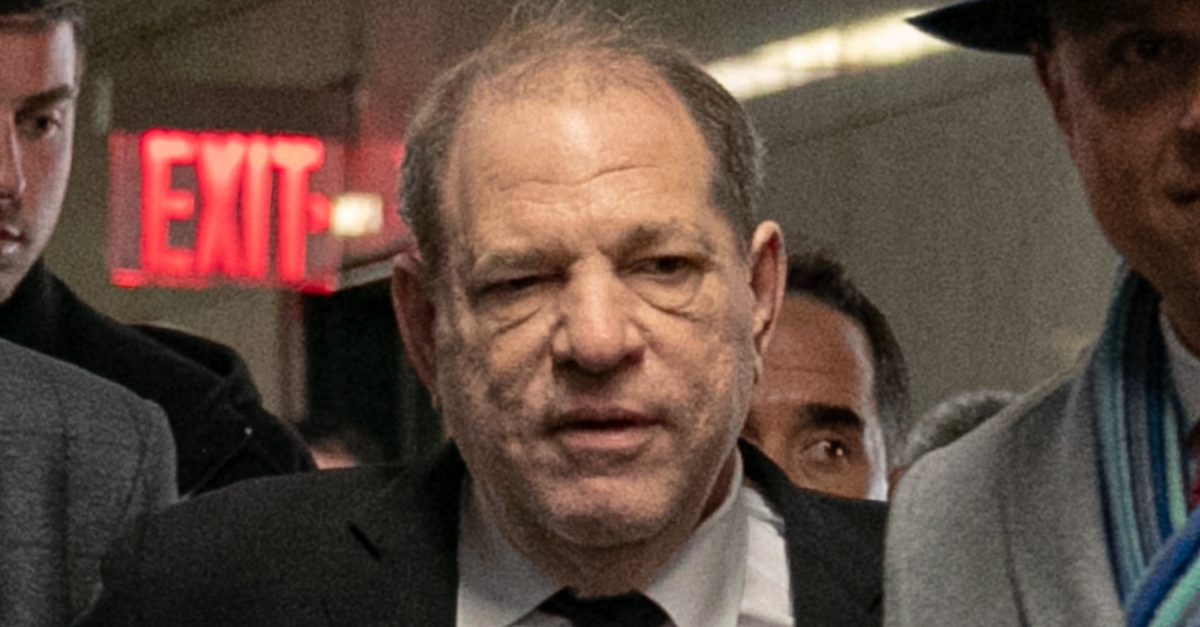 Accused rapist and media mogul Harvey Weinstein will not testify in his own defense at trial, according to his attorney.
Using the aid of a walker, Weinstein quickly moved past a press assemblage in downtown Manhattan on Tuesday morning followed by several armed New York State Court Officers.
Law&Crime Network anchor Jesse Weber was on the scene in New York City's judicial district:
#HarveyWeinstein arriving for the day pic.twitter.com/3FXCEeES0G

— Jesse Weber (@jessecordweber) February 11, 2020
Cameras and lights whirred and flashed as the 67-year-old alleged sex offender silently exited the shiny beige marble courthouse amidst multiple reporters shouting out questions.
"Did you miss speaking at the Oscars?"
"Will you testify today, Harvey?"
"Harvey, did you watch the Oscars?"
No answers from the disgraced film producer were forthcoming but the answer had earlier been supplied—by way of counsel—in the courtroom.
While the jury wasn't there, Judge James Burke asked Weinstein's defense attorney Damon Cheronis what the disgraced mogul's team planned to do next.
"He's pled not guilty and he's not going to testify," Cheronis replied.
"Mr. Cheronis, does the defense have any more witnesses to call?" Burke inquired.
"No, your honor," the attorney said. "The defense rests."
Burke then confirmed with the defendant if that was, indeed, the course he wished to take.
"Yes," Weinstein replied.
The former Miramax head is accused of forcibly performing oral sex on a woman in 2006 and for raping another woman in 2013. The charges are widely viewed as but a portion of a long-time-comeuppance for Weinstein, who has been accused of sexual misconduct by dozens of women who said he dangled and threatened career success in exchange for sexual attention.
The dam broke on many of those accusations in October 2017–providing the impetus for the #MeToo movement, which saw several thousand women and men in various fields and walks of life come forward with their stories of sexual assault and harassment.
Dozens of additional powerful men were ultimately accused of such behavior as the moment claimed a reckoning of sorts in American culture. As the months and accusations piled on, however, the media increasingly lost interest in the overall movement. Attention on Weinstein never particularly waned.
Several additional accusers appeared at his long-awaited trial in order to testify against him after he was arrested in May 2018.
The fallen from grace Academy Award winner himself relied largely on the testimony of Talita Maia, who was once the roommate of Weinstein's alleged rape victim—suggesting that the accuser was never actually victimized by Weinstein at all.
"She spoke highly of him," Maia told a Manhattan jury. "She seemed to really like him as a person. She would only compliment him."
Maia also testified that her former roommate dismissed Weinstein's then-considerable power in the motion picture industry as the potential reason for their companionship.
"She put her arm around Harvey and pinched his cheeks and said, 'No, it's because he is so cute.'"
The defense's closing arguments have been scheduled for Thursday. The state's will follow the next day.
Weinstein has denied all allegations of nonconsensual sex. Another case against him was recently filed in Los Angeles.
[image via Jeenah Moon_Getty Images]
Have a tip we should know? [email protected]