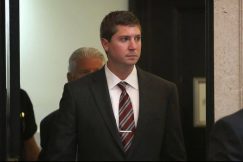 A judge on Tuesday postponed jury selection and withdrew her order restricting news media coverage of the murder retrial of a white police officer who fatally shot an unarmed black motorist in Cincinnati.
Hamilton County Common Pleas Judge Leslie Ghiz said in court that she had released potential jurors. Defendant Ray Tensing and relatives of the slain Sam DuBose were among those in the courtroom.
"They are essentially in a holding pattern until I get some guidance," Ghiz said of the potential jurors, referring to a ruling by a state appeals court that blocked her order on coverage and access.
She later vacated her order and scheduled an evidentiary hearing Thursday. News organizations including The Associated Press last week made a legal challenge to her plan to restrict access to the trial. The media organizations' attorneys contended the judge had to show compelling reasons for sharply limiting the number of reporters and the use of electronic devices.
Ghiz has repeatedly voiced determination to seat a jury in Hamilton County, after the first trial there ended in a hung jury. Tensing, a former University of Cincinnati officer, testified he feared for his life when DuBose tried to drive away during a 2015 traffic stop.
When selection resumes, attorneys for both sides will question prospective jurors, who filled out 178-question forms covering topics including knowledge and opinions on the case, their racial attitudes, experiences with police and the justice system, and opinions about the Black Lives Matter movement and community pressure.
One question states that the jurors' identities and answers to the forms could become public.
"Knowing that this is a possibility, are you still willing to serve in this case if chosen?"
Another asked whether the potential juror was concerned that an acquittal could lead to "civil unrest and/or riots?"
The judge Tuesday released a copy of the questionnaires without the answers, but has said she won't release the completed questionnaires until after the trial. The news organizations are challenging Ghiz on that. Completed questionnaires were released by the first trial's judge in the mistrial's aftermath.
The DuBose shooting is among cases across the United States that raised attention in recent years to how police treat blacks.
Have a tip we should know? [email protected]