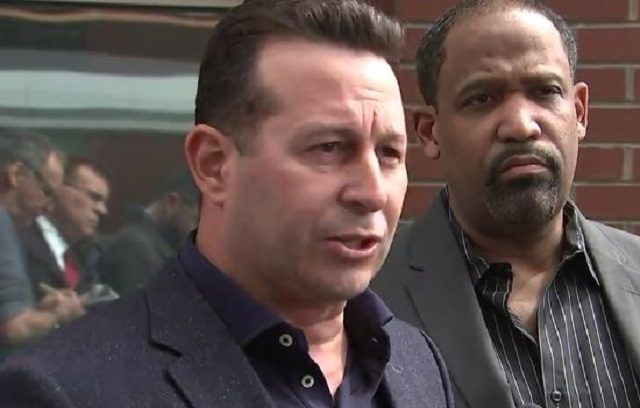 On Thursday, Massachusetts State Police released a report on their investigation into the death of Aaron Hernandez, who was pronounced dead on April 19. Hernandez's attorney, Jose Baez, has consistently criticized the investigation, and continued to do so following the publication of the report.
The report, written by Trooper James J. Foley, confirms that Hernandez's death was ruled a suicide, after jail officials found him hanging naked from a bedsheet early in the morning. CPR was performed, and Hernandez was taken to a hospital, where he was pronounced dead.
The report indicates that Hernandez had a fresh cut on one of his fingers, and circular marks of blood on his feet. He also had "John 3:16" written on his forehead in ink. Outside of that, the report says, there were no signs of violence or trauma on Hernandez's body. There was no sign of struggle in the cell either. Hernandez's family insisted after his death that it was not a suicide. A bible turned to John 3:16 was found in his cell, and the phrase "John 3:16" was written on a wall "in a substance consistent with blood." As has been reported, three notes were also found in the cell, believed to have been written by Hernandez.
Recordings of Hernandez's last five phone calls on April 18 didn't show any sign that he planned to harm himself, the report says, and a toxicology report came back negative for all substances.
The report concludes by requesting that the case be closed barring any new evidence.
Much of the details of the report were already known after leaks made their way to the media. Baez ripped into what he called a "total lack of professionalism exhibited by government officials and their employees." He said that while information got out to the press, Hernandez's family wasn't told anything about the investigation before Thursday's report.
Baez also questioned the accuracy of the investigation. In a statement, he said:
The unprofessional behavior of those entrusted to impartially and professionally conduct an investigation into Aaron's death has caused grave concern as to the validity and thoroughness of the investigation. Accordingly, we intend to fully, completely and impartially review all of the evidence in this matter.  We will not speculate as to the conclusions of our investigation.  We can only promise the best investigators and forensic experts available will conduct a thorough analysis.

Any official who attempts to interfere or inhibit our investigation by refusing to allow access to the evidence surrounding this matter will not be tolerated.  We will use any and all of the legal tools at our disposal to expose and prevent any such interference.
State Police Report Aaron Hernandez by LawNewz on Scribd
Have a tip we should know? [email protected]