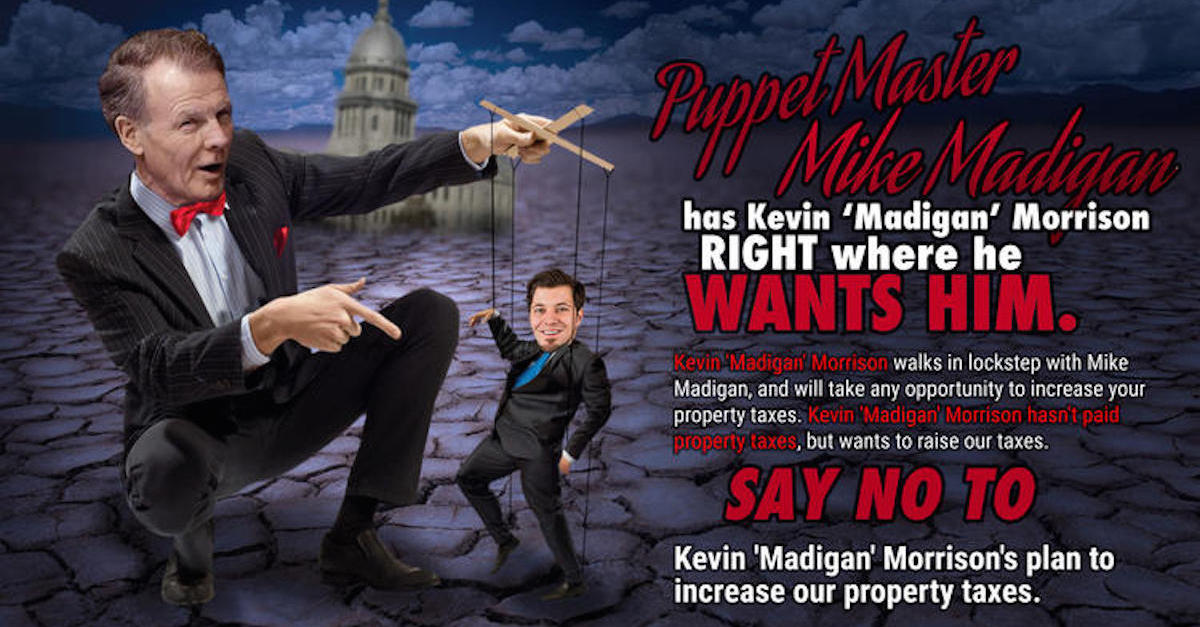 An Illinois Democrat has accused the state Republican Party of sending out a homophobic mailer. GOP officials insist the party did nothing wrong.
Democrat Kevin Morrison is challenging incumbent Republican Cook County Commissioner Tim Schneider for the office that Schneider has held since 2006. The Cook County Board of Commissioners oversees and sets policies and laws regarding property, highways, public health and safety for the second-most populous county in the nation–including the City of Chicago.
In the mailer, Morrison is depicted as a marionette being controlled by Illinois House Speaker Michael Madigan. A high-profile Democratic Party officeholder  in the Land of Lincoln, Madigan earlier this year courted a fair amount of controversy due to his alleged mishandling of sexual harassment complaints.
The attack ad features a massive-sized Madigan and a relatively small Morrison standing next to him. Morrison, who is gay, is depicted with a limp wrist.
In response, Morrison sent out a fundraising email blasting his opponent and tearing into the ad for "picturing me with a 'limp wrist,' a bigoted caricature of gay people." In an interview with Politico, Morrison called the ad "an act of desperation. It shows he's nervous and that we've got momentum."
According to the Chicago Tribune, Schneider, who is a chair of the Illinois Republican Party, declined to comment on the matter and referred all questions to the Illinois Republican Party. In comments to the Tribune, the group's executive director Travis Sterling said the mailer "paints the entire picture clearly."
Sterling continued, insisting the limp-wrist depiction was just a visual, puppet-control metaphor:
This is nothing but a desperate attempt from Kevin Morrison to try and hide the fact that he takes his orders from [ Cook County Board President] Toni Preckwinkle and Mike Madigan. In no way was that meant to imply anything else.
But Morrison still isn't buying what the Prairie State GOP is selling. In comments to the Tribune, Morrison said, "Everybody knows a limp wrist is meant to be derogatory and an attack on LGBTQ individuals."
And LGBTQ organizations have responded in similar fashion.
In a statement, the LGBTQ Victory Fund–a non-partisan organization dedicated to electing LGBTQ candidates across the country–assailed the attack on Morrison as homophobic and more of the same from President Donald Trump's Republican Party. Schneider casts himself as an endangered GOP moderate.
"Let me be clear: Tim Schneider and his team knew exactly what they were doing when they altered a photo of Kevin Morrison to show him with a limp wrist and on his tiptoes, said Annise Parker, the former mayor of Houston and the group's president. "Schneider is taking a page from the playbook of his pal in the White House — engaging in the divisive and destructive politics that Donald Trump thrives on."
John Litchfield, chair of the Equality Illinois PAC, says his group is "disappointed that the Illinois Republican Party would trot out a shameful anti-LGBTQ stereotype to target, through homophobic imagery, openly gay candidate for Cook County Commissioner, Kevin Morrison."
Schneider's self-image as a moderate Republican isn't the only thing endangered about him. His seat on the Cook County board is considered a likely pickup opportunity for the Democratic Party because Schneider's district went 57-37 in favor of Hillary Clinton during the 2016 presidential election.
[image via Illinois Republican Party]
Follow Colin Kalmbacher on Twitter: @colinkalmbacher
Have a tip we should know? [email protected]