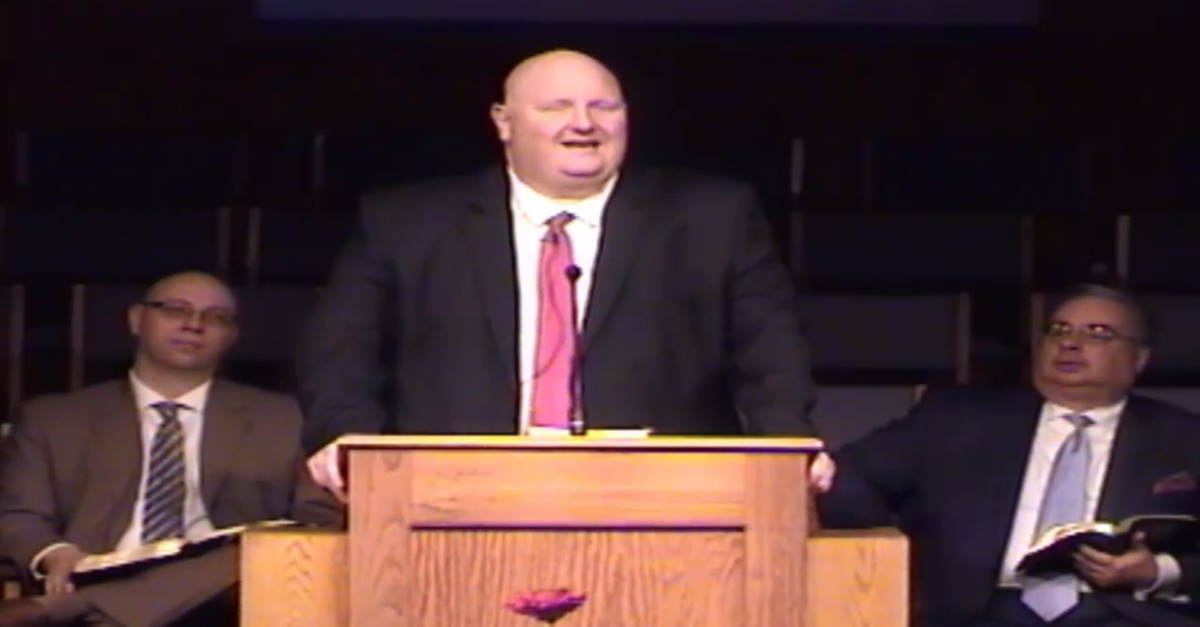 A Republican lawmaker in West Virginia is being heavily criticized after a series of homophobic remarks in which he used anti-gay slurs and compared the LGBTQ community to the Ku Klux Klan.
According to the Charleston Gazette-Mail, GOP House of Delegates member Eric Porterfield told a reporter from that outlet on Friday that the organized LGBTQ community is akin to the infamous hate group.
Per the Gazette-Mail:
"The LGBTQ is a modern day version of the Ku Klux Klan, without wearing hoods with their antics of hate," Porterfield said in an interview Friday morning. He also called the gay community a "terrorist group" and said he is being "persecuted" by the gay community in retaliation for his remarks, including receiving threats on Facebook and voicemails.
Porterfield spoke with the paper to address previous outrage caused by his Wednesday afternoon speech against the LGBTQ community on the floor of the West Virginia House of Delegates. He told the Gazette-Mail he wanted to thank them for highlighting his anti-LGBTQ comments because they would "bolster his re-election chances."
"The LGBT is the most socialist group in this country," the Republican from Mercer said during a meeting of the West Virginia House Government Organization Committee. "They do not protect gays. There are many gays they persecute if they do not line up with their social ideology."
The topic of debate was legislation that would have authorized the Mountain State to override LGBTQ anti-discrimination laws in cities and municipalities that have already extended such protections. Porterfield described opposition to the anti-LGBTQ amendment as "bigoted," "intolerant," and "discriminatory," and also said that one such pro-LGBTQ rights ordinance passed by a West Virginia city was "nonsense"and a "travesty."
The Republican's argument was that disallowing discrimination against LGBTQ Americans was a form of religious bigotry. He then used an anti-gay slur starting with the letter "F."
Democrats in the House of Delegates responded with several floor speeches condemning Porterfield and the anti-LGBTQ amendment.
"Let me give you a few [words] that were said yesterday: behavior, socialist, persecute, agenda, public safety, freedom, protected classes, race, religion, age, sex, disability, harm, live and let live, inclusion, tolerance, intolerant, simple, compromise, values," Democratic Party Delegate Danielle Walker said–noting that one of her children is gay and the author is autistic.
"In the people's House, my 17-year-old didn't feel welcome because of one isolated instance," Walker continued. "He wasn't even in the committee room, thank God, because yes, my child has autism. No, he would not have understood not to say a word in that meeting."
"I just don't think it's fair that somebody might lose their job because their boss finds out that they're gay," said Democratic Delegate Evan Hansen. "I don't think it's fair that somebody should be kicked out of their apartment because they choose to come out of the closet."
Democrats–along with two Republican defectors–ultimately killed the anti-LGBTQ bill.
Belinda Biafore is the state Democratic Party chairwoman. In a press release, she called for Porterfield's resignation.
"West Virginia has no room for someone who expresses such hate, let alone room for him to hold a public office where he is supposed to represent the people of West Virginia," she said. "His hate-filled remarks and actions speak volumes, and so does the Republican Party's silence."
And while the Mountain State GOP has mostly kept mum, some Republicans have also criticized Porterfield's remarks.
"He's wrong, very wrong," said Republican Delegate Daniel Linville. "There's just no excuse though for some of the things that he said."
[image via screengrab/Marantha Baptist Church/vimeo]
Have a tip we should know? [email protected]