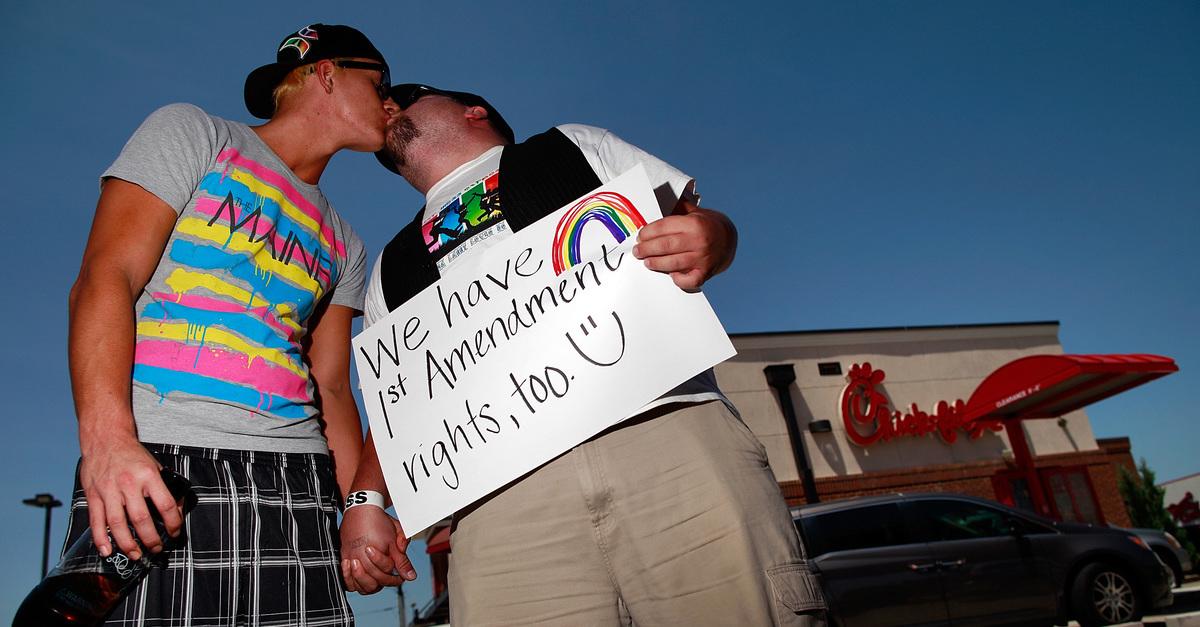 Christian-owned fast food giant Chick-fil-A just got called out in San Antonio–and banned from operating in the Alamo City's international airport.
According to local NBC affiliate WOAI, the San Antonio City Council on Thursday approved a seven-year concessions agreement for new restaurants and businesses in Terminal A of San Antonio International Airport. Chick-fil-A was originally slated to be included.
Enter: District 1 City Councilman Roberto Treviño. A motion submitted by Treviño proposed the acceptance of the agreement with Paradies Lagardère, a travel retailer and restaurateur that works with over 100 airports in the United States and Canada–just so long as the historically anti-LGBTQ business wasn't allowed to offer its services as a vendor. The motion passed by a 6-4 vote.
Treviño issued a triumphant statement afterwards:
With this decision, the City Council reaffirmed the work our city has done to become a champion of equality and inclusion. San Antonio is a city full of compassion, and we do not have room in our public facilities for a business with a legacy of anti-LGBTQ behavior.
"Everyone has a place here, and everyone should feel welcome when they walk through our airport," Treviño continued.
In 2012, Chick-fil-A Chief Executive Office Dan Cathy said that America's progress on LQBTQ rights in the realm of marriage was making God angry.
"As it relates to society in general, I think we are inviting God's judgment on our nation when we shake our fist at him and say, 'We know better than you as to what constitutes a marriage.'" Cathy said during an interview on a sports radio program. "I pray God's mercy on our generation that has such a prideful, arrogant attitude to think that we would have the audacity to try to redefine what marriage is all about."
Later pressed to explain or defend his remarks, Cathy doubled-down in an interview with Baptist Press:
Well, guilty as charged. We are very much supportive of the family – the biblical definition of the family unit. We are a family-owned business, a family-led business, and we are married to our first wives. We give God thanks for that. We operate as a family business…our restaurants are typically led by families – some are single. We want to do anything we possibly can to strengthen families. We are very much committed to that…We intend to stay the course. We know that it might not be popular with everyone, but thank the Lord, we live in a country where we can share our values and operate on biblical principles.
A flurry of negative press ensued–as well as boycotts and counter-boycotts like the "Chick-fil-A Appreciation Day" led by former Arkansas governor Mike Huckabee.
Earlier this week, adversarial news outlet ThinkProgress reported that Chick-fil-A donated $1.8 million to various Christian organizations that discriminate against people on the basis of their sexuality.
According to USA Today, Chick-fil-A was caught off guard by San Antonio's decision.
"[T]he press release issued by the councilmember was the first we heard of his motion and its approval by the San Antonio City Council," the company said in a statement.
A Facebook post by the San Antonio International Airport celebrated the agreement–because the approved vendors mostly hail from the San Antonio community.
[image via Tom Pennington/Getty Images]
Have a tip we should know? [email protected]