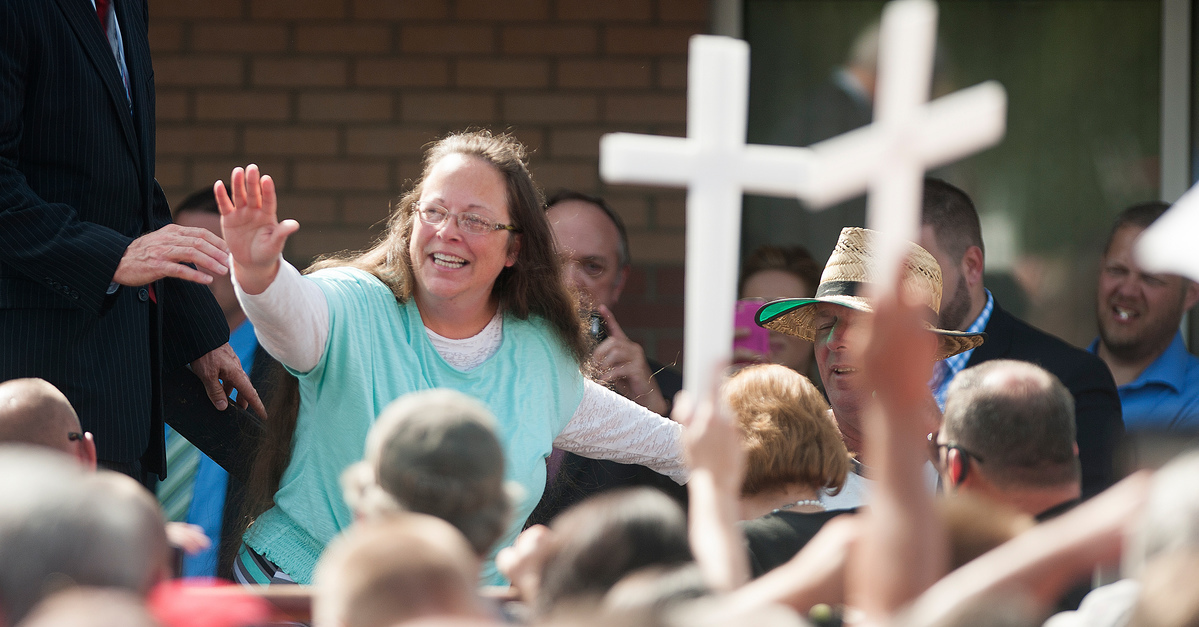 Kim Davis is a county clerk no more. The Lexington Herald Leader reports that Davis has lost by roughly 700 votes.
Davis, as Rowan County clerk in Kentucky, captured national attention and stirred the hearts of social conservatives when she refused to provide marriage licenses to same-sex couples following the Supreme Court's legalization of gay marriage during the summer of 2015.
A lawsuit ensued. Davis was quickly ordered by a U.S. district court to start issuing marriage licenses but still insisted she had some sort of religious exception to the law of the land. Davis then appealed to the U.S. Supreme Court but was rebuked again.
Davis persisted and cited "God's authority" for continued denial of marriage licenses. After that, she was jailed. While sitting behind bars, the other employees in Davis's office began issuing marriage licenses to straight and gay couples alike. Davis was only released on the condition that she not interfere in her office's work.
She mostly kept her word, but later altered Rowan County marriage licenses so that her name no longer appeared on those issued by her office.
Davis managed to stay in the spotlight long after her repeat attempts to defy the U.S. federal court system and each step of the Davis saga seemed to increasingly endear her to conservatives. Over the course of the controversy, Davis switched her party affiliation from Democratic to Republican. She ran unopposed in the Republican Party primary while four Democrats vied for the opportunity to unseat here.
One of those potential opponents was David Ermold–a gay man who had been denied a license by Davis herself.
Ermold lost the Democratic Party primary to Elwood Caudill, Jr., the same man Davis had defeated as a Democrat four years earlier.
[image via Ty Wright/Getty Images]
Follow Colin Kalmbacher on Twitter: @colinkalmbacher
Have a tip we should know? [email protected]