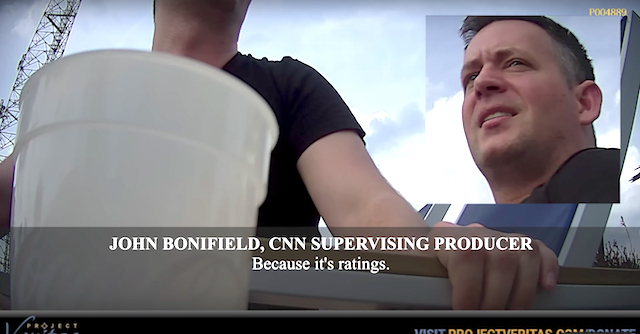 Project Veritas' video "American Pravda: CNN Part 1" took the media establishment by storm yesterday after footage showed CNN Health's supervising producer John Bonifield slamming his own network's somewhat obsessive focus on the Russia scandal as "bullshit" and part of a never-ending chase for ratings.
Another video in the series was just released earlier today; "American Pravda: CNN Part 2" shows CNN contributor Van Jones admitting the Russia story is "a big nothing burger" in stark contrast to his usual on-air schtick assailing President Trump on the issue.
But are those secretly-taped recordings legal? They may not be.
According to the case law on a statutory provision governing non-consensual and surreptitious recording done in private places, Project Veritas is on surprisingly shaky legal ground. The statute on point here is GA Code § 16-11-62 (2016) which states, in relevant part:
It shall be unlawful for:

(1) Any person in a clandestine manner intentionally to overhear, transmit, or record or attempt to overhear, transmit, or record the private conversation of another which shall originate in any private place;

(2) Any person, through the use of any device, without the consent of all persons observed, to observe, photograph, or record the activities of another which occur in any private place and out of public view; provided, however, that it shall not be unlawful:
Now, at least one of the undercover interviews with Bonifield appears to have occurred outside at a restaurant or bar–this probably wouldn't qualify as a "private place" under the law because there wouldn't be much privacy expected in a semi-public establishment. Ditto Van Jones' street-corner conversation; there's definitely no expectation of privacy on a sidewalk. (Note: it is unclear whether Jones is being interviewed on a sidewalk outside of CNN's New York or Georgia offices, however, the basic legal ramifications would be the same regardless of the state here.)
But one of the Bonifield interviews occurs inside of an automobile, while another apparently takes place inside CNN's headquarters in Atlanta, Georgia. This suggests Project Veritas' undercover reporter might very well have been in violation of section two of the statute. CNN's offices would almost certainly be considered a "private place" under the law; whether the automobile would qualify is less obvious.
Such a determination may be surprising, as Georgia is considered a one-party consent state–as are most others. But the one-party consent rule is limited to audio recordings only. A case decided by the Georgia Supreme Court in 2011 found the one-party consent rule did not apply to video recordings. The law has not changed in the six years since that opinion, so it could still be enforced here–but that's unlikely.
The initial infiltration of CNN's headquarters may also subject Project Veritas to liability under Georgia law. Section three (3) of the statute in question also makes it a crime for:
Any person to go on or about the premises of another or any private place, except as otherwise provided by law, for the purpose of invading the privacy of others by eavesdropping upon their conversations or secretly observing their activities;
Disclosing the contents of any such recordings is also prohibited under the statue in section six (6).
Of course, as mentioned, prosecuting a journalist for the crimes outlined here is highly unlikely to occur. It would be quite controversial to say the very least. A whole host of First Amendment issues would come into play, and if any such ill-conceived prosecution were to occur, it's entirely possible the Georgia law would be tossed on Constitutional grounds.
Prosecutorial discretion and Bill of Rights protections don't necessarily mean Project Veritas is in the clear on all this, however, as violations of the statute expose violators to civil suits by those they have injured. James O'Keefe's organization is currently facing one such lawsuit.
Update 5:34 PM
Benjamin Barr, lead counsel for Veritas, sent LawNewz.com the following statement:
"I serve as lead counsel for Veritas related entities for purposes of legal compliance and recording issues.  Please see Georgia Annotated Statutes 16-11-66, which modifies the general recording law found at 16-11-62, and notes, "Nothing in Code Section 16-11-62 shall prohibit a person from intercepting a wire, oral, or electronic communication where such person is a party to the communication or one of the parties to the communication has given prior consent to such interception."  Thus, interception is permissible, whether by video or audio, so long as the recorder is a party to the conversation or is present.
In addition, under 16-11-62(2), recording another is only prohibited in private places. Specifically, that term means what the law states at Georgia Annotated Statutes 11–11–60 (3).  "Private place" means "a place where one is entitled reasonably to expect to be safe from casual or hostile intrusion or surveillance."  Since it was quite feasible to record a person in the open places the recording was done in the video, no violation of the law has occurred."
[image via screengrab]
Follow Colin Kalmbacher on Twitter: @colinkalmbacher
Have a tip we should know? [email protected]