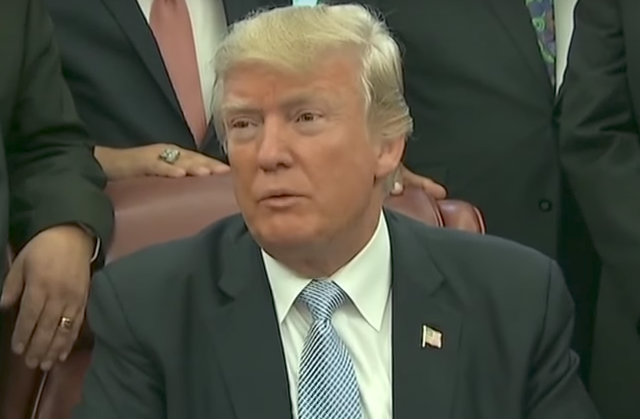 It's Friday, and there's another high-profile suggestion that President Donald Trump might be vulnerable to impeachment. This time, it comes from MSNBC host Chris Hayes.
Strong argument that instructing the justice department to prosecute your political opponent is an impeachable offense.

— Chris Hayes (@chrislhayes) November 3, 2017
This comes after Trump's tweet storm Friday morning, calling for investigators to probe presidential candidate Hillary Clinton's for allegedly rigging the Democratic primary with the DNC. Even Sen. Elizabeth Warren (D-Massachusetts), whom the president disrespectfully calls "Pocahontas," believed the claim.
Pocahontas just stated that the Democrats, lead by the legendary Crooked Hillary Clinton, rigged the Primaries! Lets go FBI & Justice Dept.

— Donald J. Trump (@realDonaldTrump) November 3, 2017
The evening before, Trump expressed frustration that he is not allowed to be involved with Department of Justice decisions.
"The saddest thing is, because I'm the president of the United States, I am not supposed to be involved in the Justice Department," he told WMAL radio show host and Mediaite columnist Larry O'Connor. "I am not supposed to be involved in the FBI. I'm not supposed to be doing the kind of things that I would love to be doing and I'm very frustrated by it."
Getting prosecutors to go after political opponents: That's a banana republic sort of move. Has the president done anything impeachable here? Law Newz reached out to Jonathan Turley, a constitutional law professor at George Washington University, for his take. He drew a distinction between the president's comments, and an official order.
"This is another example of the distemper affecting legal analysis today," Turley said. "It would be a dangerous course for Congress to impeach presidents for expressing their belief that a political opponent should be prosecuted. For example, while Clinton certainly has obvious defenses to make to claims that she engaged in a 'pay to play' scheme through the Clinton Foundation, it does happen to be an allegation that is anchored in the criminal code. The impeachable conduct is when a president orders subordinates to bring meritless cases against opponents or uses powers to coerce his opponents. Ironically, Trump is complaining that he does not have the ability to engage in greater direction of the Justice Department. Given that lament, it would make for a rather curious impeachment case."
Michael Gerhardt, a constitutional law professor at the University of North Carolina School of Law at Chapel Hill, doesn't see it that way.
"The short answer is that directing the justice department to prosecute your political enemies is a possible impeachable offense," he told Law Newz. "The House Judiciary Committee approved impeachable articles against Richard Nixon for having directed the FBI and CIA to harass his political enemies. Trump has done this more than once and it could be considered an abuse of power."
Even if impeachment doesn't happen soon (or ever), it's worth keeping the legal goalposts in mind.  Nonetheless, it would only be the third time in American history that the House impeached a president, and never before has this process resulted in successful removal by the Senate. Also, Trump's own party needs to turn against him. The GOP commands a majority, albeit slight and somewhat fractured, in Congress.
[Screengrab via CNN]
Have a tip we should know? [email protected]