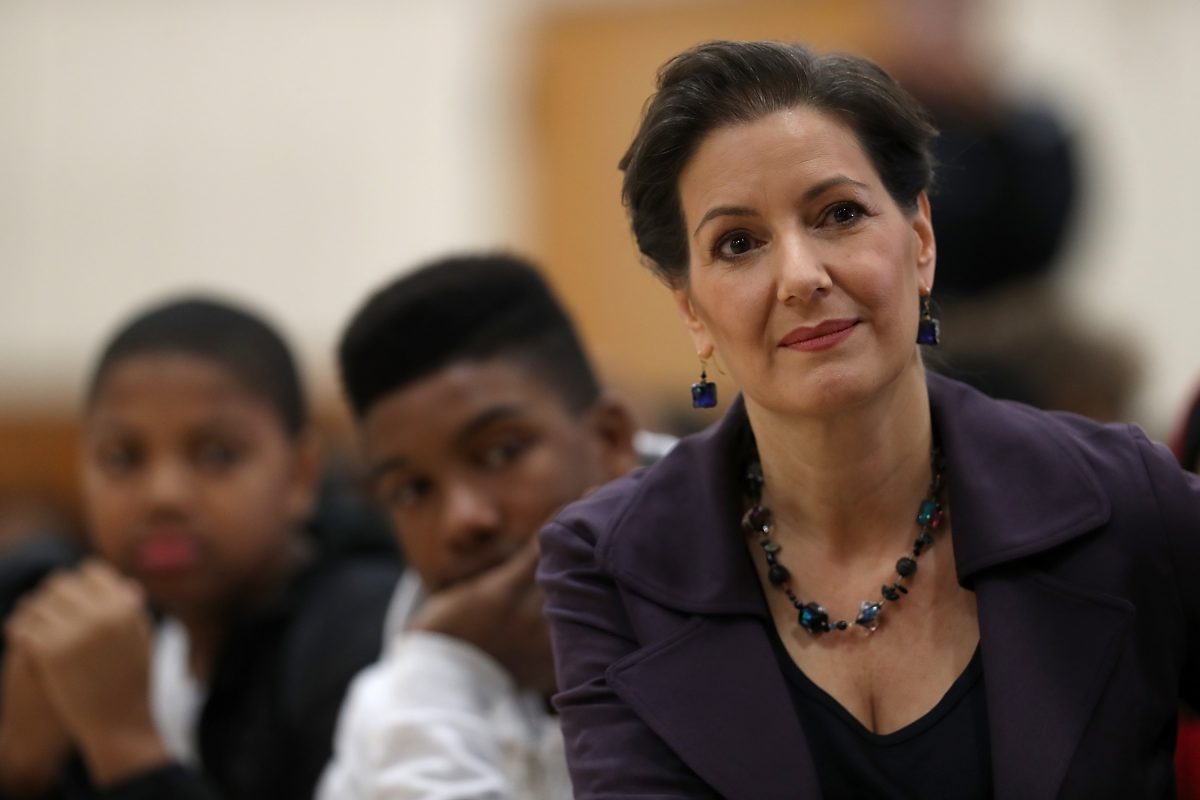 Oakland, California Mayor Libby Schaaf issued a warning over the weekend that federal immigration officials were coming to town, so that undocumented immigrants could take precautions so they wouldn't get caught. Now, the U.S. Department of Justice is reportedly looking into whether Schaaf broke the law. There's a strong argument that she did.
Schaaf's warning, which she posted to Twitter, specifically said, "I am sharing this information publicly not to panic our residents but to protect them." It went on to say how public schools, local police, and businesses are prohibited from assisting Immigration and Customs Enforcement (ICE) officers in their operations. Schaaf said she had it on good information that ICE was about to conduct an operation in the Oakland area, possibly as within 24 hours of her warning.
Sure enough, in the days that followed, ICE officials arrested 150 undocumented immigrants. The agency told Fox News that about half of them had prior convictions for violent crimes, weapons charges, and DUI. ICE's Acting Director Thomas Homan told the network that there's are still "over 800 significant public safety threat criminals" that ICE couldn't find, blaming Schaaf's warning.
Homan said the DOJ is "reviewing" whether Schaaf broke the law. For starters, there's an obstruction of justice issue. A 2014 report by the Congressional Research Service says, "an individual who obstructs a federal investigation by tipping off the targets of the investigation is likely to incur liability" as a principal or an accessory. The relevant statute for this is 18 U.S.C. 3, which says:
Whoever, knowing that an offense against the United States has been committed, receives, relieves, comforts or assists the offender in order to hinder or prevent his apprehension, trial or punishment, is an accessory after the fact.
A key word here is "offense," which is defined as "any criminal offense, other than an offense triable by court-martial, military commission, provost court, or other military tribunal, which is in violation of an Act of Congress and is triable in any court established by Act of Congress."
Unlawful presence in the United States illegally is not a criminal offense, but a civil violation. Still, if someone entered the U.S. illegally, that would be a crime (someone who came to the U.S. legally but overstayed their visa would be committing the civil violation, but wouldn't be guilty of a crime). If Schaaf was aware of people who entered the U.S. illegally, she could theoretically be considered to be an accessory after the fact by actively assisting them in avoiding apprehension by issuing her warning.
In the past, it would have appeared unlikely that a mayor would face any criminal repercussions for this sort of thing, but Attorney General Jeff Sessions and the Trump administration have taken a hard line approach to immigration.
Another relevant statute, which Homan has brought up in the past, is  8 U.S.C. § 1324, which deals with bringing in and harboring aliens. The statute says that it is a violation of federal law for if a person:
knowing or in reckless disregard of the fact that an alien has come to, entered, or remains in the United States in violation of law, conceals, harbors, or shields from detection, or attempts to conceal, harbor, or shield from detection, such alien in any place, including any building or any means of transportation[.]
Homan has argued that government officials who enforce sanctuary policies are concealing undocumented immigrants from detection by ICE. He might have a stronger case when it comes to situations where officials are actively keeping specific individuals out of ICE's reach. Simply providing information to the general population, like Schaaf did, might not meet that standard.
Tuesday night, after ICE had completed their operation, Schaaf tweeted in defense of her warning. She included a statement which said her warning was merely "meant to give all residents time to learn their rights and know their legal options."
I do not regret sharing this information. It is Oakland's legal right to be a sanctuary city and we have not broken any laws. We believe our community is safer when families stay together. pic.twitter.com/ng13yq431L

— Libby Schaaf (@LibbySchaaf) February 28, 2018
"I do not regret sharing this information," she said. "It is Oakland's legal right to be a sanctuary city and we have not broken any laws. We believe our community is safer when families stay together."
Ronn Blitzer is the Senior Editor of Law&Crime and a former New York City prosecutor. Follow him on Twitter @RonnBlitzer.
[Image via Justin Sullivan/Getty Images]
Have a tip we should know? [email protected]