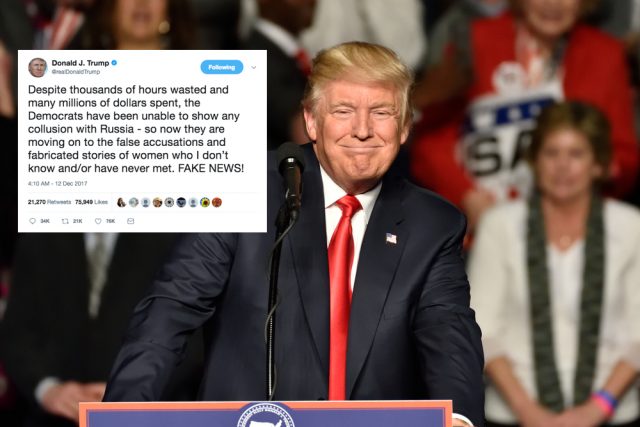 Another placid morning has been taken to the public woodshed of a presidential tweetstorm.
Donald J. Trump unleashed this morning the following official statement:
Despite thousands of hours wasted and many millions of dollars spent, the Democrats have been unable to show any collusion with Russia – so now they are moving on to the false accusations and fabricated stories of women who I don't know and/or have never met. FAKE NEWS!

— Donald J. Trump (@realDonaldTrump) December 12, 2017
Trump's tweet–which is, remember, an official White House statement–could expose the president to a series of legal slam dunks from the multiple women who have accused him of sexual assault, groping, forced kissing, harassment, attempted rape and rape.
Specifically, here's the part that could get him in trouble: "[S]o now they are moving on to the false accusations and fabricated stories of women who I don't know and/or have never met."
A cursory read of this statement shows the president is lying like a middle school virgin who insists he's had sex with celebrities.
Why? Because Trump has verifiable relationships with at least 17 of his 20-plus accusers.
To wit: (1) Cassandra Searles–Searles was Miss Washington 2013 and Trump oversaw the pageant where she performed; (2) Summer Zervos–Zervos was a contestant on season five of The Apprentice; (3) Jessica Drake–Drake and two friends met Trump at a celebrity golf tournament in 2006; (4) Ninni Laaksonen–Laaksonen and Trump appeared on The Late Show With David Letterman on the same night and took a photograph there together in 2006; (5) Samantha Holvey–Holvey was the 2006 Miss North Carolina and Trump oversaw this pageant; (6) Juliet Huddy–the former Fox News host had Trump appear on her show and joked to multiple people there about an earlier pass he had made at Huddy; (7) Jennifer Murphy–Murphy was a contestant on Season four of The Apprentice;
(8) Natasha Stoynoff–in 2005, the journalist wrote a profile of the Trump family and was given a tour of Mar-a-Lago by the Donald himself; (9) Mindy McGillivray–McGillivray was assisting photographer Ken Davidoff at Mar-a-Lago in 2003 and Davidoff has confirmed an apparent interaction between McGillivray and Trump; (10) Cathy Heller–Heller was introduced to Trump at a Mother's Day brunch at Mar-a-Lago in front of her family in 19977; (11) Temple Taggart McDowell–McDowell represented Utah in the 1997 Miss USA pageant, which Trump officiated; (12-16) the five Miss Teen USA contestants who accused Trump of walking in on them while they were dressing–each of these women certainly knew Trump since he officiated this 1997 pageant as well; (17) Jill Harth–Harth and Trump go way back–as business associates–and settled a lawsuit related to their business dealings in 1997 which resulted in an attempted rape lawsuit against Trump being dropped. Trump's attorney has admitted that Trump knew her.
To start off, the above names and dates should not be taken as an exhaustive or comprehensive list of Trump's interactions and relationships with his accusers. And more to the point: the above list certainly should not be read to diminish the stories or claims of Trump's other accusers who don't have an easily- provable prior relationship with Trump.
Rather, the list above simply puts the lie to Trump's official statement issued this morning. Again, he wrote, "Democrats…are moving on to the false accusations and fabricated stories of women who I don't know and/or have never met." We added the emphasis to highlight the absurdity of Trump's claim here.
In truth, there is evidence, showing that Trump knows most of these women and his morning tweet is an easily demonstrable falsehood. To belabor the point a bit, Trump has obviously met most of the women who have accused him of variegated sexual misconduct and abuse. And, this morning lie makes it extremely easy for his legally-inclined accusers to prove their cases in court.
How? Let's take Summer Zervos as a key example.
Zervos is presently suing the president for defamation because he publicly derided and denied her initial claims that Trump forcibly kissed her, grabbed her breast and began thrusting his genitals against her in 2007. According to Zervos' attorney, Trump's public denial of her sexual abuse report is defamatory in and of itself–and is made additionally defamatory because Trump publicly diminished the report as a political hatchet job performed on Hillary Clinton's behalf.
Zervos' defamation suit is making its way through the New York State court system and could provide the opportunity for many of Trump's accusers to testify. Prior to today's morning lie, however, the focus on those accusers would have simply been their allegations.
Now, after Trump has essentially claimed he never knew or met any of his accusers–which is, again, completely false–there's an opening for each woman on the above list to prove the president lied about exactly that. And these aren't just theoretical musings: at least one of Trump's accusers has signaled her willingness to be deposed in the Zervos case and another accuser is already mentioned in the lawsuit.
There is an open question about how willing the judge in the Zervos case–or any case–would be to allowing a raft of accusers to join the chorus against Trump in the same proceeding. But there's not much aside from discretion that would prohibit any women from adding their names to such on-the-record takedowns of Trump.
And, finally, once each of Trump's court room-ready accusers proves today's official statement from the White House was false–and prove this in front of a judge–Trump will appear even more dishonest in the eyes of a potential jury.
Furthermore, Trump's easily-disproven lie could also open a floodgate for a series of lawsuits similar to Zervos'. But even more than that, by spouting off such quickly-googlable falsehoods in relationship to ongoing legal action, forget about just the floodgates. He just poured the foundation.
[image via screengrab/shutterstock.com/Evan El-Amin]
Follow Colin Kalmbacher on Twitter: @colinkalmbacher
Have a tip we should know? [email protected]