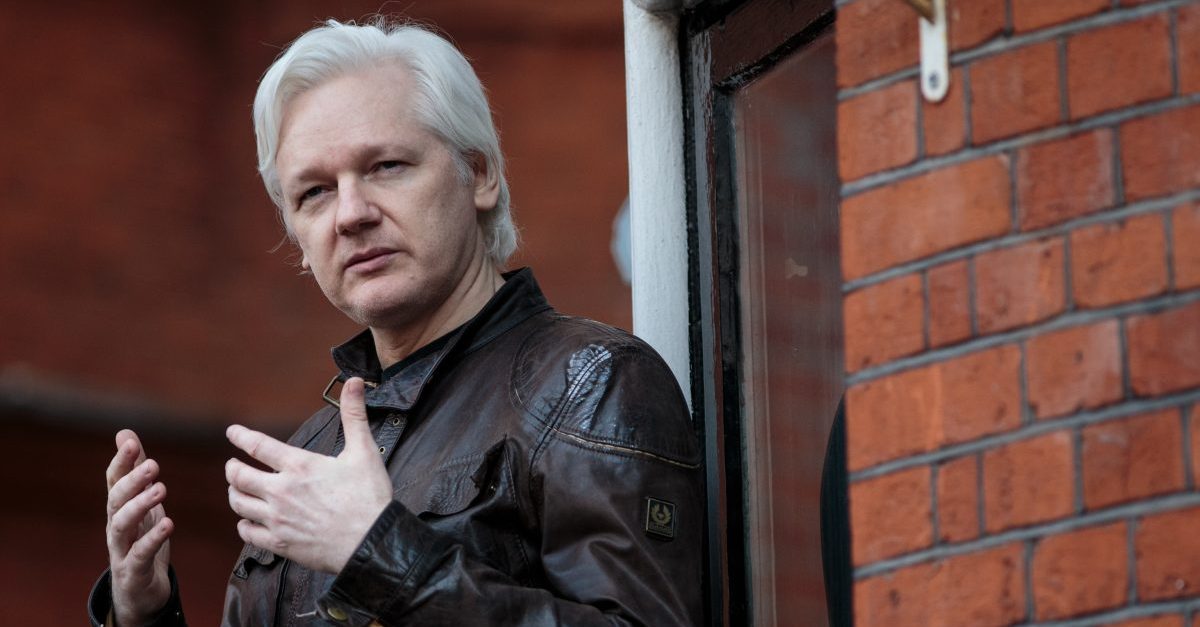 A clumsy error in a court filing has apparently revealed that Julian Assange may have been secretly charged with crimes in the United States while he's been holed up in the Ecuadorian embassy in London. It had recently been reported that Ecuador was considering turning him over to U.S. authorities, but now that charges could already exist, they may want more information.
See, Ecuador has an extradition treaty with the United States, but it's not absolute. The document, first signed in 1872, specifically has an exception for "crimes or offenses of a political character." While it's unclear exactly what charges Assange may be facing, original considerations had to do with his release of military information leaked by Chelsea Manning. Back in 2013, the Justice Department had reportedly indicated their belief that charges for this would be difficult without serious First Amendment concerns. It has long been held that the press is free to publish classified information if they manage to get it, so prosecuting Assange for this would be tricky. It could also be argued that such an offense would be political in nature, which would give Ecuador an out when it comes to turning him over.
Other potential charges could have to do with WikiLeaks' role in distributing the hacked emails of Democrats before the 2016 presidential election. Special Counsel Robert Mueller has reportedly been looking into possible connections that existed between Donald Trump associates like Roger Stone and WikiLeaks, and Mueller's office has already alleged that the information published by WikiLeaks had been obtained by Russian intelligence.
The political nature of the email hacks is clear because of who the targets were and the effect that the publications had, but the main crime would likely be the hacking itself, which would be a crime no matter who the targeted computer systems belonged to. If Mueller has evidence that Assange was involved in Russia's plan from the beginning, that could be enough to get around both the First Amendment problem and the political crime clause of the extradition treaty. A 1939 supplemental treaty between the U.S. and Ecuador clearly states that extradition shall take place for participation in certain crimes "before or after the fact." This follows a list of offenses including various types of theft, including receiving property known to be illegally obtained.
As Law&Crime discussed when reports of possible extradition came to light in late October, sending Assange over to the United States could break Mueller's case wide open should the WikiLeaks founder decide to cut a deal with prosecutors. If anyone knows whether members of the Trump campaign or individuals like Stone had anything to do with Russian hacking or WikiLeaks' subsequent release of information, it would be Assange.
Ronn Blitzer is the Senior Legal Editor of Law&Crime and a former New York City prosecutor. Follow him on Twitter @RonnBlitzer.
[Image via Jack Taylor/Getty Images]
Have a tip we should know? [email protected]