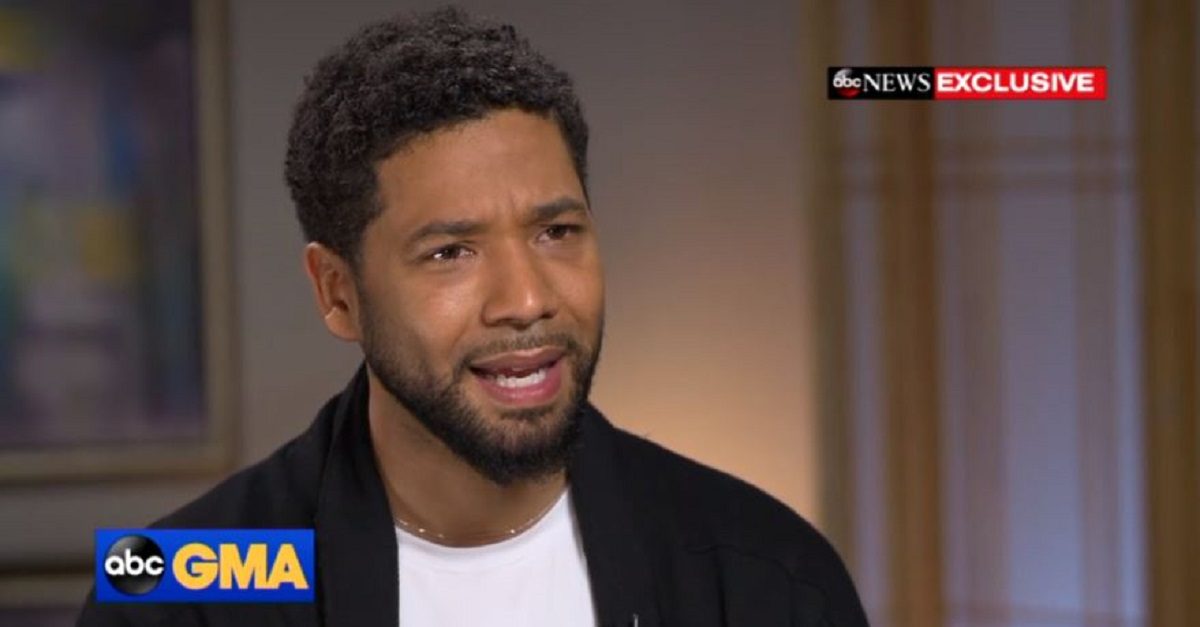 Jussie Smollett is already in deep trouble, but could he also have opened himself up to federal charges? Many on social media seem to think so, but is this a realistic expectation? We explain.
The Empire actor on Wednesday was charged with class 4 felony disorderly conduct, a crime upon conviction that could result in 1-3 years behind bars, after he allegedly paid two men to stage a hate crime against him and filed a false report. Smollett has been arrested and he's already appeared in a mugshot. He also got the attention of President Donald Trump.
Chicago police held a press conference on Thursday alleging that Smollett victimized the two witnesses and paid them $3,500 to stage the attack to advance his professional interest — all at the expense of division this would cause in America. Chicago police Superintendent Eddie Johnson said Smollett "took advantage of the pain and anger of racism to promote his career."
A second accusation has left observers wondering if the current charge could be the least of Smollett's problems. Police said that Smollett sent himself a racist and homophobic letter while on the set of Empire. They also alleged that Smollett was upset about his salary.
BREAKING: Police: "Empire" actor Jussie Smollett sent himself racist and homophobic letter and was dissatisfied with his salary.

— The Associated Press (@AP) February 21, 2019
Previous reporting from CBS 2 Chicago linked the letter to the larger alleged scheme and indicated that it was, indeed, mailed.
And when that letter did not get a "bigger reaction," Smollett orchestrated the attack a week later with the two men–Ola and Abel Osundairo, sources said. Also Tuesday, sources said the two brothers were seen on a ride share video camera before being dropped off near the location of the attack.

Smollett received a letter containing a white powder Jan. 22. The letter was mailed to Chicago's Cinespace Studios, where the show "Empire" is filmed. The letter prompted a HAZMAT response. CPD says the "white substance" was later determined to be aspirin.
This raised the question of whether Smollett could face federal charges. The Department of Justice says that the elements of mail fraud are as follows:
There are two elements in mail fraud: (1) having devised or intending to devise a scheme to defraud (or to perform specified fraudulent acts), and (2) use of the mail for the purpose of executing, or attempting to execute, the scheme (or specified fraudulent acts)."
What does fraud mean? Take it away, 18 U.S.C § 1341:
Whoever, having devised or intending to devise any scheme or artifice to defraud, or for obtaining money or property [emphasis ours] by means of false or fraudulent pretenses, representations, or promises, or to sell, dispose of, loan, exchange, alter, give away, distribute, supply, or furnish or procure for unlawful use any counterfeit or spurious coin, obligation, security, or other article, or anything represented to be or intimated or held out to be such counterfeit or spurious article, for the purpose of executing such scheme or artifice or attempting so to do, places in any post office or authorized depository for mail matter, any matter or thing whatever to be sent or delivered by the Postal Service, or deposits or causes to be deposited any matter or thing whatever to be sent or delivered by any private or commercial interstate carrier, or takes or receives therefrom, any such matter or thing, or knowingly causes to be delivered by mail or such carrier according to the direction thereon, or at the place at which it is directed to be delivered by the person to whom it is addressed, any such matter or thing, shall be fined under this title or imprisoned not more than 20 years, or both.
Police are alleging that a) there was a scheme to file a false police report b) said the letter was a part of that and c) linked the letter to his dissatisfaction with his salary.
Taken all together, that may not sound like good news for Jussie Smollett, but the langauge of the law may be on his side. The meaning of "scheme or artifice to defraud" here "includes a scheme or artifice to deprive another of the intangible right of honest services." Given what police have said thus far about the alleged motive behind the letter, one might be inclined to argue that money was the root of the entire "hoax" we now discuss. If the alleged Smollett scheme was done for the purpose of somehow using fake bigoted violence against him to obtain more money from his employer ("false or fraudulent pretenses") you could argue that he was depriving his employer of honest services.
If that seems like a stretch, it might very well be.
Former federal prosecutor Renato Mariotti told Law&Crime that, in his view, it's not likely at this point to see mail fraud charges in this case.
"As a practical matter, I don't think there is any realistic chance that will happen," he said.
Chicago Police have already spent a lot of resources on the matter and have admitted that they are "pissed" about the whole affair. You can bet that prosecutors there, if there are no mitigating factors to be discovered, will want to send a message that it doesn't matter if you're famous, you can't make up hate crimes. Practically speaking, the matter can be handled in Chicago and that can be the end of it. At the moment, therefore, it seems unlikely that the feds would be inclined to spend additional resources on this fiasco.
[Image via ABC screengrab]
Have a tip we should know? [email protected]