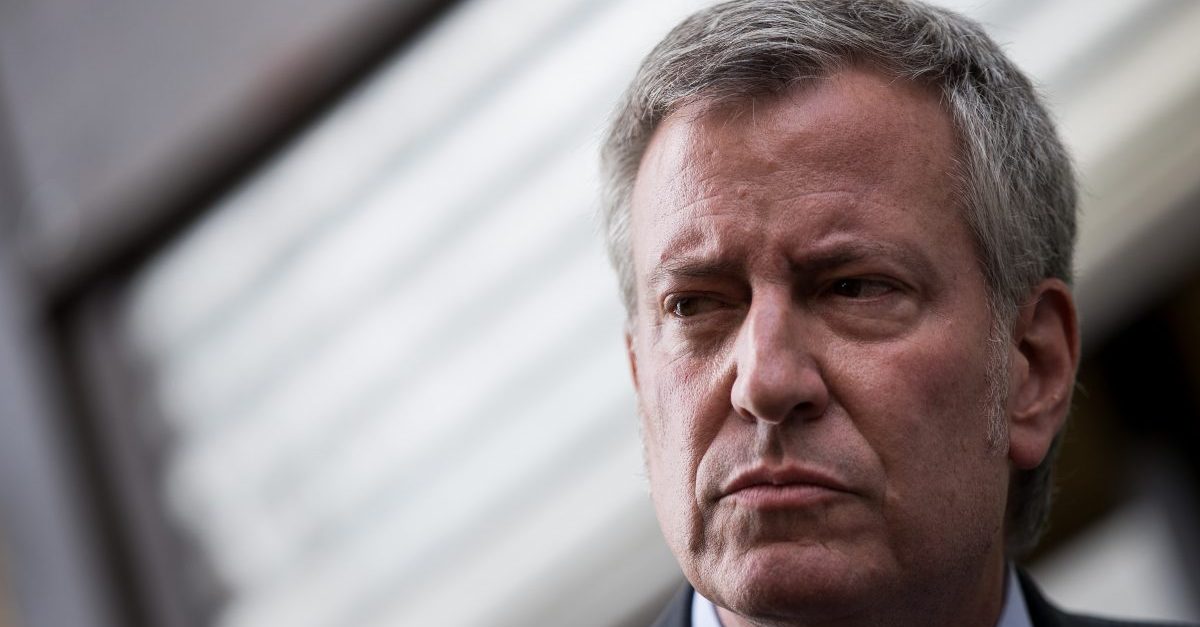 Lawyers for embattled NYPD Officer, James "Jimmy" Grant, served New York City Mayor Bill de Blasio with a subpoena on Tuesday to testify in Grant's trial starting November 5, 2018 in the Southern District of New York.
James Grant and co-defendant Jeremy Reichberg are charged with one count of conspiracy to commit honest services wire fraud. Grant was a decorated NYPD officer for 20 years who reached the rank of Deputy Inspector. Jeremy Reichberg is a former Borough Park, Brooklyn policy liaison who worked closely with real estate investor and star government informant Jona Rechnitz.
Rechnitz, a high-flying real estate developer was a major donor to Mayor de Blasio, and boasted about paying his way through City Hall and the NYPD. Rechnitz has already testified against New York City Jail Union Leader Norman Seabrook, who was convicted in August for conspiracy and bribery-related fraud. Rechnitz was allegedly the middleman between Seabrook and now defunct hedge fund Platinum partners. Seabrook received a $60,000 pay off to steer twenty-million in pension money.
Defense Attorney for James Grant, John Meringolo told Law&Crime, "I'm sure that Mayor de Blasio is looking forward to testifying to set the record straight that he did not conspire with Jona Rechnitz."
Rechnitz was also a conduit for business transactions between his companies and Phillip Banks, the former NYPD Chief of Department and Deputy Chief Michael Harrington. The FBI investigated $300,000 in cash deposits into Banks' account and that of his wife, Vonda Smith. The FBI Special Agent in charge of the investigation, Joseph Downs, described these transactions as having all the hallmarks of structuring and money laundering.
On the eve of Banks being promoted to the number two slot in all of the NYPD he suddenly retired, rejecting the prestigious promotion. Sources within the NYPD believe that Banks was being groomed to be the next Commissioner after James O'Neill stepped down. Even with the FBI investigation into money laundering that included the IRS, Banks was not charged by the U. S. Attorney in this case.
The Grant and Reichberg trial is a grand finale into a complex investigation that began in 2011 and ensnared many high-ranking NYPD officials. Many simply pleaded out, or others, like Banks, were not charged by the United States Attorney.
The case against Grant and Reichberg revolves around an arcane federal statute called Honest Services. This charge has been applied in cases of public corruption, as well as cases in which a private individual breached a fiduciary duty to another. James Grant will be the only NYPD officer to ever stand trial for Honest Services Fraud. A former NYPD official and source described Honest Services and this case as follows: "They are charging honest services and wire fraud for police escorts and parades, it doesn't add up, it's very perplexing."
The government case hinges on what they term are official acts under the statute. These acts include providing police escorts, providing official NYPD assistance with private disputes and investigations, help getting out of tickets or other infractions, and access to parades and other cultural events.
In a federal court filing the week of October 22, 2018, United States Attorneys Martin S. Bell, Jessica Lonegran, and Kimberly J. Ravener asked the honorable Judge Gregory H. Woods to prevent lawyers for Jimmy Grant and Jermey Reichberg from questioning Jona Rechnitz about testimony he gave about corrupt police officers during the Norman Seabrook trial. The following exchange was cited in the documents:
Mr. Rechnitz, I don't think you were asked this yesterday, so I will ask: What did you understand the term "corrupted" to mean when Mr. Shechtman asked you if you thought you corrupted police officers?
A: Like a quid pro quo, a bribe, saying, for example, I will give you a dollar if you give me a bottle of water. That's what I understand corruption to mean.
Q: When Mr. Shechtman asked if you corrupted the police officers, why did you say no?
A: Because there was never an explicit verbal agreement to that example. I never said I will give you this if you give me that. I gave them gifts, I expected favors in return. I never expected to hear a no from them and favors were done, but it was never an explicit verbal agreement.
The problem with the prosecution's letter to the judge is that the United States Attorney is relying on Jona Rechnitz to lay out for the jury his relationship with James Grant and Jeremy Reichberg, and the acts of bribery they say took place.
Attorney John Meringolo sees this as a fundamental flaw of the case.
"The testimony by Jona Rechnitz under oath, in the Seabrook Trial, contradicts the prosecution's theory that there was a quid pro quo between Rechnitz and any of the NYPD officers he dealt with," he said.
The Grant and Reichberg trial is an oddity in the Southern District. What was once a wide-ranging corruption probe inside the NYPD that garnered huge headlines is now a battle against a lone NYPD officer and an influence-peddling liaison who had ties to Mayor de Blasio. Rechnitz has admitted in open court and privately that his relationship with NYPD Chief of Department Phillip Banks was valuable. His influence-peddling had landed him connections inside One Police Plaza.
It is obvious that the United States Attorney overstepped in the case. All of the unindicted co-conspirators within the NYPD that were named in the case sued in arbitration and won their pensions and overtime due.
The relationship between Rechnitz and Mayor de Blasio has been covered extensively throughout the investigation. Mayor de Blasio on three separate occasions has called Rechnitz a liar, a felon, and a horrible human being. It begs the question as to why the government is putting millions of dollars and resources behind a trial that at its essence has components that would seem part of a community policing initiative. The honest services charge is standard when dealing with corrupt politicians and circumstances where there was a clearly defined financial interest for both parties.
A former NYPD police official doesn't understand how the government has not given Jimmy Grant or Reichberg plea deals to tie this case into a neat bow and be done with it. The former NYPD police source went as far to say:
 You have 60 people within the NYPD that have been involved in this investigation, in a sense that they have been visited and questioned by the FBI. Most which are executive rank of captain all the way through three to four star chiefs and multiple command officials. Instead of the NYPD defending how they build relationships, they are leaving Jimmy Grant out to hang. They were afraid to stand up to the FBI.
De Blasio's office declined to comment on the subpoena.
[Image via Drew Angerer/Getty Images]
Have a tip we should know? [email protected]