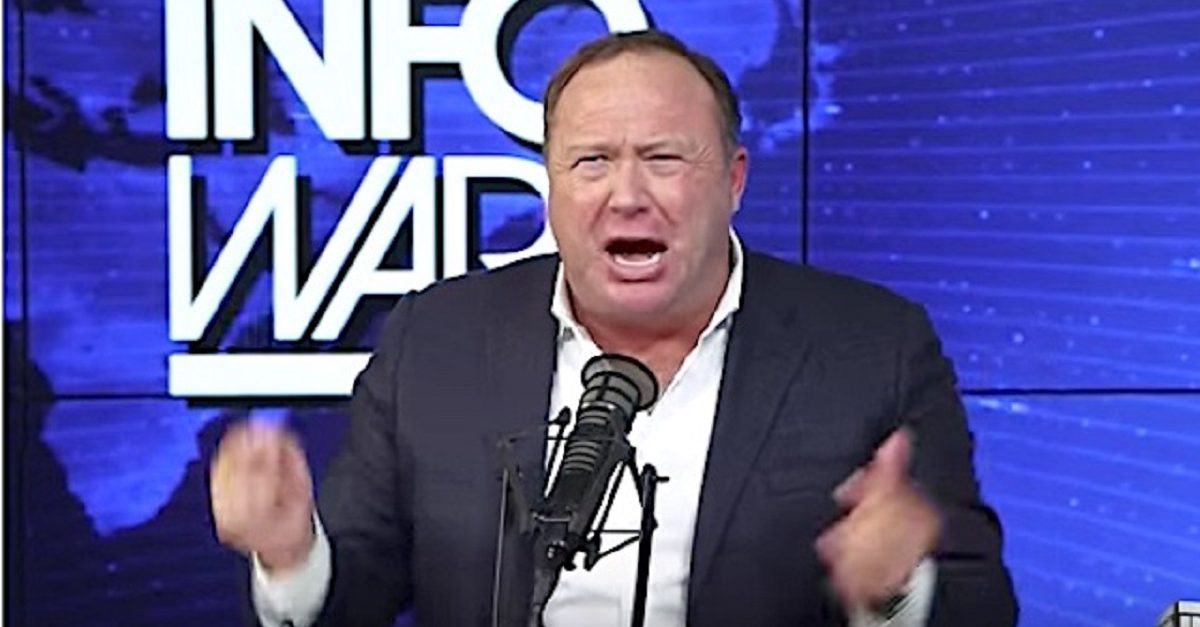 InfoWars founder Alex Jones is seeing his brand take tremendous hits, as Apple pulled all of but one of the site's podcasts off of iTunes. Soon after, Facebook took down four of Jones' pages. YouTube and Spotify have also removed content. While InfoWars is crying "censorship" in the wake of this purge, there isn't much they can do about it, legally speaking.
The First Amendment grants a right to free speech, but the Constitution only protects people from censorship by the government. Private companies like Apple and Facebook don't have to guarantee people the ability to do anything. They and others allow people like Jones to post and distribute content on their platforms, provided they adhere to certain terms of service. Federal law also encourages screening of offensive content, protecting online platforms that do so.
The removal of Jones' and InfoWars' content is being justified because it goes against such terms, particularly when it comes to hate speech.
"Apple does not tolerate hate speech, and we have clear guidelines that creators and developers must follow to ensure we provide a safe environment for all of our users," a spokesperson for Apple told BuzzFeed News. "Podcasts that violate these guidelines are removed from our directory making them no longer searchable or available for download or streaming. We believe in representing a wide range of views, so long as people are respectful to those with differing opinions."
Facebook similarly called out Jones Monday morning:
We believe in giving people a voice, but we also want everyone using Facebook to feel safe. It's why we have Community Standards and remove anything that violates them, including hate speech that attacks or dehumanizes others. Earlier today, we removed four Pages belonging to Alex Jones for repeatedly posting content over the past several days that breaks those Community Standards.
The social media giant said that they had previously taken down content from the Alex Jones Channel Page, the Alex Jones Page, the InfoWars Page and the Infowars Nightly News Page, after receiving complaints. They also blocked Jones himself for 30 days for posting content that violated their terms. Since then, they said, more content from InfoWars was reported for "glorifying violence," as well as "using dehumanizing language to describe people who are transgender, Muslims and immigrants, which violates our hate speech policies."
As a result, Facebook completely took down those pages.
Spotify had first taken down certain episodes of The Alex Jones Show, but on Monday they removed the entire library. They too have a clear policy against content that "expressly and principally promotes, advocates, or incites hatred or violence against a group or individual based on characteristics, including, race, religion, gender identity, sex, ethnicity, nationality, sexual orientation, veteran status, or disability." Their terms of service warn that such content will be removed.
Now, Jones can certainly try to sue the companies, but federal law is on the side of the tech companies, protecting them from liability in these types of cases.
Section 230 of the Communications Decency Act protects interactive computer services that block content that they deem to be "obscene, lewd, lascivious, filthy, excessively violent, harassing, or otherwise objectionable, whether or not such material is constitutionally protected." The law says that companies like Facebook and others cannot be held liable for enforcing such content screening.
That section of the Communications Decency Act was challenged by a 2016 lawsuit against the federal government in D.C. federal court, on the basis that it violated the First Amendment. The judge dismissed the case for lack of standing, saying that the plaintiffs should have sued the companies themselves. The plaintiffs appealed, but were unsuccessful.
With Section 230 of the Communications Decency Act still alive and well, it wouldn't look good for Jones if he tried to go to court over this. While the 2016 challenge did not fall due to the merits of the argument, the idea that the federal government is illegally censoring people by allowing private businesses to freely do what they please is not likely to persuade a court.
[Image via InfoWars screengrab]
Have a tip we should know? [email protected]