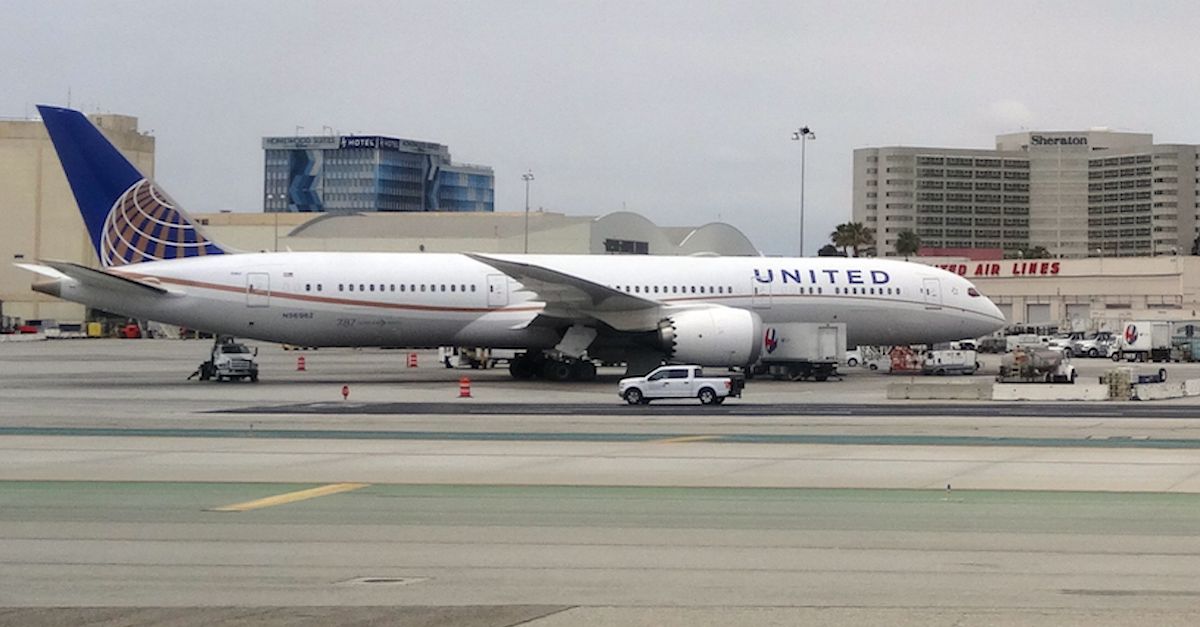 A Colorado woman has filed a civil suit against United Airlines and a passenger seeking damages of more than $75,000 after that passenger allegedly fondled her as she slept.
Anne Dowling's complaint, filed in Colorado federal court on July 5, names both United Airlines and Michael Wedl as defendants. The alleged assault took place on a flight from Hong Kong to San Francisco in July 2016. Dowling responded by reporting it to United Airlines, the San Francisco Police Department, and the FBI, the complaint says. Dowling initially filed a criminal complaint in California in December of 2016, but Wedl ended up being acquitted in June 2017.
As a result, Dowling is now seeking damages in a civil lawsuit.
According to facts as they appear in the complaint, Dowling was seated next to Wedl. Over the course of the long flight, she fell asleep. Wedl is said to have consumed three to four vodka sodas while he was on Ambien. He allegedly told flight attendant Eva Yu he was "horny" before being sent back to his seat.
Dowling says that she woke up three times to find Wedl groping her. After the second time, the complaint says, she told Wedl to "stop" and he did. The third time Dowling woke up, she claims, Wedl "began rubbing her vagina through her clothes" while he "rapidly masturbat[ed] underneath his blanket." She recalled Wedl saying, "something to the effect of 'I think you're horny and I'm horny too.'"
The complaint goes on to say that after this happened, Dowling reported it to a flight attendant and asked to switch seats, and was allegedly told that there were no available seats and she should go back and talk to Wedl instead. She claims she then went to another United employee and said what happened. That employee allegedly said "something to the effect of 'this is not okay, but I'm not shocked,'" and let her sit in another seat.
Dowling is suing the airline for negligent and wrongful acts and omissions, citing the Montreal Convention. This treaty holds airlines flying internationally "strictly liable" for what occurs on their planes. The complaint says:
Pursuant to Articles 17 and 21 of the Montreal Convention and 2010 inflation adjustments, United is strictly liable for damage sustained in an "accident" causing bodily injury to a passenger on board the aircraft up to 113,100 Special Drawing Rights. United is also liable for damages beyond 113,100 Special Drawing Rights unless United proves that (a) such damage was not due to the negligence or other wrongful act or omission of the carrier or its servants or agents; or (b) such damage was solely due to the negligence or other wrongful act or omission of a third party.

As a result of the series of sexually motivated assaults Dowling suffered aboard United's airliner on or about July 9, 2016, and their aftermath, Dowling suffered physical pain and suffering, shock, emotional distress, embarrassment, mortification, anxiety, anguish, loss of enjoyment of life, loss of past and future income, loss of past and future medical expenses, and further injuries and damages as will be proven at trial.
Strict liability means a defendant, in this case United Airlines, is "liable for committing an action, regardless of what his/her intent or mental state was when committing the action."
Dowling contends that United Airlines should pay up, regardless of whether alleged negligent actions in response to her in-flight complaint about Wedl were intentional.
She says United Airlines employees over-served Wedl alcohol, "took absolutely no precautionary measure(s) to prevent Wedl from assaulting [her]," and failed to "adequately train" flight attendants to respond to sexual assaults.
Law&Crime has reached out to United Airlines for comment, but there has been no response at the time of this publication.
Anne Dowling vs. United Airlines by Law&Crime on Scribd
[Image via DANIEL SLIM/AFP/Getty Images]
Have a tip we should know? [email protected]