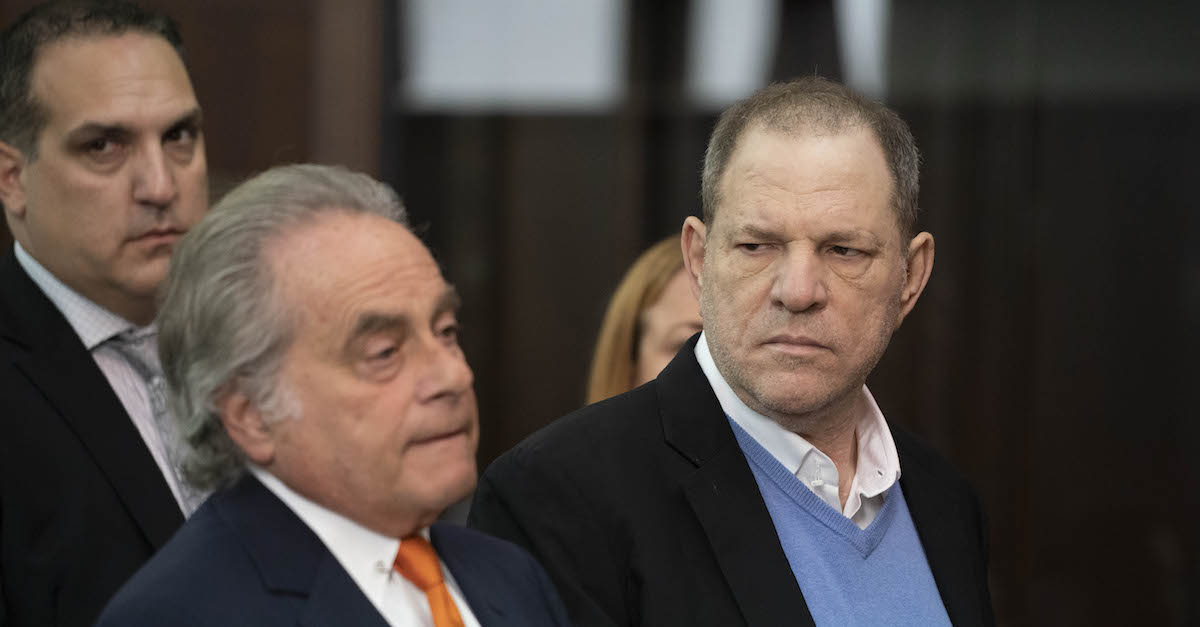 Three women filed a class action lawsuit Friday against Harvey Weinstein, two days after he was indicted on charges of rape in the first and third degrees, and criminal sexual act in the first degree. It also marks one week since Weinstein turned himself in to authorities in New York.
Melissa Thompson, Caitlin Dulany, and Larissa Gomes have been named as the plaintiffs in the lawsuit against Weinstein. The accusations are headlined by one from Thompson — that she was duped into giving key video evidence of an assault to Weinstein's attorney, thinking he was representing victims.
Thompson said she was raped in 2011 when Weinstein overpowered her at a hotel room while she tried to pitch her startup company. She also said she had video evidence of the assault on her laptop and without her knowledge actually sent the key evidence to Weinstein's current lawyer Benjamin Brafman because she was told he was representing other women accusing Weinstein of sex crimes.
She said this was quite the opposite:
Thompson immediately felt ill and fearful. She had shared important evidence against Weinstein with the very law firm who represented Weinstein unbeknownst to her. She felt like she could not trust anyone. That law firm had informed her she did not need to worry about the statute of limitations and lulled her into a sense of security regarding her claims. All of her fears the very reasons she did not come forward immediately after she was assaulted had been realized. Weinstein had used his network to show her just how far his reach stretched into her own circle.
"Weinstein's attorneys, Benjamin Brafman and Alex Spiro, used deceptive tactics to cause [Thompson] to believe that Brafman and Spiro were working for the victims in order to entice her to turn over her visual and audio evidence of Weinstein's actions," the lawsuit added. "She did not learn that Brafman was actually Weinstein's attorney until after turning over the evidence in her possession, causing her credible fear for her safety, severe emotional distress, and injury to her business and property."
Thompson alleges in the lawsuit that when Weinstein assaulted her she fought back, but "could not out-muscle" Weinstein and "closed her eyes, traumatized, praying for the assault to end."
Dulany alleges that Weinstein sexually assaulted her by performing oral sex on her without consent in 1996 in a hotel in Cannes.
She came forward in Nov. 2017 to explain why she waited so long to speak out against Weinstein. Dulany didn't detail the alleged Cannes assault at that time, but she did mention that she ran into Weinstein at a hotel bar there. She also said this about another encounter:
He came to pick me up at my apartment. I went to use the bathroom before we left and when I came out, he was standing there, fully naked, his clothes in a pile on the floor. I was shocked and, frankly, pissed off.

My apartment was a large loft space and I walked over to the other end of it, as far away from him as I could get and said, "Put your clothes back on, Harvey." I remember being very stern in my delivery. He stood there for a short while, no more than a minute or two, and said something quietly, almost to himself. I couldn't hear what it was. Then he put his clothes back on and left.
Canadian actress Larissa Gomes came forward in Oct. 17 with allegations that Weinstein got angry when she denied requests for a massage and to see her naked breast. She notably quoted Weinstein as mentioning other actresses by name who had "no problem fucking me."
"You know Gwyneth Paltrow and Ashley Judd were exactly where you are at one point," Gomes quotes him as saying. "Look at them now. Ashley Judd had no problem fucking me," she recounted the words.
Judd has sued Weinstein for allegedly damaging her career after denying his advances.
Weinstein has repeatedly denied any and all accusations that nonconsensual sex has occurred.
Brafman told Law&Crime the following in response to Thompson's allegations:
This firm has never represented Melissa Thompson and I personally never met with her or any of the other women named in the lawsuit. Alex Spiro was never a partner of this firm he was one of many Associates and left this firm in or about Sept 2017. To the extent he spoke with or met with any of these women, he did so on his own time after he had left this firm and was already employed by Quinn Emanuel. In addition, while at this firm, he never met with Mr Weinstein nor did he have any responsibility whatsoever in connection with our representation of Mr. Weinstein in any matter.
Phyllis Kupferstein later said in a statement that the lawsuit lacks merit.
"This lawsuit was filed by the same lawyers who filed the Geiss class action case. We have filed a motion to dismiss the Geiss case and this new case suffers from the same lack of merit," Kupferstein said.
Weinstein Miramax Class Action by gmaddaus on Scribd
Alberto Luperon contributed to this report.
Editor's note: the story was updated after publication with comment from Brafman and Kupferstein on Thompson's allegations.
[Image via Steven Hirsch-Pool/Getty Images]
Have a tip we should know? [email protected]