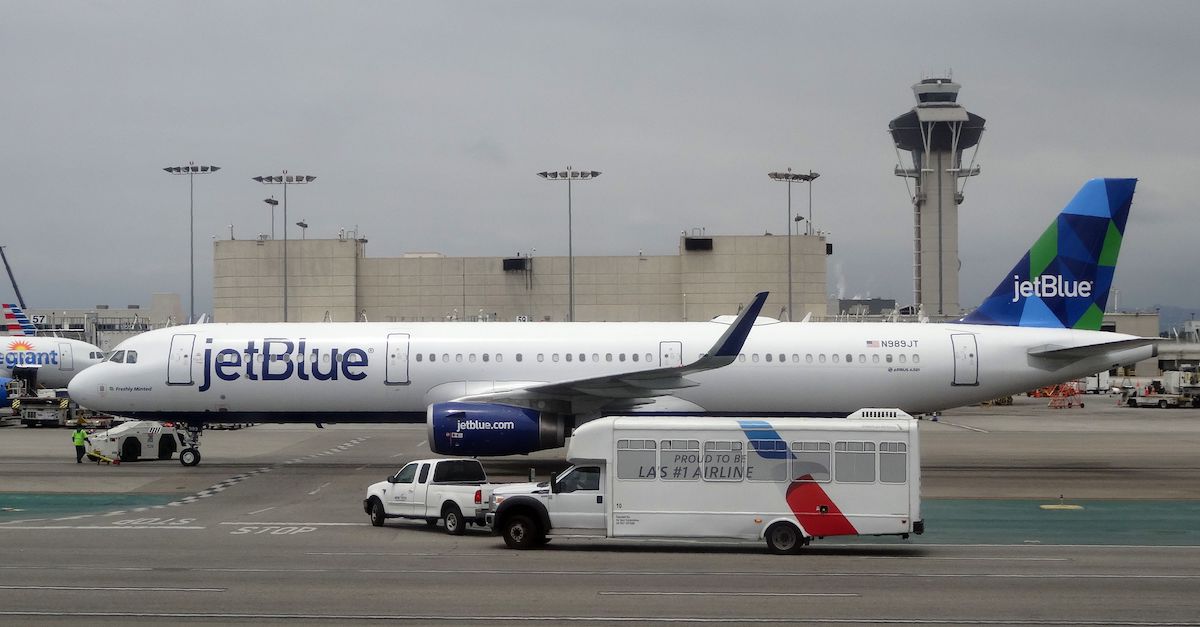 Two anonymous women, one from Utah and another from Texas, have filed a lawsuit against their former employer JetBlue Airways Corporation, alleging that during their time of employment they were drugged and raped by pilots Eric Johnson and Dan Watson. The lawsuit was filed on Monday, March 18, 2019 in the U.S. District Court for the Eastern District of New York. Both Johnson and Watson were hit with summonses on Tuesday.
The complaint says that Jane Doe #1 and Jane Doe #2 were both crew members and were at the Intercontinental Hotel in San Juan, Puerto Rico, in May 2018 when the alleged incident that gave rise to the lawsuit occurred.
"Plaintiff, along with crewmembers Doe # 2 and the other crew-member, arrived at the beach, found some chairs and set up camp, where they schmoozed, and relaxed with some drinks they had prepared," the lawsuit said. "Plaintiff, along with Doe # 2 and the other crewmember noticed two men, Defendants Johnson and Watson, sitting near them and noticed they were pulling beers out of a lunch bag."
This beer, the women said, was laced with a drug that made the rest of the night a blur, the next morning a fog, and the ensuing months a nightmare. The women said that they learned Johnson and Watson were JetBlue pilots and drank from a beer the men had.
"Plaintiff Doe # 1 did not remember when or how, but the group left the beach and headed back to the hotel," the suit said. "Plaintiff, in a haze from being drugged, next became aware that she was in bed with Defendant JOHNSON and her fellow crewmember. Defendant JOHNSON was on top of Plaintiff raping her by penetrating her vaginally against her will. Plaintiff felt the influence of the drug that Defendant JOHNSON laced the beer with, and Plaintiff was unable to react to the situation, but was simply aware that it was happening."
"Plaintiff's flashes of memory included Defendant JOHNSON having sexual intercourse with the other crewmember who was also under the influence of the drugs. Defendant JOHNSON also said, 'thank you for making my fantasy come true,'" it was alleged.
Jane Doe #1 said that she woke up the next morning for a flight back to Newark Airport. She said that Jane Doe #2 and a third unnamed female crew member "had also been drugged and raped, and they both expressed to each other that they were stunned by what had happened." She said that during the flight on May 10 she, Doe # 2 and the third crew member "were all nauseous and each had to use the bathroom to vomit, an effect they had not felt before despite having consumed alcohol previously."
Jane Doe #1 feared that she had contracted an STD and said she found out later that she had contracted HPV — "despite the fact that she had been previously tested and was STD free."
"The three [women] then looked up the symptoms of rape drugs and found their symptoms were consistent with having been drugged, and that they all began feeling those symptoms and effects right after drinking from the Defendants' beer, which further confirmed that they had been drugged by Defendants JOHNSON and WATSON," the complaint alleged. "The next day, on or about May 11, when Plaintiff completed her trip and returned home, immediately upon landing, Plaintiff went to the hospital and let them know she had been drugged and sexually assaulted, and she asked to be tested for any drugs."
The suit claimed that Jane Doe #1 reported the rape to JetBlue and that "no corrective action was ever taken against Defendants."
Jane Doe #2 said that she didn't remember how she got from San Juan beach to an elevator on the night in question.
"Plaintiff DOE # 2 does not know she got to the elevator or how she left the beach. On the elevator Defendant JOHNSON said, 'we'll take [Doe # 2] up to her floor first' which DOE # 2 thought was odd because her floor was the highest/last floor of all of them. After that point Plaintiff DOE # 2 has very spotty memories because of the drugs that she ingested from the beer can from Defendants JOHNSON and WATSON," the suit said. "Plaintiff DOE # 2 vomited a number of times throughout the night and was generally sick from the drugs."
It is alleged that the two men wanted to rape the Jane Doe #2 but didn't because the vomiting was a "turnoff." The woman said she, too, woke up feeling nauseated, tired and in a "body fog." She said that Johnson and Watson "assaulted and battered Plaintiff DOE # 2 and drugged her, with the intent of sexually assaulting and raping her, because of her sex and gender."
The complaint lists 17 causes of action, including: Discrimination under Title VII, retaliation under Title VII, discrimination under New York State law, retaliation under New York state law, discrimination under NYC administrative code, assault and battery, sexual offenses and aggravated sexual abuse in the first degree, gender motivated violence, Intentional infliction of emotional distress, negligent infliction of emotional distress, violations of the laws of Puerto Rico, negligence and failure to warn (about the STD).
JetBlue told Law&Crime in a statement that it takes the allegations in the lawsuit "very seriously."
"While we cannot comment on pending litigation, JetBlue takes allegations of violent or inappropriate behavior very seriously and investigates such claims thoroughly. We work to create a respectful workplace for all our crewmembers where they feel welcome and safe," JetBlue said. Law&Crime could not reach Watson and Johnson for comment. It's not clear if they have attorneys yet in this matter.
Two Women File Lawsuit Against JetBlue by Law&Crime on Scribd
[Image via Daniel Slim/AFP/Getty Images]
Have a tip we should know? [email protected]