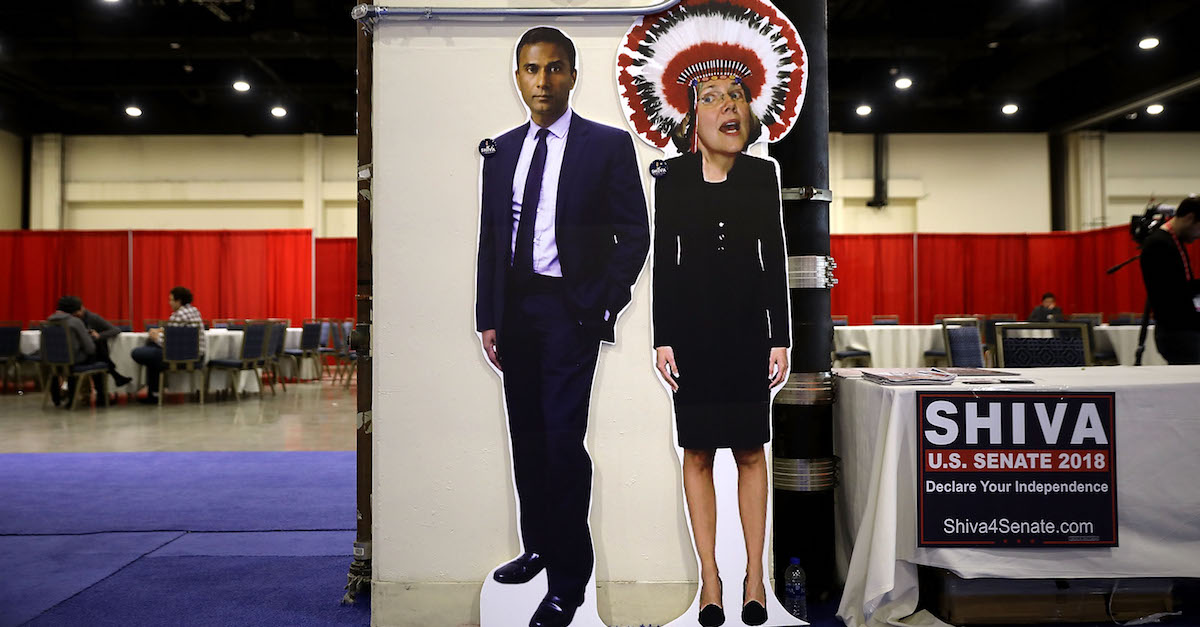 India-born Massachusetts Senate candidate, Shiva Ayyadurai, is suing the city of Cambridge after being told to remove signs calling incumbent Elizabeth Warren a "fake Indian."
The political independent's signs, which show side-by-side images of him and Warren in a headdress with the campaign slogan "only a real Indian can defeat the fake Indian" have been featured on his campaign bus since March. According to a letter from Cambridge building inspector Branden Vingenault, his department has recieved "a series of anonymous complaints" about the bus which has been parked in front of his office building, only a mile away from Warren's home.
Ayyadurai received a notice from Vigneault stating that the signs lacked the appropriate "approvals and permits." The notice said that if the signs remained in place Ayyadurai could face fines of $300 per day, as well as additional legal penalties.
"We will not remove the slogan from our bus," Ayyadurai told The Washington Times. "We will defend the First Amendment, and we will fight this egregious attack on the First Amendment, at any cost."
Ayyadurai has since filed a lawsuit against the city, claiming that the sign does not need any permits since it is displayed on a bus and not a building.
"This is a political vendetta by City officials who are supporters of Elizabeth Warren," Ayyadurai said. "They didn't say anything when we had the first sign. It was only when we put, 'Only a real Indian can defeat the fake Indian,' so it's clearly trying to censor speech."
Warren has come under fire in the past for claiming Native American heritage, despite not belonging to any tribe. Ayyadurai, however, has also faced similar scrutiny particularly for claiming that he invented email.
[Image via Chip Somodevilla/Getty Images]
Have a tip we should know? [email protected]