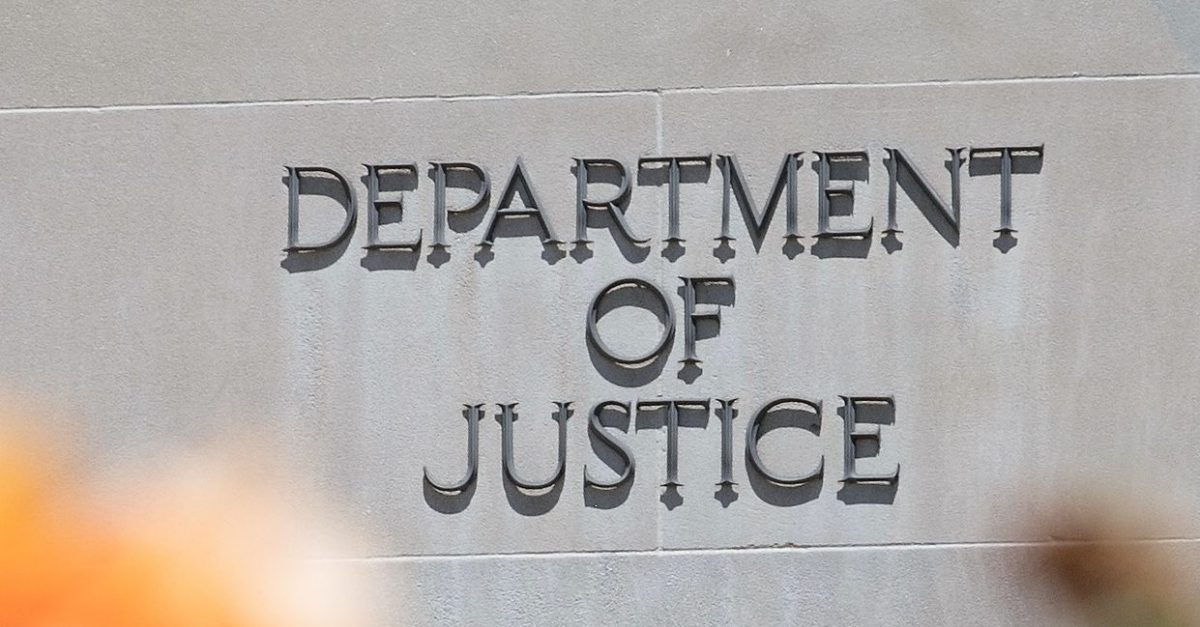 Another day, another problem for the U.S. Department of Justice (DOJ).
The National Association of Criminal Defense Lawyers (NACDL) announced Thursday that it has filed a lawsuit against Federal Bureau of Prisons (BOP) and the DOJ, demanding that records about denying federal inmates attorney-client privileged email be released.
The 11-page lawsuit, which you can read in full below, was filed in the U.S. District Court for the District of Columbia. It seeks "injunctive and other appropriate relief to compel the release of agency records related to the federal government's collection and monitoring of emails between inmates held in Federal Bureau of Prisons facilities and their attorneys."
The lawsuit happens after the BOP allegedly acknowledged the receipt of a Freedom of Information Act (FOIA) request, but did not produce "any records" responsive to the request. NACDL said the same thing happened when it requested records from the Criminal Division of the DOJ.
"Although that deadline has long since passed, to date, the Criminal Division has not produced any records responsive to the Main Justice Request, cited any exemption under FOIA for its failure to produce the records requested, or issued a determination regarding NACDL's request for records or waiver of fees," the lawsuit continues.
The crux of the matter is that NACDL is concerned that inmates at federal facilities who have access to an email system known as TRULINCS to email family, friends or, as the case may be, their attorneys, are experiencing "a burden on [their] constitutional rights, including their Sixth Amendment right to effective assistance of counsel and their First Amendment right to freedom of expression."
The reason being that use of TRULINCS requires that inmates agree "their communications—including messages to or from their attorneys—will be monitored and that communications with their counsel will not be treated as privileged."
If they do not agree to this, they must resort to "outdated," "slower" and "costlier" communication methods, methods that are also problematic for defense attorneys, whether a public defender or a personal attorney.
"It can take two or more weeks for inmates to receive postal mail. Unmonitored calls can take weeks to schedule, correspondence to schedule these calls must sometimes be done via postal mail, and the calls themselves are typically expensive," the lawsuit says. "For in-person visits, it can take defense attorneys hours in travel, processing, and waiting time before they can speak with their clients."
In a press release, NACDL President Drew Findling said the lack of attorney-client privileged email "makes absolutely no sense" in 2018.
"Clients in the federal prison system are often incarcerated far from where their attorneys are based. This means that, short of using traditional postal mail or scheduling an unmonitored call, either of which often takes weeks, counsel is forced to expend significant travel time to engage in the constitutionally-protected, privileged communications to which our clients are entitled," Findling said. "And all because the federal government chooses to impose this burden on defense lawyers and our clients and to deny protection for the far more efficient and readily available mode of communication in the 21st century — email."
"NACDL is committed to shining a light on this serious and wholly unnecessary problem and bringing it to an end," he added.
NACDL Files Lawsuit Against BOP, DOJ by Law&Crime on Scribd
[Image via Alex Wroblewski/Getty Images]
Have a tip we should know? [email protected]