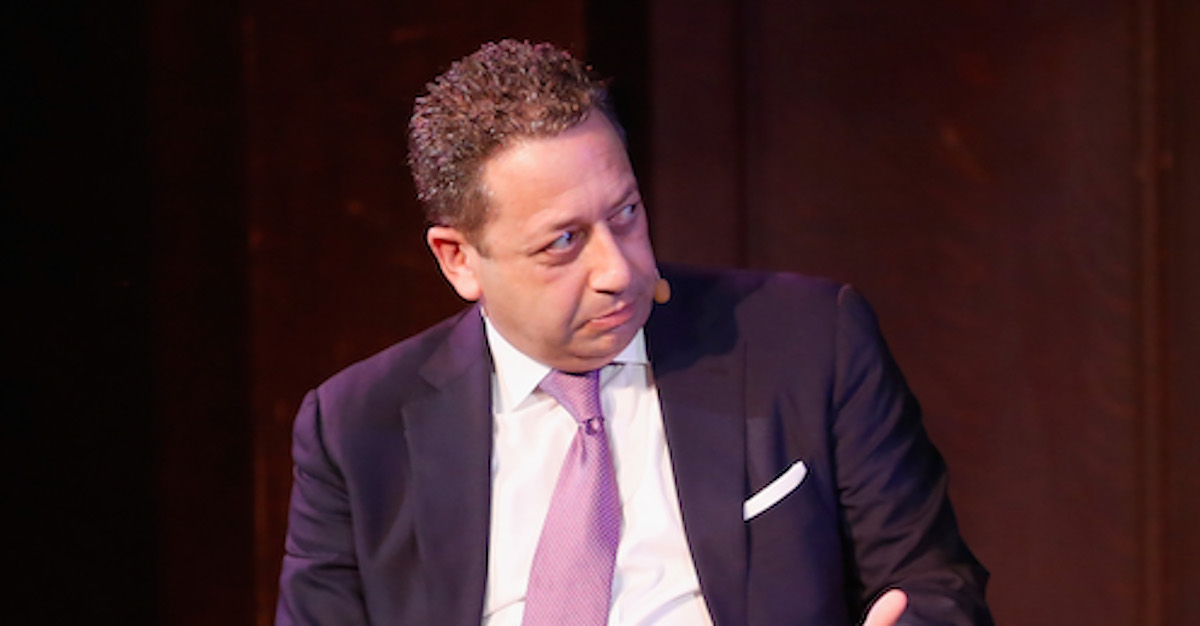 The former manager of pop superstar Mariah Carey is suing real estate developer and Trump-connected businessman Felix Sater over allegations that he hacked her phones and computers when they briefly dated and worked together last year, and the timing couldn't be worse.
Stella Bulochnikov Stolper is a television producer who managed Carey for several years until recently. In 2018, she and Sater were an item and plotted out a show envisioned as "The Russian Sopranos."
According to Page Six, Stolper claimed that while she and Sater began work on the proposed program, her former beau was taking advantage of her in various ways.
"Sater sought to leverage Stolper's substantial connections in the entertainment industry, and requested that Stolper make introductions for him so that Sater could pitch media endeavors based upon his own turbulent life story," the lawsuit filed Monday reads.
The pair are apparently childhood friends and they ran into one another sometime in 2017. Sater was then invited to take up residence with Stolper in order to help effectuate the Russiafied gangster series–along with his assistant Kalsom Kam.
Things didn't go as planned and, the lawsuit claims, Stolper eventually grew "frustrated" with Sater and she kicked President Donald Trump's one-time man in Moscow to the curb. And things allegedly just got worse from there.
The lawsuit notes, in relevant part:
Shortly thereafter, Stolper was shocked and devastated to learn that Sater and Kam had created unauthorized electronic methods of backdoor access to all of the data on her computers and digital devices, and were using those backdoors to access and misappropriate all of [Stolper's company's] confidential, proprietary and valuable business files, as well as all of [Stolper's] separate business files and all of her personal files and photos relating to her and her family.
"Defendants used hacks, backdoors, and other nefarious electronic means to access [Stolper's] computers and smart devices, and misappropriated, copied and converted valuable, unauthorized information from [Stolper's] computers and smart devices," the lawsuit continues, "including but not limited to confidential client information, scripts, treatments, contracts, and other intellectual property."
Stolper's lawsuit comes at a precarious time for Sater.
Also on Monday, House Democrats on the Judiciary Committee issued Sater a document production request for copiopus documentation related to the ongoing special counsel investigation led by Robert Mueller. The House request also makes note of the ancillary investigation led by the Southern District of New York (SDNY) into Michael Cohen–which was referred by Mueller to SDNY prosecutors.
The Democratic demand for documents begins:
Please produce the documents [requested], provided, however, that in order to facilitate production of documents on an expedited basis, you may limit your production at this time to documents you furnished at any time after November 8, 2016 to:(a) the Special Counsel's Office established by Department of Justice Order No. 3915-2017 (May 17, 2017); (b) the United States Attorney's Office for the Southern District of New York…
The request asks for all documents related to any discussions with foreign governments on behalf of the Trump clan's various business interests and singles out each of the adult Trump children–and Jared Kushner–by name. Various Trump family–and Kushner family–entities are also on the hook viz. their foreign and domestic governmental connections.
The document request also makes a pointed ask for "[a]ny loan, financing transaction, or capital investment by the Russian Federation, any Russian national, any Russian business, or any other Russian entity to the Trump Organization, Donald Trump, Ivanka Trump, Jared Kushner, or any of their Business Interests."
"This request shall include the period from January 1, 2015 to the present and shall exclude documents relating to the purchase of individual condominium, cooperative, or apartment units," the filing notes.
And there's quite a bit more.
The failed Trump Tower Moscow project makes an appearance–House Democrats want all of the documents Sater has on that controversial negotiation. Recall: Sater authored a series of texts and emails to Cohen wherein multiple promises were made that Russian billionaires and politicians–including Russian President Vladimir Putin–were on board.
There's also a reference to the infamous Trump Tower meeting where Donald Trump Jr. was attempting to get "dirt" on Hillary Clinton from Russian attorney Natalia Veselnitskaya.
Democrats are also requesting documents from the "June 9, 2016 Trump Tower meeting, including but not limited to contacts or communications about the meeting involving one or more of the following individuals: Donald Trump Jr., Natalia Veselnitskaya, Donald Trump, Paul Manafort, Jared Kushner, Emin Agalarov, Aras Agalarov, Rob Goldstone, and/or Rinat Akhmetshin."
Several of those names aren't exactly high-profile figures–but their inclusion alone is likely to generate substantial media interest.
Law&Crime reached out to Sater for comment on this article but no response was forthcoming at the time of publication.
[image via Thos Robinson/Getty Images for The New Yorker]
Have a tip we should know? [email protected]