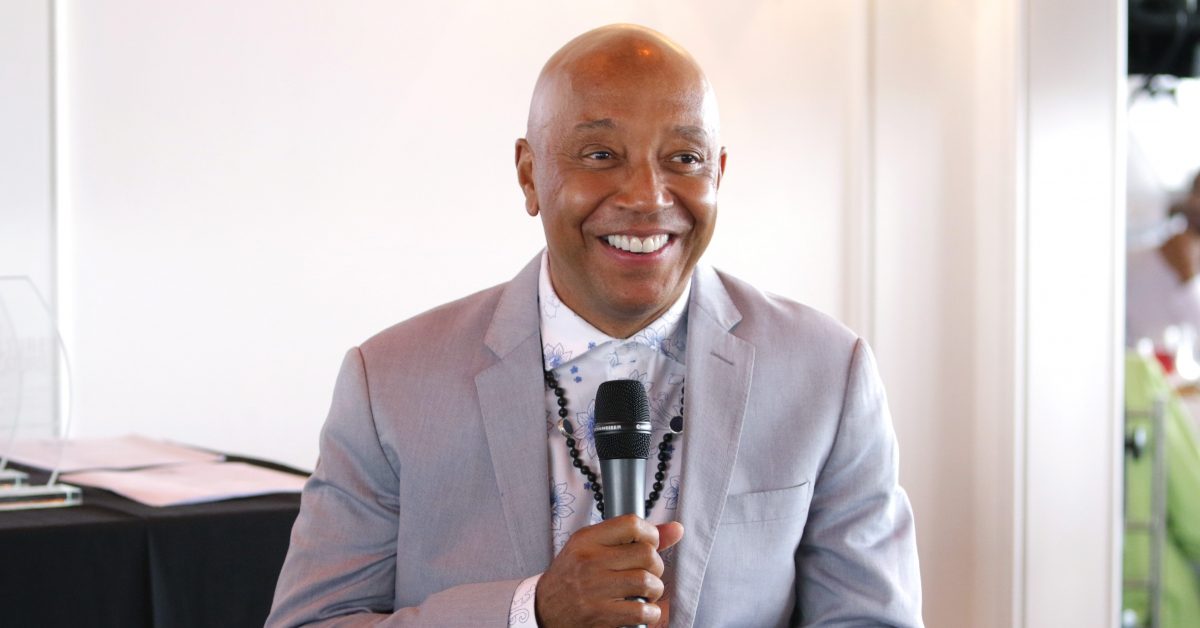 Hip hop mogul Russell Simmons is facing yet another accusation of rape.
Alexia Norton Jones, the granddaughter of icon book publisher W.W. Norton (William Warder Norton), gave Variety her account of alleged assaults after a date in Nov. 1990. Jones, who was 31 at the time, said that she went to Simmons' Manhattan apartment and was raped despite her saying "no seven to 10 times":
Within a few minutes, he got what he thought was amorous. What was shocking to me was that it wasn't. It was one of these things, where he had so many hands on me. But he only has two hands. It began with us kissing. There was something about kissing him, his heart was racing. It seemed out of pace, like he wasn't relaxed. My mind went to, "Is he on something?" I also thought, "How could I be such an idiot?" Here I am, I'm trusting him. I had been a survivor of sexual abuse as a young teenager.

I didn't want to go further. It was such a fast attack. It was literally an attack. Because he was overweight, I remember thinking it was like being attacked by a flabby walrus. I remember being pushed up against a wall. He pulled my dress up. I must have said no seven to 10 times, and then I acquiesced. It was very fast. I would say it happened in less than 10 minutes.
Jones said that she forgave Simmons, but last spring had a change of heart. Despite the statute of limitations, she filed a police report to stand in solidarity with other women who have accused Simmons of assault. She said this is not about money.
"What made me come forward is his denials of violence toward other women. I don't want any money from Russell. I'm not suing him. If you look at the women he allegedly assaulted, many of us have a similar look. It's uncanny," she said. "Russell knew that the African-American community was behind him. There are so few black men who make it, we wanted him to succeed. Yet there was also this huge betrayal. He counted on this silence."
Simmons said that while he was "saddened by this story," lie detector tests "affirm" he has "never sexually assaulted anyone."
"At no time [Alexia] share these feelings about her first sexual encounter with me, which took place roughly 28 years ago. I have taken multiple lie detector tests that affirm I never sexually assaulted anyone," he said. "Alexia and I dated, were intimate and attended multiple events together after she alleges the incident occurred in 1990. I considered her a friend for all these years and continue to have a warm relationship with members of her family."
"I believe we last spoke in 2006 when she called to express her disappointment over the fact that I had not attended an event honoring her father," he added.
Simmons' driver, Kenneth L. Jennings submitted a written statement in which he recalled Simmons and Jones going "on about 10 to 12 dates in or about 1990" and that a "relationship lasted approximately five months."
Jones, on the other hand, denied that she has dated Simmons.
Simmons was previously sued for sexual assault by filmmaker Jennifer Jarosik.
She alleged that in 2016, Simmons invited her to his home in Los Angeles  and asked her to have sex. Jarosik said that when she rebuffed the advance, Simmons pushed her onto his bed, and after she tried to fight back, he knocked her off the bed, causing her to hit her head. She said Simmons "pounced on her while she was still in shock and fear, and proceeded to rape her."
The lawsuit mentioned ten other women who have supposedly accused Simmons of sexual harassment or assault in the past. One of them, Keri Claussen Khalighi, told her story in a Los Angeles Times report in November. Another, Sherri Hines, has said she has spoken to the NYPD about her allegations, and screenwriter Jenny Lumet's account, published in The Hollywood Reporter, led to the mogul deciding to step away from running his businesses.
"This allegation is absolutely untrue," the statement said. "I look forward to having my day in court — where, unlike the court of public opinion, I will have the ability to make use of fair processes that ensure that justice will be done and that the full truth will be known."
Ronn Blitzer contributed to this report. 
[Image via Jerritt Clark/Getty Images for Culture Creators]
Have a tip we should know? [email protected]