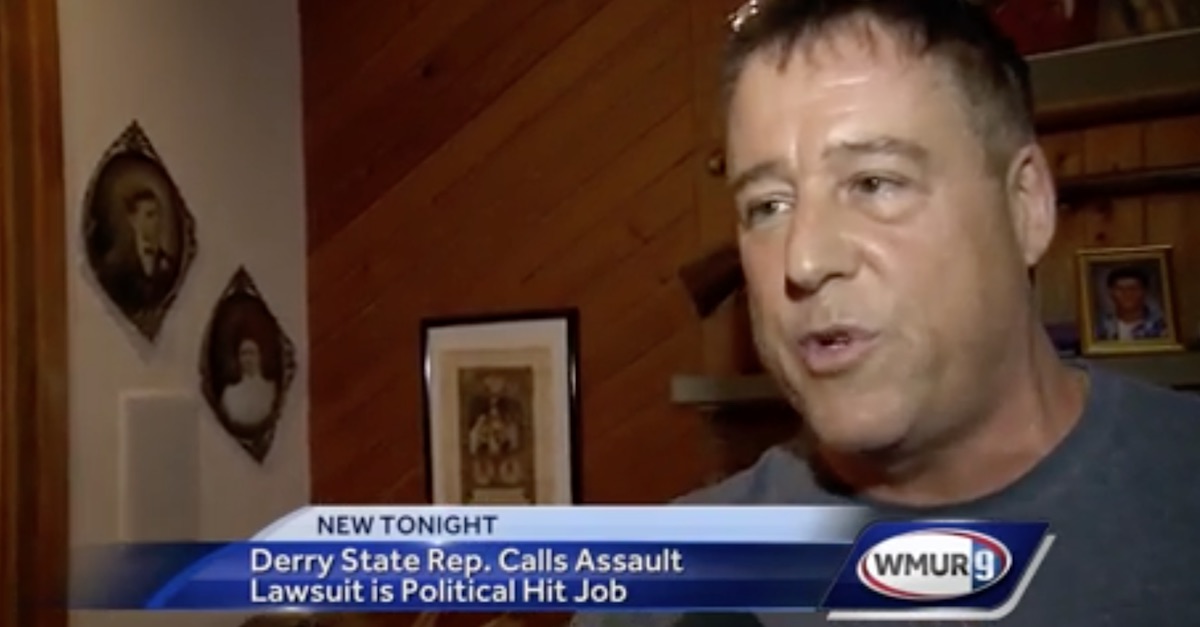 A Republican state representative from New Hampshire has been accused of assault and battery in a civil lawsuit filed by a business partner who claims this attack occurred because the lawmaker's appearance in a porn movie called "Creampie Apocalypse" didn't go as hoped.
Rep. Frank Sapareto, 58, of Derry, N.H., claims the lawsuit filed by Jonathan Carter, 38, is a shakedown and an "extortion" plot to be expected come election season. Separato denied the accusations contained in the civil complaint and reacted to it by saying, "Wow, that's a great story. I haven't heard that one. I thought we were all done going after men." He also called the suit a "political hit job."
Law&Crime has reviewed the court filing and it says that around June 6, 2018, Sapareto became business partners in a venture called Standard Video LLC, "with the intent to produce and sell adult movies." Carter claimed that Sapareto "wanted to star in the first adult film they produced, a movie called 'Creampie Apocalypse.'"
Carter claimed that when Sapareto's sex scenes were being filmed on June 29, Sapareto "became upset over the way things went" and that a day later Sapareto attacked Carter, "beating him to the head, face, and body." The lawsuit says Carter had to be taken to the hospital to be treated for "[a]ssault; closed head injury with loss of consciousness," and that he suffered a concussion.
A police report was filed with the Simi Valley Police Department on the same day of the alleged assault, the documents show. Carter claimed when speaking with police that an agitated Sapareto showed up at his residence and yelled "Are you trying to screw me" repeatedly. Carter believed Sapareto was under the influence of "methamphetamine due to his erratic behavior."
Eventually, police pulled over Sapareto and Carter identified him as the person who allegedly attacked him. Sapareto said he "met Carter, who also goes by the name Roy Randall online, while finding a partner to make an adult film with." Sapareto said there were "no issues" when filming the last week and that he went to Carter's house to return camera equipment before going on his way. He said there was no "physical or verbal altercation" and that he didn't know how Carter sustained his injuries.
When faced with the prospect of prosecution, Sapareto accepted a misdemeanor battery citation.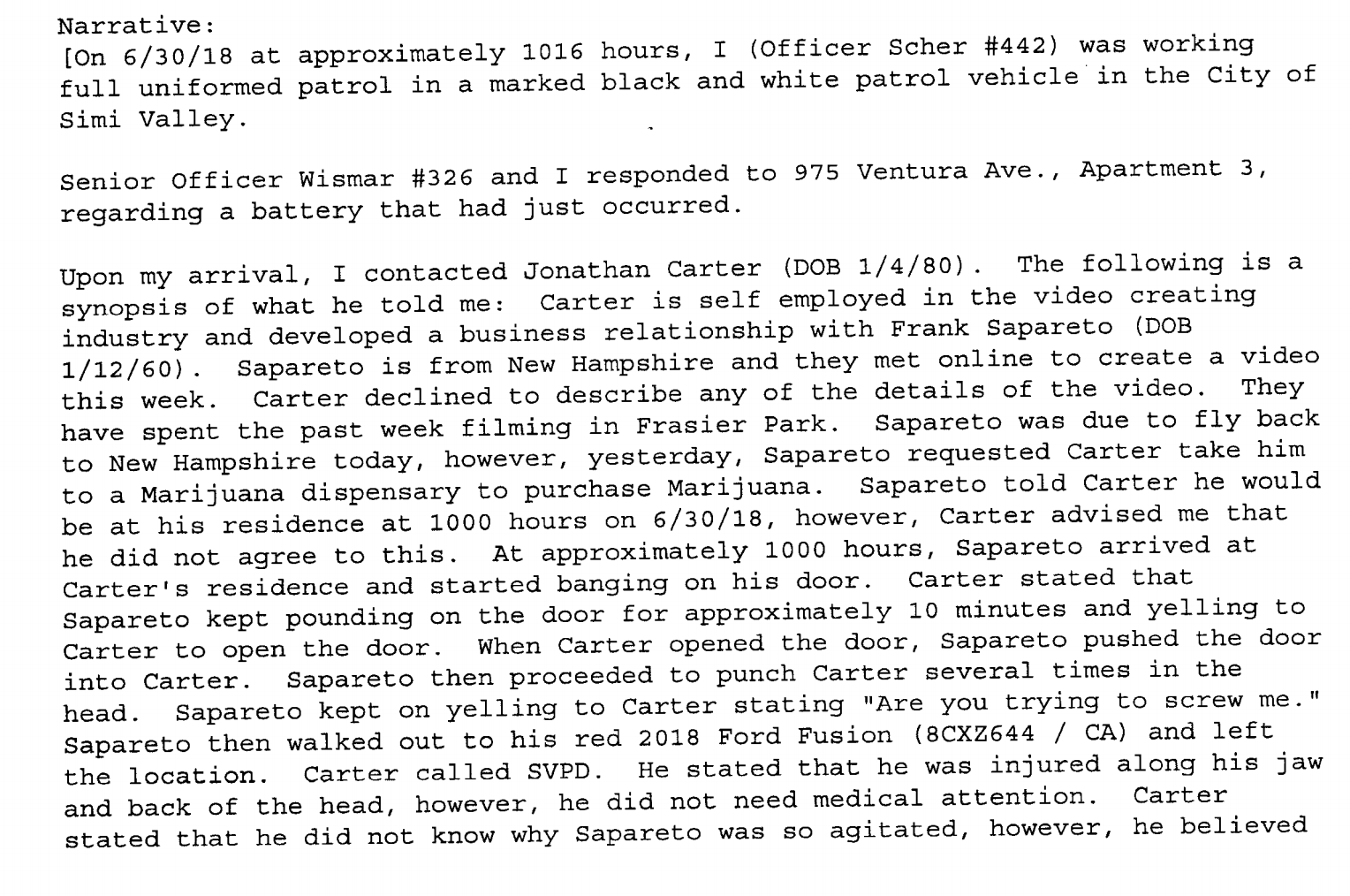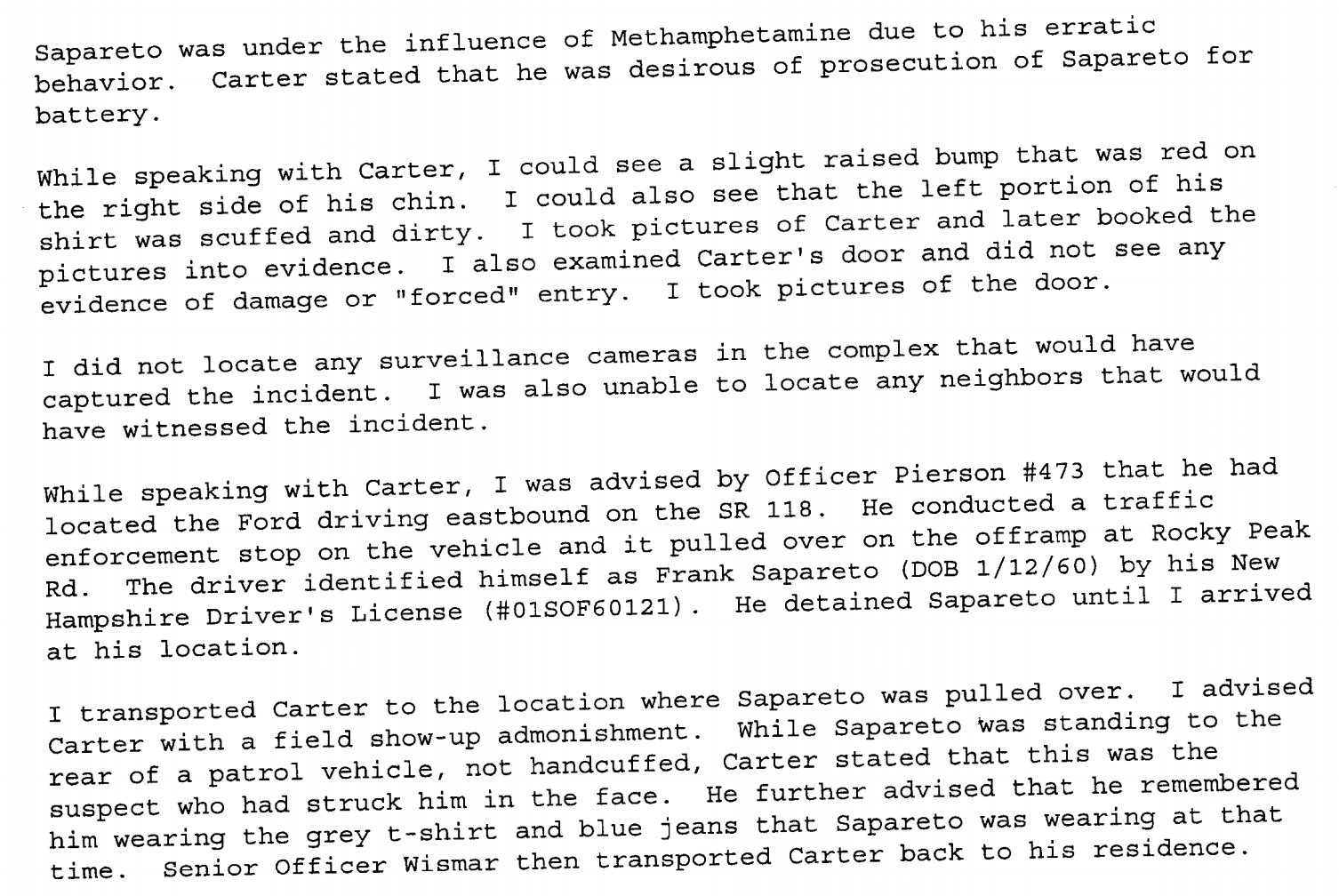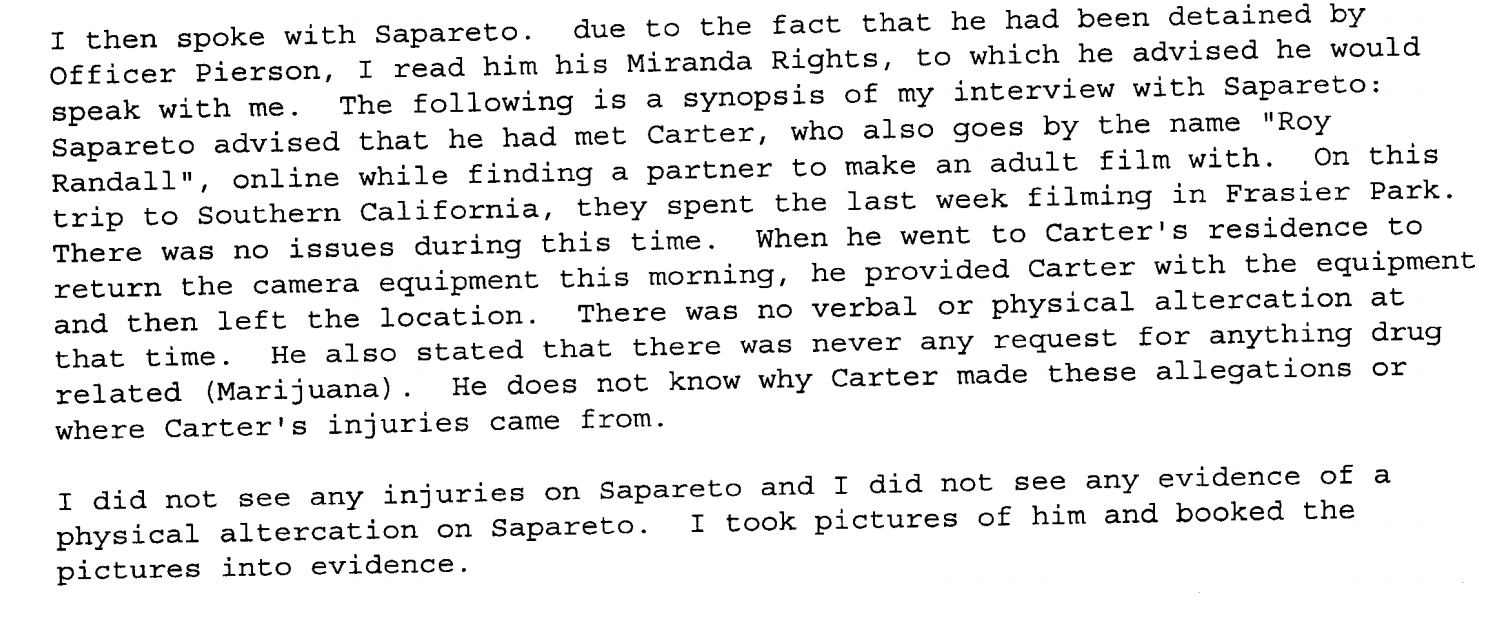 On Friday, Sapareto denied knowing Carter or having involvement in the porn business. On Monday, he claimed he invested $5,000 to make "tourism videos" and decided to part ways with Carter when he found out about alleged insurance fraud and Carter's porn connections.
Carter, on the other hand, claims to have seven hours of "Creampie Apocalypse" footage — a tawdry tumble the Associated Press described this way: "[A] film that purported to tell the story of an apocalypse with adult film actresses searching for the last remaining man."
Sapareto is, indeed, running for re-election and has expressed aspirations of running Speaker of the House in New Hampshire.
[Image via WMUR screengrab]
Have a tip we should know? [email protected]