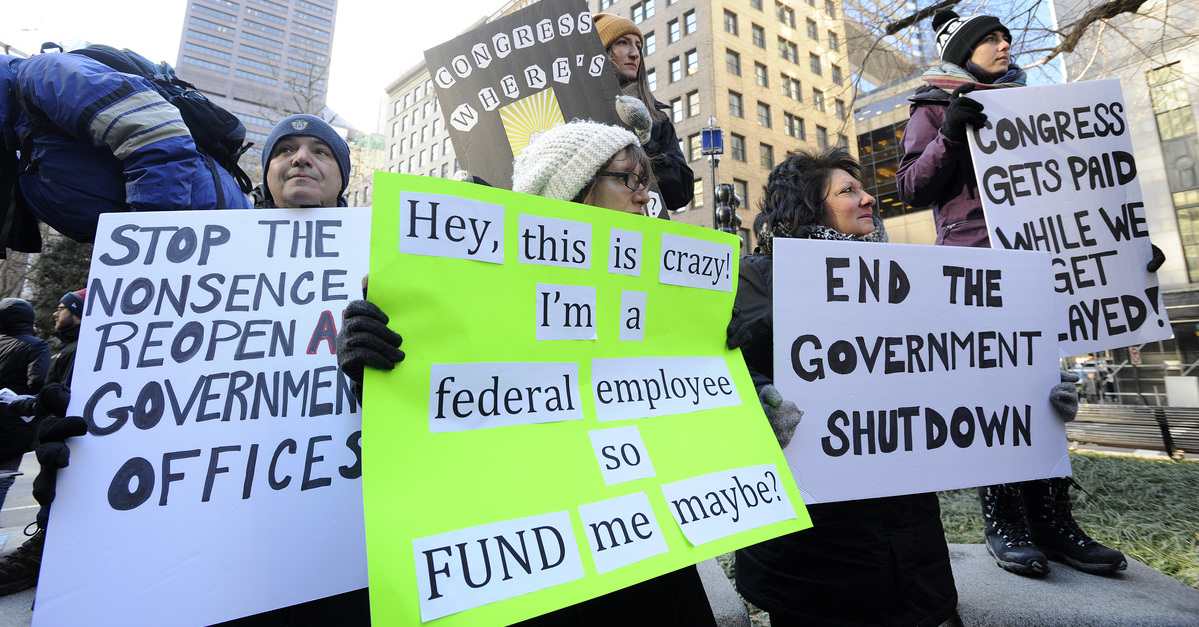 Several hundred thousand federal employees will be forced to continue working without a paycheck as the longest-running partial government shutdown in U.S. history continues apace, a federal court in Washington, D.C. ruled on Tuesday afternoon.
U.S. District Judge Richard Leon ruled against three emergency petitions and refused to issue requested temporary restraining orders, noting that such a move would likely bring untoward disruption to the federal state of play.
"At best it would create chaos and confusion," Leon said. "At worst it could be catastrophic…I'm not going to put people's lives at risk."
Nearly half a million federal employees have been working without pay since December 22 when the White House and Congress failed to sign off on a budget over President Donald Trump's post-midterm election demand that any future budget contain billions of dollars in funding for a wall along the U.S.-Mexico border.
The lame-duck GOP-controlled 115th Congress failed to pass a budget in line with the 45th president's request and the recently seated 116th Congress–split between Democratic Party control in the House of Representatives and Republican Party control in the Senate–has signaled that Trump's wall funding requests are more or less dead on arrival.
Two unions–the National Treasury Employees Union and the Air Traffic Controllers Association–and a group of federal employees in their individual capacity brought the lawsuits in D.C.'s federal trial court based on the argument that forcing employees to work without pay is a violation of federal law. Specifically, the suits alleged that such dynamics were expressly prohibited by the 5th and 13th Amendments to the U.S. Constitution.
"Each day, the [Federal Aviation Administration's] Air Traffic Controllers are responsible for ensuring the safe routing of tens of thousands of flights, often working lengthy, grueling overtime shifts to do so," one of the original lawsuits notes. Doing such a job "requires such rare skills that the FAA struggles to maintain a full complement of certified Air Traffic Controllers."
The lawsuit continues:
Measuring the weight of these individual losses as they are multiplied across the thousands of Air Traffic Controllers represented by [the Air Traffic Controllers union] becomes unbearable. These are losses for which future monetary compensation is insufficient.
Those three lawsuits were consolidated into one action by Leon last week and a hearing was held early Tuesday.
Attorneys for the plaintiffs noted that federal employees were facing the prospect of being unable to pay for basic needs, childcare and medical bills.
"They're required to work without being paid — that is the essence of involuntary servitude," attorney Michael Kator told The Washington Post. "The government has absolutely violated famous constitutional rights…The real story is the effect this is having on people's lives. It is incredibly unfair that federal employees are made to bear the brunt of this. They have no say and they're the ones who are taking the hits with some pretty dire consequences."
Judge Leon expressed some sympathy for the plight of paycheck-free federal employees.
"It's hard not to empathize with the plaintiffs. They are not at fault," Leon said. He continued, "Yet, the judiciary is not another source of leverage to be tangled in this struggle."
In the end, however, the federal judge strongly disagreed with the plaintiffs' preferred remedy.
"A [temporary restraining order] would have incredible impact on the nation," Leon told the plaintiffs' attorneys. "A chaotic impact."
[image via JOSEPH PREZIOSO/AFP/Getty Images]
Have a tip we should know? [email protected]