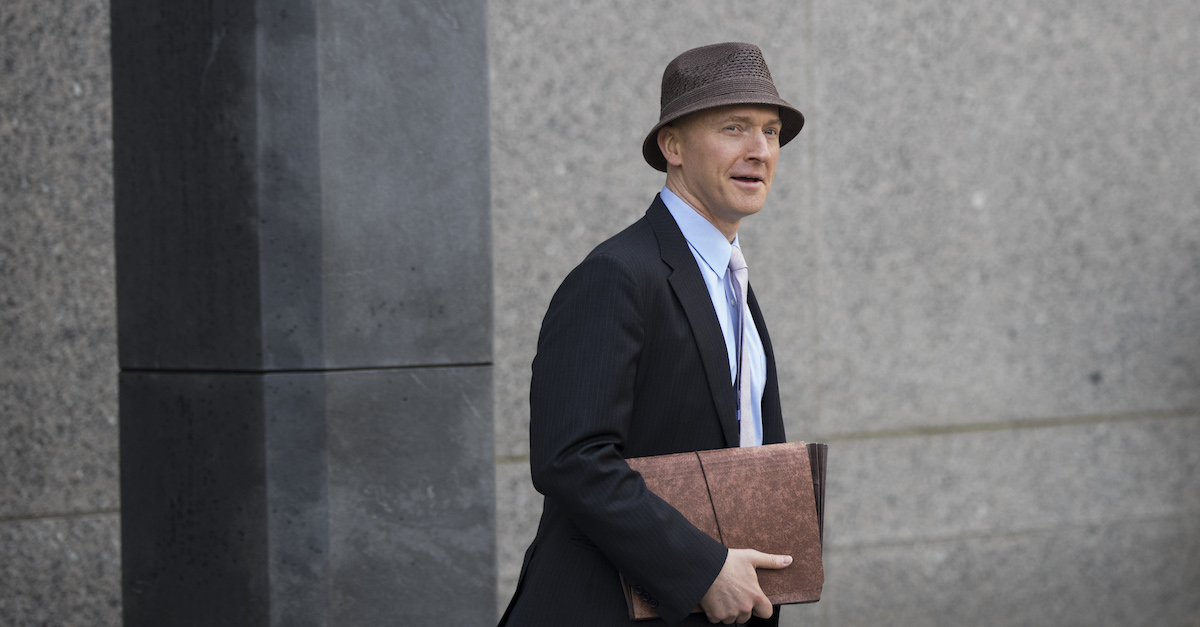 Former Trump campaign foreign policy adviser Carter Page, who everyone knows as the guy on the wrong end of the FBI's numerous and serious FISA application errors, filed a lawsuit on Thursday against the Democratic National Committee, international law firm Perkins Coie LLP, and attorneys Marc Elias and Michael Sussman over the Steele Dossier.
Elias was general counsel for Hillary Clinton's 2016 campaign and is a partner at Perkins Coie; Sussman is also a partner at the firm. Both have represented the Clinton campaign and DNC.
According to the lawsuit filed in the U.S. District Court for the Northern District of Illinois, Eastern Division, the defendants "developed a dossier replete with falsehoods about numerous individuals associated with the Trump campaign—especially Dr. Page" as part of an effort to "tarnish the Trump campaign and its affiliates (including Dr. Page) by publicizing this false information."
Page alleges that Perkins Coie, the DNC, and "Their Associates" retained the services Fusion GPS and Christopher Steele to "produce negative information on then-candidate Trump." Page alleges that he was seriously harmed by it all.
"The Defendants' wrongful actions convinced many Americans that Dr. Page is a traitor to the United States, and as a result he has received—and continues to receive—multiple death threats," the Page lawsuit continued. "Dr. Page's businesses have suffered greatly from the false, malicious information spread by Defendants. In short, Defendants' actions have not only damaged Plaintiffs' reputations and financial prospects, they have even caused Dr. Page to reasonably fear for his safety."
Page is seeking a jury trial and damages, and alleges multiple causes of action: defamation, false light, tortious interference, and conspiracy.
"Plaintiffs were injured. Plaintiffs' business prospects were devastated. Dr. Page's reputation was irreparably ruined, and he received numerous death threats, causing him to reasonably fear for his safety," the lawsuit said. "Plaintiffs' injuries were caused by an unlawful overt act by one of Defendants. That unlawful overt acts was done pursuant to and in furtherance of Defendants' common scheme."
The lawsuit appears to be similar in nature to one that a judge dismissed almost a year ago today, but there are a couple of differences. On January 31, 2019, the suit in the U.S. District Court for the District of Western Oklahoma was dismissed because the court lacked personal jurisdiction over the defendants. The new lawsuit claims venue is proper this time around:
Venue in this District is proper pursuant to 28 U.S.C. § 1392(b)(2) because a substantial part of the events giving rise to Plaintiffs' claims occurred in this District. Venue is also proper pursuant to 28 U.S.C. § 1392(b)(3) because Defendants are subject to personal jurisdiction in this district.
Page was also representing himself (a "pro se" plaintiff) in the prior suit. This time, a number of attorneys appear to be representing Page, Global Energy Capital LLC, and Global Natural Gas Ventures LLC in the matter.
The current lawsuit has also been updated with new information, in light of the Department of Justice Inspector General's report on "Crossfire Hurricane." For example:
FISA is designed to protect Americans from the dangers of global terrorism and espionage. But in this instance the FISA process was egregiously misused against Dr. Page. Defendants contrived false statements against Dr. Page. Defendants and those who supported them used these falsities to obtain FISA warrants against Dr. Page for their own political purposes.
Multiple investigations have made clear that Dr. Page was wrongly accused and was not working for any foreign power. The DOJ Inspector General said as much after an extensive nineteen-month investigation that culminated in an over 400-page report published on December 9, 2019, addressing FISA abuse at the FBI ("the IG Report").

Even the DOJ and the FISC have recognized that the false information spread by Defendants led to invalid FISA warrants against Dr. Page. On January 7, 2020, the DOJ declared invalid at least two of the applications for surveillance warrants against Dr. Page, explaining that those warrants were based on a series of material misstatements and omissions.
You can read the 23-page complaint below:
Carter Page sues DNC by Law&Crime on Scribd
[Image via Drew Angerer/Getty Images]
Have a tip we should know? [email protected]