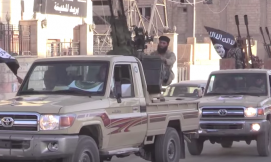 North Carolina man Justin Nojan Sullivan was sentenced to life in prison after pleading guilty to attempting to commit an act of terrorism transcending national boundaries and planned to aid Islamic State of Iraq and al-Sham (ISIS), the Department of Justice said in a press release today.
According to court documents, Sullivan searched for saved videos portraying violent ISIS attacks on the Internet, including public beheadings, and openly declared his support for ISIS at home starting no later than September of 2014. At some time no later than June 7, 2015, Sullivan began contacting prominent ISIS online recruiter and terror plot director Junaid Hussain.  The two conspired to plan mass shootings in North Carolina and Virginia.  The two agreed to plan the attacks at a densely populated club, bar, or concert, to maximize the attack's victim count.  Sullivan believed that his attack could cause up to 1,000 casualties.
Sullivan acquired a silencer and planned to purchase an assault rifle before his arrest.  An undercover FBI agent masquerading as as a potential co-conspirator and ISIS sympathizer became his undoing, and Sullivan was arrested in June 2015.
"The Court noted that Sullivan's plan to murder innocent civilians at a social gathering was similar to the Orlando nightclub attack in 2016," the Department of Justice statement said.  "According to the Court, Sullivan's plan, however, was more sinister because he planned to use stealth – including a mask to hide his identity and a silencer to kill as many as possible, with the hope to escape and kill again. The Court found that Sullivan's offense was cold and calculating."
FBI personnel also reaffirmed the success of its working in foiling his plot. "Identifying a terrorist before an attack happens is one of the most difficult tasks we face in the FBI. We compare it to finding a needle in a stack of needles. But that is exactly what we did to stop Justin Sullivan from carrying out his murderous plot in the name of ISIL. It took an incredible level of cooperation and collaboration between local, state and federal law enforcement agencies. Today's life in prison sentence is the result of the hard work of the FBI's Joint Terrorism Task Force working around the clock to protect this country from those who seek to do us harm," Special Agent in Charge John A. Strong said.
[Image via Vice Screengrab]
Have a tip we should know? [email protected]