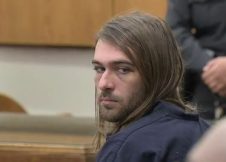 A re-trial date has been set for David "DJ" Creato, the New Jersey man accused of killing his 3 year-old son, Brendan Creato, to salvage his relationship with 17 year-old Julia Stensky.  His trial this May, previously covered and broadcast on LawNewz.com, was declared a mistrial.
Creato pled not guilty to charges of murder and child endangerment.
The New Jersey father called 911 to report his son's disappearance on October 13, 2015.  The toddler's body was found three-quarters of a mile away from Creato's apartment, laying next to a creek in a New Jersey park. Creato was arrested for his death in January. Authorities struggled, however, to find concrete evidence that Creato left his apartment the night before or even determine a precise cause of death beyond oxygen deprivation. While prosecutors argued that it would be impossible for Brendan to have wandered outside of his apartment alone, the defense argued that no evidence existed to pin the crime on Creato beyond a reasonable doubt.
Prosecutors theorized that Creato killed his son in an attempt to repair his relationship with then-girlfriend Stensky, as she was not Brendan's mother and disliked that the boy occupied a large part of Creato's life, even calling him a "mistake."  Stensky was away at college when the crime occurred, however, and is not suspected of any involvement.
The trial resulted in a deadlocked jury which was reported to be in favor of his conviction by a 10-2 count according to a Philly.com interview with some of the jurors. Pretrial motions and jury selection are set to begin on September 11.
Have a tip we should know? [email protected]