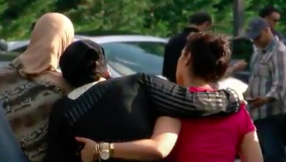 (AP) — Islamic leaders are questioning Virginia detectives' insistence that the beating death of a teenage Muslim girl appears to have been a case of road rage, saying the attack looks all too much like a hate crime.
Nabra Hassanen, 17, was bludgeoned with a baseball bat early Sunday by a motorist who drove up to about 15 Muslim teenagers as they walked or bicycled along a road, Fairfax County police said. A Hassanen family spokesman said all the girls in the group were wearing Muslim headscarves and robes.
In a sign of solidarity, Muslim groups held vigils across the country Tuesday to honor Hassanen. Her mosque, the All Dulles Area Muslim Society, announced plans for her funeral Wednesday and encouraged people to come together and "respond to bad with good."
Darwin Martinez Torres, a 22-year-old from El Salvador suspected of being in the U.S. illegally, was jailed without bail on a murder charge after the girl's body was pulled from a pond near his apartment.
Ibrahim Hooper, a spokesman for the Council on American-Islamic Relations, said there is a strong possibility the crime wouldn't have happened if the teenagers weren't Muslim.
"You can't just say, 'Oh, he didn't say anything against Islam, so no hate crime,'" he said.
Fairfax police, in their account of the attack, said that Martinez Torres and one of the boys in the group got into an argument, and the motorist chased the youngsters down and got out swinging the bat. They said Martinez Torres beat Hassanen as her friends scattered, then put her in his car, assaulted her again and dumped her body.
"No evidence has been uncovered that shows this murder was motivated by race or religion," police said in a statement Monday night. "It appears the suspect became so enraged over the traffic dispute it escalated into deadly violence."
But after a string of attacks on Muslims around the world, most recently in London and in Portland, Oregon, some are deeply skeptical.
Rabia Chaudry, a lawyer and Muslim activist who lives in the Washington suburbs, ridiculed the notion it was road rage, saying on Twitter: "If you think for a minute that her appearance had nothing to do with this crime, you're lying to yourself."
Chaudry said that when a Muslim commits a crime, officials are quick to treat it as an act of terror, but when the perpetrator is not Muslim, police seem to approach it differently.
"I just feel like there is more hesitation and a lot of other factors are taken into account," such as whether the person was drunk or suffering mental problems, Chaudry said in an interview.
The public defender's office, which was appointed to represent Martinez Torres, declined to comment. He could get up to 40 years in prison if convicted on the murder charge.
Joshua Salaam, a chaplain at the ADAMS Center, said the community is struggling because Hassanen was beloved by so many and well-known for her kind spirit.
"If nobody gave you a compliment, she gave you a compliment. And it wasn't just Muslim youth" but the broader Reston community that she was connected to, he said.
The mosque expressed optimism that law enforcement will determine what motivated the crime and added: "We request the community to not speculate on the motives and jump to conclusions."
Salaam said police "have given us complete confidence."
CAIR called on Muslim communities to increase security during the Muslim holy month of Ramadan in light of Hassanen's slaying and other recent crimes. The attack on Hassanen came as she was on her way to a mosque for Ramadan.
On Monday, British authorities charged a man with terrorism after he allegedly plowed his van into Muslim worshippers outside a London mosque, injuring at least nine people.
And in Portland last month, a man was charged with the equivalent of a hate crime in the fatal stabbings of two white men who were trying to defend two teenage girls, one of them wearing a hijab, from his anti-Muslim tirade.
In those cases, the suspects allegedly made repeated anti-Muslim slurs before and during the attacks. In Virginia, neither police nor witnesses interviewed by The Associated Press said they saw anything to make them think the teenagers were targeted over their religion.
Fairfax County police said if they find any evidence the slaying was a hate crime, they will pursue appropriate charges. Virginia law, in part, defines a hate crime as any illegal act motivated by a person's race, religion or nationality.
A hate crime in Virginia can bring up to five years behind bars if it results in injury.
[Image via screengrab]
Have a tip we should know? [email protected]