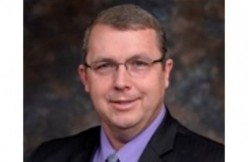 On Tuesday, The Freedom From Religion Foundation, an organization that advocates separation of church and state, criticized Trigg County Judge Hollis Alexander because he allegedly refused to officiate a secular wedding.
"It is our understanding that Mandy Heath and her fiancé, Jon, were planning on getting married in Trigg County, KY on Friday July 22 at your courthouse," wrote Staff Attorney Andrew L. Seidel in an open letter. The couple wanted a ceremony the next day, but one request reportedly led Alexander to back out: They wanted a secular wedding.
"I include God in my ceremonies and I won't do one without him," Alexander allegedly said.
More, from the letter:
We then understand that you told the couple, who are not from Kentucky, that they could go locate another officiant, a man named Craig Owen in Christian County.

This refusal violates the U.S. Constitution. As a government official, you have an obligation to remain neutral on religious matters. The Supreme Court has established that "the 'First Amendment mandates governmental neutrality between religion and religion, and between religion and nonreligion.'"
Citing case law, Seidel said Alexander violated the First Amendment because he refused to provide the secular service.
"The bottom line is that by law, there must be a secular option for people seeking to get married," Seidel wrote. "In Trigg County, you are that secular option."
Now FFRF wants a written promise from Alexander that future ceremonies should be secular by default, and that religious trappings should be requested by citizens. No lawsuit has been announced, though the FFRF has been known to get litigious before.
LawNewz.com has reached to Judge Alexander for comment, but he was not immediately available. We will update if we hear back.
–
Follow Alberto Luperon on Twitter (@Alberto Luperon)
Have a tip we should know? [email protected]