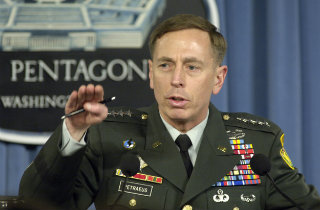 Newly released documents from the FBI reveal that former CIA director Gen. David Petraeus admitted to "crossing out" a classification marking in a document concerning a meeting that he had with then Secretary of State Hillary Clinton.
These new files were actually released on August 26th, exactly one week before the FBI released the Clinton email investigation summary and interview notes, but, so far, have not received much media attention at all.  Like the Clinton documents, the Bureau put the Petraeus files up at The Vault, the website which the agency uses to house its most popular case files.
The Petraeus documents were heavily redacted for privacy and national security related reasons. Not much can be gleaned from them so far (there are potentially thousands more pages to come, but they most likely won't be released until January of 2018). However, there's a curious note on page 61 of the second file, which also pertains to Clinton, stemming from a spontaneous statement that Petraeus made during a search of his home on April 5, 2013:
At approximately 12:17 p.m., PETRAEUS entered the office area [REDACTED] and stated in the presence of other search team personnel he was the originating authority of a document related to a meeting he had with Hillary Clinton, the former Secretary of State. This document contained a classification marking, which PETRAEUS had crossed by placing a line through it.
What exactly does that mean? As Director of Central Intelligence, Petraeus did have the authority to change the classification status of documents, but doing so by crossing out the "CLASSIFIED" marking is not standard procedure by any stretch.
Petraeus entered a guilty plea for mishandling classified materials when he sent confidential documents to his biographer, who was also his mistress. Clinton, of course, recently avoided charges for using a non-government email server while relaying classified material as Secretary of State.
We are digging for more information. The FBI National Press Office was not immediately available for comment due to the Labor Day holiday, but LawNewz will update you if we get any additional information from them.
David Petraeus Hillary Clinton Note 04-05-13
[Photo: Public Domain military work via Wikimedia Commons]
Have a tip we should know? [email protected]