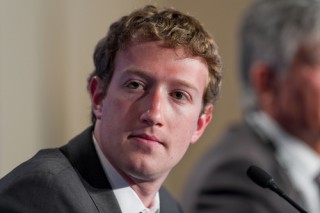 German lawyers are exploring options to hold Facebook founder and and CEO Mark Zuckerberg accountable for hateful speech and images on the social media site, according to a Vice News report.
Attorneys Chan-jo Jun and Christian Solmecke filed a lawsuit in German court against Zuckerberg, seeking a €150 million fine (around $163 million) as well as criminal charges. They brought a similar suit against Facebook's German executives last year that prosecutors declined to act on, so now they're going after the head honcho. Prosecutors claimed the execs were only marketers for the American company and thus not responsible, according to Worldcrunch.com. A similar case against Martin Ott, a Facebook manager for eastern, northern, and central Europe, is ongoing.
German law is highly sensitive to hate speech, and it is illegal to publicly incite hate or display Nazi imagery, both of which can be found on Facebook. The Vice article makes specific reference to a picture of German Justice Minister Heiko Mass wearing a German army officer's hat, and another post with a picture of President Barack Obama made to look like a Jewish caricature with side curls, a yarmulke, and beard, with the caption "Nobel Zionism Prize." A comment running alongside that post asks in German why Obama isn't sitting in a concentration camp. "I think Facebook has changed German society — not for the good," Jun said.
The social media giant appears to be taking some steps, at least when it comes to threatening statements against certain classes of people. Facebook announced plans in November for a new policy of deleting threats of violence, especially against refugees who recently moved to Germany. At a town hall meeting in Berlin, Zuckerberg admitted that Facebook has not done a good enough job controlling inflammatory content in Germany, particularly against migrants. "There's not a place for this kind of content on Facebook," he told the audience.
Actions speak louder than words though, and it remains to be seen if stricter policies are put into effect. Vice reported that Jun collected over 300 Facebook pages and posts containing swastikas and other Nazi symbols, as well as calls for violence against those who came to Germany in the past year from North Africa and the Middle East. Facebook took down some of these posts, but many are still up. According to Worldcrunch, Jun does not believe they are doing nearly enough. "Whenever we report left-wing or right-wing calls for extremist sedition, calls for or images of violence, we systematically get one and only one answer from Facebook: It does not violate our community guidelines."
[h/t Vice News, image via Frederic Legrand – COMEO/Shutterstock]
Have a tip we should know? [email protected]