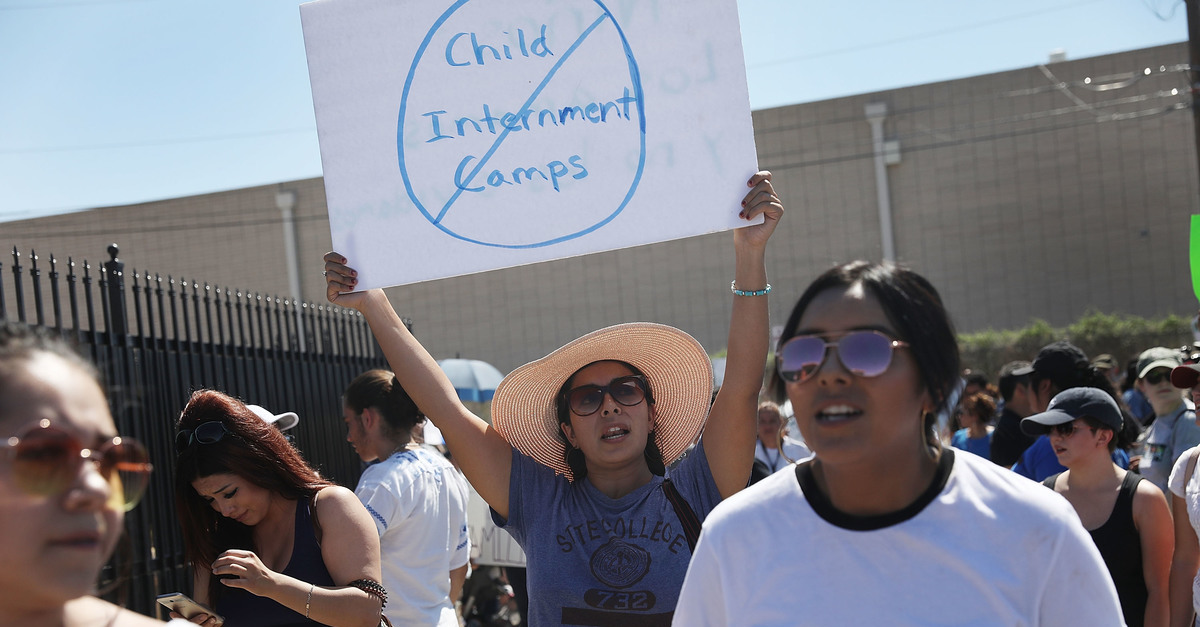 The Department of Health and Human Services (HHS) Office of Inspector General (OIG) said in a report released on Thursday that the Trump administration may have separated thousands more children from their parents at the U.S.-Mexico border than previously acknowledged.
The report noted that there are no precise numbers available because the government simply didn't keep track of those children. Rather, the Trump administration only began keeping track of separated immigrant children at the behest of a federal court order issued by U.S. District Court Judge Dana Sabraw in late June 2018. The report states that "thousands of children may have been separated during an influx that began in 2017, before the accounting required by the Court."
This court order effectively ended the Trump administration's family separation policy–enjoining the government from taking most parents or guardians into custody without their children and mandating the reunification of children with their families if they met a certain class of individuals from a court case filed in February 2018.
That court case–Ms.L v.ICE–identified the class of individuals as follows:
All adult parents who enter the United States at or between designated ports of entry who (1) have been, are, or will be detained in immigration custody by the [Department of Homeland Security (DHS)], and (2) have a minor child who is or will be separated from them by DHS and detained in [Office of Refugee Resettlement (ORR)] custody, ORR foster care, or DHS custody absent a determination that the parent is unfit or presents a danger to the child.

Complicating this effort was the fact that the Trump administration had "no centralized system … to identify, track, or connect families separated" by immigration agents, the report noted. Instead, various border agencies used 60 different data sets over the course of the policy. Officials scrambled to abide by the court order and develop such a system. As has been widely reported by Law&Crime and others, the deadlines contained in Judge Sabraw's court order came and went. Several hundred children were still not reunited with their parents, according to the OIG's latest investigation of court filings.
On top of the nonexistent tracking system and blown deadlines, thousands of additional families and children previously separated by the Trump administration were not affected by the above-noted litigation or court order. Not only that, according to the HHS OIG's report, family separations had been occurring since the summer of 2017–well before previously acknowledged.
"In the summer of 2017, prior to the formal announcement of the zero-tolerance policy, ORR [Office of Refugee Resettlement] staff and officials observed a steep increase in the number of children who had been separated from a parent or guardian by DHS…and subsequently referred to ORR for care," the OIG report notes. "Officials estimated that ORR received and released thousands of separated children prior to [the] June 26, 2018, court order in Ms. L v. ICE that required ORR to identify and reunify certain separated children in its care as of that date."
The HHS OIG's 24-page report concludes:
The total number and current status of all children separated from their parents or guardians by DHS and referred to ORR's care is unknown. As a result of the Ms. L v.ICE lawsuit, there has been an extensive public accounting of the status of 2,737 separated children whose parents meet the class definition for this litigation. … There is even less visibility for separated children who fall outside the court case. The Court did not require HHS to determine the number, identity, or status of an estimated thousands of children whom DHS separated during an influx that began in 2017 and whom ORR released prior to Ms. L v.ICE.
"The total number of children separated from a parent or guardian by immigration authorities is unknown," the report concedes.
For some sense of the number, however, Amnesty International estimates that roughly 8,000 families were separated over the course of 2017 and 2018.
[Image via Joe Raedle/Getty Images]
Have a tip we should know? [email protected]